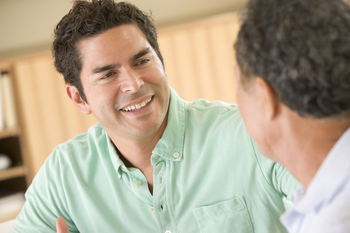 All Rights Reserved
Ever feel like you don't know what else to say to a loved one? Longtime companions often feel "talked out." For others, making conversation with a frail older adult can be hard if you're unsure what's safe or comfortable to bring up. Many people balk, for example, at broad questions like, "What's your favorite memory from childhood?" because they feel put on the spot. And people with dementia may resist direct questioning because they feel like they're being quizzed and get nervous about being unable to supply a "right" answer.
Despite obstacles like these, talk is worthwhile because it passes the time, illuminates things you might not have known about your loved one, and builds new and cherished memories.
In a pinch, try this conversation-starter alternative: "Tell me about . . . "
These three little words are nonthreatening and inviting. Casually curious, they work for any topic, from the weather to politics. They allow for open-ended responses. The conversation may go nowhere (try again another time) or take off.
Some examples:
"Tell me about what winters were like in North Dakota when you were a boy."
"Tell me about your wedding day."
"Tell me about this blanket -- you knitted it, didn't you?"
"Tell me about that pet cow you had."
"Tell me about the garden you always had."
"Tell me about why you joined the military."
"Tell me about how you stay so calm all the time."
"Tell me about your mother."
They're almost as good as those other three little words ("I love you")!