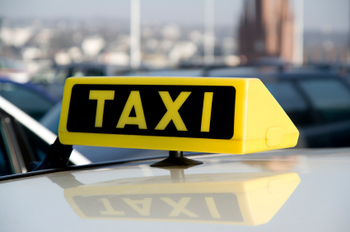 All Rights Reserved
Some older adults don't qualify for the free or targeted transport services offered where they live. Others shun low-cost public transportation options or find them too undependable or too difficult to navigate alone.
For these people, the solution to transportation needs may be found in the pricier private-hire options. These arrangements, which usually allow for flexible scheduling, may be especially fitting for people who value independence and privacy. They may provide valuable peace of mind since they're easy to use for things like occasional important medical appointments or other time-specific meetings.
These options include:
Taxi services. Those who live in cities or larger metropolitan areas who are unable to drive but can negotiate basic transactions on their own may get the help they need from standard taxi services that pick up and drop off passengers at specific locations on call.
Rates vary by locale and company but range from an initial set charge of $1.75 to $4, plus a per-mile charge of 30¢ to 90¢. Cab companies within many communities offer convenient taxi scrip or coupons that riders can use like cash to pay for fares and tips.
To find this form of transportation, do an Internet search for taxi service and your locality, or look in the Yellow Pages of the local telephone book under taxi.
See also: Tip: Help Passengers Compute Tips in Advance
Private car services. For those who are unwilling or unable to arrange other forms of transportation, an often-overlooked resource may be a private car service.
These services are most widely available in or near larger metropolitan areas. Their cost -- which ranges, depending on locale, from about $60 to $100 per hour for a basic car, as opposed to a luxury sedan or stretch limo -- is often calculated in 15-minute increments. Some companies charge a per-stop fee or fuel surcharge for longer trips. And some may be willing to work out cost-saving deals for frequent users or simply for those who are willing to drive a hard bargain.
Caveats: Such services require advance planning and are generally not available on call. And few can accommodate passengers with wheelchairs, scooters, or other special transportation needs.
To find this option in your area, check under limousine services and private car services in your Yellow Pages, or search online with those words plus the name of your locale. The National Limousine Association website allows consumers to get price quotes for many services, based on vehicle type, location, and wheelchair accessibility.
Also be sure to see our checklist covering What to Ask When You Call a Taxi or Car Service.