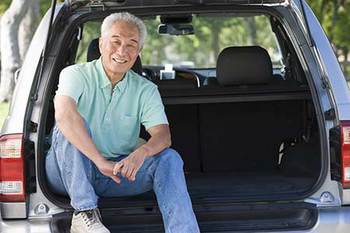 All Rights Reserved
From willing neighbors and friends to shared ride services offered by medical providers, there are a number of possible arrangements for free transportation for those in need.
These alternatives may be a good fit for people who require little assistance getting into and out of a vehicle; some, but not all, such services have trained staff and specialized vehicles to accommodate those with mobility limitations. They're also generally best for those who have set or predictable transportation needs, since most require a reservation one to several days before a ride is required and don't offer at-need or same-day services. Some services also require passengers to preregister to be sure they meet specific eligibility criteria, such as age, income level, or lack of feasible alternatives.
Free transportation options may include:
Family, friends, and neighbors. Most willing volunteers will agree to provide rides free -- although to keep the arrangement more businesslike and dependable, passengers may wish to compensate them with specific payments, or more informally with gas station cards, restaurant meals, or other goods or services. Of course it's best to ask people you know to be dependable and conscientious -- and you need to be specific about what's required. For example: "I'm in need of a ride to the senior center on Grove Street every Thursday at 2 p.m. Can you do it, or recommend someone else who might be available?" Be sure to get complete contact information and times and dates of availability of all who agree to provide rides. That will not only help formalize the agreement but will provide peace of mind that a backup ride can be arranged if needed. To help you keep track of everything, you might consider a free online care calendar service like LotsaHelpingHands. This tool helps your friends and family see when transportation is needed, lets them sign up to provide rides, and sends out reminder e-mails so no one forgets about their commitment.
Senior transport and rideshare services. Some groups, notably those that provide services enabling older adults to age at home in the community, offer free transportation to those who qualify. Many are staffed by volunteers and sponsored by community, religious, or nonprofit organizations, and they may encourage donations from those who are able to give. Some limit the number of rides provided to any one person each month, and most require advance notice for scheduling. To find these, you can check the local telephone book under senior services or contact local religious groups, starting with your own house of worship if you have one. But a more direct route may be through the nearest Area Agency on Aging. While the services offered differ according to the locale, most can provide referrals to local free transit or rideshare services. Find a local office through the Area Agency on Aging Directory.
Clinic and hospital transport services. Some medical facilities offer transportation between home and the clinic or hospital to those receiving inpatient, outpatient, or other treatments. Services are offered based on availability at any given date and time, so this option may be most appropriate for those who have alternative transportation sources to use as backup. And most such services require scheduling several days to a week in advance. To find out whether such free services exist in your area, contact the particular clinic or hospital in which the patient will be receiving care.
Veterans' transport services. Some centers, hospitals, and clinics run by local Veterans Health Administrations offer limited transportation services to those receiving care, with a limited number of daily pickups, usually originating from central spots within the community. This option is best suited to those who are able to plan in advance for appointments and negotiate basic transactions on their own. Advance reservations are required, and most facilities don't allow family members or friends to ride along. For most services, riders must also be able to enter and exit vehicles with limited assistance; wheelchair accommodations must be arranged in advance. You can find contact information for a particular veteran's facility through the U.S. Department of Veterans Affairs.
Also be sure to see our checklist covering What to Ask When You Call a Transport Service.