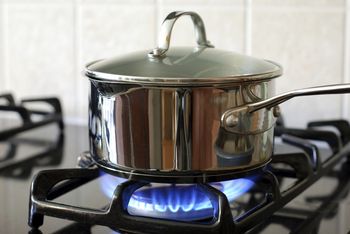 All Rights Reserved
Your loved one has spent a lifetime around sink and stove -- who knew they were prime accident makers? Accidental burns afflict many older adults because of fragile skin, carelessness, and old habits that die hard.
Here are three things to check around the house:
Do a robe check. Long, droopy sleeves can catch fire at the stove. If a robe is new or your loved one has recently lost weight, he or she may be inadvertently wearing a cozy fire hazard. (Bracelet sleeve length or rib-knit cuffs are safest.)
Reset the water heater to below 120 degrees to eliminate accidental burns. Tap water scalds are a common source of burns in anyone over age 60, a 2003 study found, in part because aging skin is thinner and therefore more vulnerable to damage. So a setting that seemed fine for years may now be too hot.
Unplug appliances not in use. Coffeemakers, hair curling irons (such as those left out by a teen in the house), and hot plates can burn when touched. Even if dementia isn't a factor, your loved one may forget and start to handle them. Also be mindful when your loved one is removing hot water or heated coffee from a microwave; in unsteady hands, the container may slip and scald.