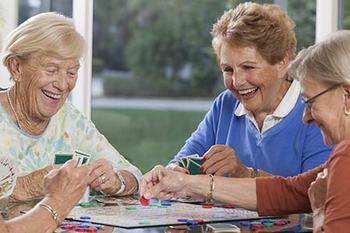 All Rights Reserved
From the first moments of life, our happiness and health depends on positive social interactions with those around us. As we age, our well-being is consistently connected to having positive, healthy ties with our family, friends and community.
Health Benefits of Social Connectedness
Socializing is as important for the elderly as much as it is for any other age group – if not more so. Numerous studies have demonstrated the benefits of remaining socially connected during our later years. Compared to older peers who are less engaged, socially connected seniors have:
Happier lives, with lower incidences of depression and anxiety
Lower blood pressure
Less incidence of heart problems, cancer, arthritis, and osteoporosis
Better cognitive function and reduced risk of dementia
A longer life expectancy
While it's long been understood that there is a mind-body connection, and that lack of emotional or mental well-being can cause lack of physical wellness (and vice versa), the exact mechanisms behind this phenomenon aren't completely known.
Speaking to the Harvard Gazette, Harvard University researcher Thomas Glass said that staying socially connected may "evoke changes in the brain that protect against cognitive decline." "This, in turn, influences physical processes regulated by the brain such as cellular immunity or mobilizing the body's defenses against disease," he told the newspaper.
Helping Seniors Overcome Barriers to Social Engagement
Yet the constraints and limitations of aging mean that many seniors become socially isolated at a time when social engagement is especially crucial. That's why efforts to help seniors stay socially engaged can make such a tremendous difference in their lives. For instance, when volunteers visit local senior communities, they aren't only brightening a senior's day – they are brightening lives. The benefits of social interaction extend well beyond the period of the interaction itself.
Most of us don't need to volunteer at a senior community to help seniors stay socially engaged – we have elderly loved ones in our own family who can use our help remaining socially connected. This can take many forms. Some ways to help older family and friends remain engaged include:
Spending time visiting an older loved one
Providing transportation to a senior center, church, or other social event
Helping your loved one find and acquire adaptive technologies that break down barriers to socializing
Helping an older loved one enroll in a class or sign up for volunteer opportunities
Assisting an older loved one in their search for the right senior living community
Assistance that helps seniors stay socially engaged is on the same level as help that attends to physical needs. Knowing how closely social engagement is tied to seniors' health and well-being, there's no excuse not to help the older loved ones in your own life stay socially connected.