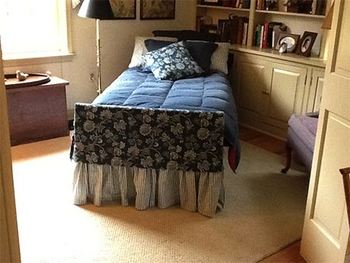 All Rights Reserved
Hate the way your hospital bed looks in your living room? Try this tip from a family in Pennsylvania.
"To make our hospital bed fit better with our decor, we hired a seamstress through our local sewing shop. She measured the metal footboard and made a little fabric 'hat' for it. She also made a fabric pillow to match.
"We then added a dust ruffle with a coordinating stripe. The dust ruffle attaches to the bed with a special kind of Velcro -- on one side, it sticks to fabric, and on the other it adheres to metal. This way, the different positions of the bed don't affect the bed skirt.
"We didn't bother to cover the headboard; it's hidden by cushions."