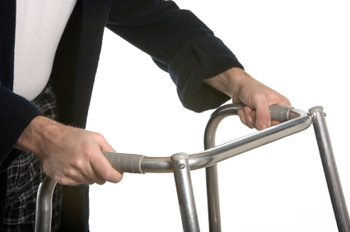 All Rights Reserved
Considering whether he can live at home
How much someone's stroke will affect his daily activities depends on which part of his brain was injured, the extent of the injury, and the general state of his health. If he's returning to his or your home, you'll need to consider whether he has any of the following issues:
Weakness, paralysis, or numbness on one side of the body
Problems with balance or coordination
Difficulty with memory or thinking
Bowel or bladder control problems
All of these issues will have a dramatic impact on how he manages daily activities. You'll want to make sure that he can live as independently and comfortably as possible -- without sacrificing his safety or the safety of others.
Basic changes to make the home safer
Since making the right home modifications can make a huge difference in both of your lives, it may be helpful to consult an occupational therapist (OT). An OT can take stock of the stroke survivor's specific disability and the current state of your home, then make suggestions based on your particular needs. Meanwhile, here are some general guidelines for modifying your family member's home after a stroke.
Minimize clutter so it's easier for him to move through each room and find what he needs.
Position furniture in corners or against walls. To prevent bumps and bruises, you can apply foam padding to sharp corners and edges. You can find corner bumpers in the childproofing section of your local hardware store.
Use duct tape to secure electrical cords against the walls or floors so they aren't a tripping hazard. Never use staples or nails -- these can damage cords, risking electric shock or fire.
Make sure lighting is bright enough, especially over stairways or other potentially hazardous areas. Replace light bulbs regularly.
Install the appropriate flooring. If the stroke survivor is in a wheelchair, you'll need to replace thick or shag carpeting. If he uses a walker or has a hard time walking or balancing, low-pile carpeting might be better than slick hardwood, tile, or linoleum flooring.
Remove throw rugs and runners, or tape them down with double-faced adhesive carpet tape, available at most hardware stores. Because the adhesive can wear away over time, check rugs and mats periodically and apply new tape as needed.
Make sure doorways are wide enough for a wheelchair or walker. If necessary, you can remove doors or doorframes to widen the space. You may also need to install threshold ramps. Example .
Have a telephone in each room, along with emergency numbers printed in large, bold type. Make sure phones are placed at a level the stroke survivor can easily reach.
The National Resource Center on Supportive Housing and Home Modifications has compiled a list of resources for consumers looking for products to modify their homes.
For more information about making your family member's house safer after a stroke:
Making Your Parent's Stairways Safer After a Stroke
Making Your Parent's Kitchen Safer After a Stroke
Making Your Parent's Bedroom Safer After a Stroke
Making Your Parent's Bathroom Safer After a Stroke

 
 
CARING RECOMMENDS
Need help with a senior-friendly remodel? Enter your zip code: