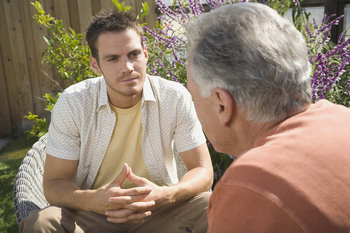 As a hands-on caregiver, you may become aware of changes in your loved one's condition well before others believe there's a potential problem. How can you convince them?
Try these three fresh approaches:
Frame the issue as a hypothetical. Sometimes people don't want to face the facts -- no matter how persuasively you present them. But they may be more willing to entertain a discussion about possibilities. Try framing what-if conversations: "What if Mom's forgetfulness isn't just normal aging? I'm worried about what that would mean for her checkbook." Or, "What if Dad's symptoms really do indicate something worse than a urinary tract infection? I know you don't think it's anything to worry about, but I'd feel better if we just talked through what the next steps might be." You can even talk about the problem generically, in terms of a friend or neighbor rather than your loved one. This can help nudge your relatives in the direction of entertaining an idea, as a starting point.


Record proof visually. If your words won't persuade them, it's time to rely on the adage that a picture is worth a thousand words: Try pulling out your cell phone and recording what you see. You'll be able to record a worsening condition by comparing video taken at different times ("See how much more pronounced Dad's limp is becoming?"). Or you can record a confused conversation with your mom, confirming for disbelieving siblings that "I'm not making this up!"


Keep a written log. Data can be persuasive. Record worrisome incidents in a notebook, noting the date and time of the event, as well as details about what happened and surrounding circumstances: Had you just eaten? Did your loved one have a bad night's sleep? If you're concerned about repetition that might indicate cognitive decline, for example, choose a set period of time during which you write down exactly what the person said, and when.
A written log is also useful to bring with you to doctor appointments, allowing you to explain symptoms in very specific terms and to watch patterns over time.