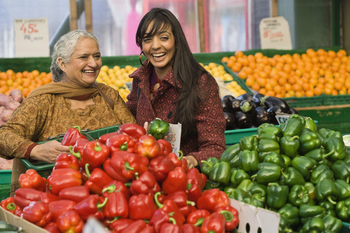 All Rights Reserved
It's a common family caregiver dilemma: You have to run errands, but they can be taxing when done with your loved one, who may want or need to come along.
Consider shaping your shopping in these ways to lower everybody's stress:
1. Alternate whose week it is.
Sometimes the frustration over shopping stems from a clash of priorities. You have yours, and your loved one has his or her own. Instead of mixing your errands together, try alternating weeks (or certain days of the week). On your loved one's day, let it be all about him or her, so you're not simmering with frustration over not getting all your choices made. Bonus: Include a stop for ice cream, coffee, or a meal at a favorite restaurant to make a special outing of it.
2. Drop off your loved one at the door, if necessary.
Sometimes this can be even faster than using handicapped parking. In the time it takes your loved one to navigate from curb to door, you can park and meet him or her. (Obviously this isn't an option if the person has significant dementia or a physical impairment that requires your help.)
3. Ditch the big box store.
Remember that bar on the old TV show Cheers, the place "where everybody knows your name"? Those are the kinds of retail establishments worth seeking out for errands with your loved one. The locally owned drugstore, gift store, hardware store, or market may not have the best prices in town, but the rapport and connection you tend to get can be priceless. In addition to personalized attention -- cherished by many older adults who don't get out often -- the spaces tend to be smaller and therefore more manageable. And sometimes fewer choices on the shelves is a good thing!
4. Use a shopping cart -- even if you only need an item or two.
They're like a giant walker, something to stabilize your loved one, who can lean against one for support. Many older adults who refuse to use walkers just love shopping carts. Beware power chairs, which can vary from store to store -- some move too quickly and others aren't charged enough or have been misused by kids, making them difficult to operate.
5. Don't overachieve.
When getting in and out of the car is an ordeal, three different stops (shoe repair, drugstore, dry cleaner) can be a lot. Limit how much you try to do in one swoop. Instead of one big shopping day, you might need two mornings.
6. Check out just how many items can be home delivered.
Depending on your community, you may be able to get medications from drugstores, dry cleaning, and milk and other groceries delivered to your home by large chains or by local mom-and-pop operations. The service can cost a bit extra, but it may be worthwhile if it spares you that trip to make during the week.