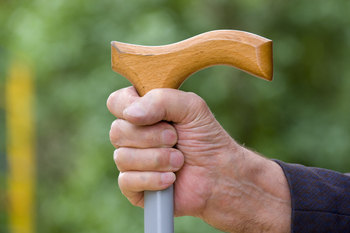 All Rights Reserved
Many an older adult who needs to use a walker or cane resists doing so. Partly the objection has to do with the medical look of the devices themselves.
Don't fight it; work with it! Try these three ideas for jazzing up a walker or cane:
1. Dignify it.
Instead of a clinical-looking aluminum cane, invest in a sturdy, attractive wooden model. Look at antique stores or search online. Older men, especially, may find these dapper and be far more apt to use them. You could even start a collection.
2. Make it more useful.
Attach a bicycle basket to the front of a walker. A vintage-looking wicker basket is a stylish and handy way to transport things. A canvas apron or tool belt with lots of pouches in front is another unusual walker add-on that feels less institutional.
3. Don't hide it -- exaggerate it.
Jazz the device up with simple decorations that follow the seasons. Wrap silver or gold garlands around the base for year-end holidays. Add birthday or seasonal wrapping paper. Spray-paint it. Hang photographs of grandchildren to the front of a walker. A crafty older person might like to do this himself or herself (or with you). The real beauty of this idea is that the devices become a conversation starter, and cheerful interactions with others are often just what the doctor ordered.