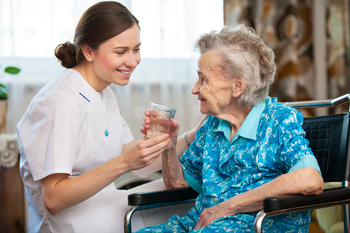 All Rights Reserved
You'll know when it's time to find home care. That moment can come suddenly or gradually, but at some point it sinks in that you're overwhelmed and it's no longer possible to handle all the responsibilities of helping your aging parents or other relatives without assistance.
Unfortunately, though, this is not the only decision you'll have to make. You'll also have to decide how to find, hire, contract with, and pay a caregiver. In particular, it's important to know the difference between hiring independently and going through a caregiver agency or registry. Sometimes the word "agency" is used as an umbrella term to refer to all kinds of home care providers, but home care agencies and registries are different. And private caregivers who work as independent contractors or employees are another category altogether.
When to Use a Home Care Agency
Home care agencies offer a selection of caregivers trained to provide a wide range of services. When you first speak to an intake coordinator for an home care agency, you'll be asked to describe the tasks you wish the caregiver to perform, the hours you'd like help, whether you need the caregiver to drive, and other details.
You'll also be asked to describe the level of care your loved one needs; typically a personal care assistant who provides personal care, which includes bathing and toileting, is paid a higher rate than an elder companion who provides help such as shopping, cooking, and companionship. Agencies can also provide overnight or live-in care, and some agencies offer on-call home caregivers to come to your home just when you need a break, which is known as respite care.
SEE ALSO: Find In-Home Care Help Near You
What a Home Care Agency Will Manage
Payroll:
A home care agency is the employer of record. Agencies are responsible for hiring and paying the caregiver and for scheduling hours. You can expect a caregiver agency to provide more training, screening, and supervision of individual caregivers than with any other form of hiring.
Bonding and insurance:
Most agencies carry insurance that protects you from liability if the caregiver is injured in your home.
Background checks:
Agencies conduct thorough background checks on all workers, and you can ask to see the results on a caregiver before you hire.
Licensing:
Home-care agencies are state licensed and provide supervisory visits to enforce standards.
SEE ALSO: Find In-Home Care Help Near You
Taxes:
The caregiver agency is responsible for withholding social security, unemployment, and other taxes; keeping records; and providing the caregiver with tax information at the end of the year.
Determining duties:
In your initial consultation with a home care agency, you'll have a chance to explain exactly what duties you wish your caregiver to perform. You'll also be able to explain any personal characteristics that are important to your loved one. The agency will then present you with several possible caregivers and help you decide on a good fit.
Behavior issues and complaints:
The agency is responsible for handling any issues that come up regarding caregiver behavior and training. In other words, if you're unhappy with your caregiver, you don't have to speak with her directly, if that's uncomfortable for you. You can report the problem to a manager.
Back-up care:
Agencies can provide a substitute caregiver if your in-home caregiver is sick, injured, or goes on vacation.
What a Home Care Agency Won't Manage
Nursing care:
Some home care agencies have aides trained to provide basic medical care (turning, wound cleaning), but many do not.
Time off/vacations:
If your loved one travels, visits other family members, goes on vacation, goes into the hospital, or otherwise requires that the caregiver take a break from employment, you may wish to offer your caregiver vacation pay if you don't want her to go to work for another family. Some agencies offer vacation pay, but most do not. You'll be responsible for making decisions about compensation.
How to Choose a Home Care Agency
Selecting a caregiver agency is a process. You'll want to find one that offers caregivers who meet your needs and whose management style is a comfortable fit for you, as this is likely to be a long relationship. Some agencies are small and locally based; others are local branches of larger regional or national agencies.
The Caring.com Home Care Directory includes home care agencies from all corners of the U.S. -- this is where you can begin your search for agencies in your area. See what areas each serves and read comments and reviews from other families. Be sure to call at least a few different agencies, both large and small; the range of services provided may vary. To help you with your interviewing process, use our home care agency checklist.
Once you decide to work with an agency and sign a contract, you will usually not be allowed to switch to employing that caregiver directly. In some cases, you can directly hire a caregiver who has left an agency, but only after a specified amount of time has passed.
Find-In-Home Care Near You -> Search Here
When to Use a Home Care Registry
Think of a registry as a staffing agency, much like any other employment service. A home care registry usually doesn't employ the caregiver; it acts as a referral service -- it will help you find caregivers in your area and will collect a referral fee for matching you up.
Registries often provide a full roster of professional caregivers, ranging from personal caregivers to those providing medical care, such as registered nurses, licensed practical nurses, physical and occupational therapists, and hospice nurses. Generally, the caregivers who are listed in a registry are experienced professionals who want more autonomy in planning their schedules.
"It's all about exposure and risk. When working with a registry, a client assumes the risk since the client is the employer. When working with an agency, the client is protected and the risk lies on the employer or the registry. So while a registry may provide care at a lower rate, you need to go into the relationship with eyes wide open, understanding your potential risk and exposure," says Steve Barlam, geriatric care management expert and LivHOME co-founder.
Requirements for registries vary by state.
What a Home Care Registry Will Manage
Bonding and insurance:
Most home care registries are bonded. Some registries require that caregivers listed with them carry malpractice insurance. However, this is worth checking specifically with the caregiver.
If you're responsible for insuring the caregiver and/or your personal items, contact a local insurance agent to ask what protection an existing homeowner's policy offers. Ask for information about dishonesty bonds and worker's compensation.
Licensing:
In some cases, a caregiver registry may have gone through the process of licensing with the state, but many have not. The individual caregiver you hire may be licensed; in particular, you want to make sure nurses and occupational and physical therapists are licensed in their professions.
Screening and background checks:
Like employment agencies, registries do screen the caregivers they list, but there's a great deal of variation in how thoroughly they perform background checks. Some are extremely thorough, checking everything from driving records to references. Others do little beyond verifying a caregiver's identity. If you work with a caregiver registry, be sure to understand what screening it provides, and consider whether you might also want to perform your own background check on the caregiver.
Matching caregivers to families:
For you, seeking care through a registry means that you can retain the services of a specific caregiver who is a good fit for your family's needs. For the caregiver, a registry means he or she will choose the families he or she works with -- and won't get sent out on varying assignments.
Be sure to ask lots of questions to ensure a good match, and expect that caregivers placed through a registry will interview you as you are interviewing them.
Determining duties:
If you place a listing with a caregiver registry, you'll have a chance to list the tasks and responsibilities you want your caregiver to take on. Some registries will take the additional step of handling the initial communication with the caregiver, but usually this falls to you.
What a Home Care Registry Won't Manage
Taxes:
Registries typically do not handle taxes. The caregiver is an independent contractor and is responsible for his or her own taxes and worker's comp.
Scheduling:
In most cases, the caregiver registry provides the referral, and after that it's up to you and the caregiver to negotiate schedule and duties.
Behavior issues and complaints:
Once the caregiver begins working, you'll be responsible for dealing with any problems or issues that come up. Some registries will follow up periodically to ensure that the match was successful.
Time off/vacations:
If your loved one travels to visit other family members, goes on vacation, or otherwise requires that the caregiver take a break, you're responsible for discussing compensation with the caregiver, and negotiating as to whether the caregiver can take other work in the interim. Also, if your caregiver takes a vacation or break, you'll need to find a back-up coverage during that time.
How to Choose a Home Care Registry
The Caring.com In-Home Care Directory includes listings of home care registries all over the country. Search near you to learn more about your options and read reviews from others who've used them. A recommendation from a local social worker is also a good way to find a reputable registry.
Caregiver registries vary a great deal, so when you call, ask exactly what services the registry performs. It's a good idea to call a few different registries to investigate how they work and what they offer. Get references and check them. To help you with your interviewing process, use the home care checklist.
Compare Home Care Agencies vs Home Care Registries
In summary, here are the main differences to keep in mind when deciding whether to use an agency or a registry to find caregivers.
|   | Agency | Registry | | Manages payroll and taxes | Yes | No | | Provides bonding and insurance | Yes | Check | | Conducts background checks | Yes | Check | | Has state licensing | Yes | Check | | Manages scheduling (including back-up care) | Yes | No | | Handles issues | Yes | No | | Provides caregiver supervision | Yes | No |
When to Hire a Private Caregiver
Due to the higher cost of hiring a caregiver through an agency or registry, many people choose to hire a caregiver independently through local job listings or personal referrals. If you choose to hire independently, you'll want to be prepared to take care of the tasks that an agency or registry would perform for you. These include researching potential caregivers' backgrounds, setting pay rates, determining duties to be performed, and handling all the responsibilities that come with being an employer.
Private Caregiver Issues to Consider
Screening:
When it comes to screening, you'll be on your own if you're hiring a private independent caregiver. You'll want to run a fingerprint-based background check plus checks on credit history, driving record, drug screening, and sexual offender databases. You'll also need to check personal references, and, if the person has specific healthcare training, you'll want to verify those credentials. You can get help with these background checks through online services such as c3 Intelligence and Intelius.
Taxes:
As your caregiver's employer, you're required to set up a tax withholding system so that you and your employee are paying all legally required taxes. Best not to give in to the temptation to pay a caregiver under the table; if the IRS discovers the relationship, you will be responsible for back taxes, with interest, and possibly penalties. ElderCarePay and Intuit Payroll both provide payroll software that you can use.
Insurance:
Because the caregiver is your employee, you could be liable to pay medical costs and disability if your caregiver suffers an accident or injury on the job. Some caregivers carry their own insurance, but this is rare. Best to discuss this issue up front.
Supervision and firing:
Should the worst happen and behavior issues occur, you'll be the one communicating with your caregiver or terminating her employment. You'll also be the one dealing with any more serious issues, such as theft or fraud.
Back-up care:
You'll want to set up your own arrangements for back-up care for days when your caregiver is ill or needs to take a day off.
Time off/vacations:
If your loved one travels, visits other family members, goes on vacation, or otherwise requires that the caregiver take a break from employment, you're responsible for making decisions about compensation and whether the caregiver can take other work in the interim.
How to Hire a Private Caregiver
Private independent caregivers are not listed in Caring.com's Home Care Directory. If you decide you'd prefer to hire a caregiver on your own, start by asking friends and family for referrals. Once you find a promising candidate, use our checklist for interviewing an independent caregiver to help you ask the right questions. It's important to consider drawing up a contract or care agreement that spells out all the issues listed above, and then have it signed by both parties.
Finally, once you're ready for your new caregiver's first day, be sure to review10 Things to Discuss With a New Caregiver.
To learn more about how in-home care works, what level of care you need, and what costs to expect, see our comprehensive overview to finding and hiring an in-home caregiver.