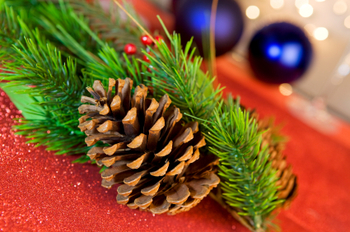 All Rights Reserved
The "most wonderful time of the year" can be the most stressful for a lot of us, especially super busy caregivers. So if the holidays fill you with visions of stress and dread rather than dancing sugarplums, family, and friends, make an early New Year's resolution: Vow now to simplify your life; don't wait for January regrets to kick in.
How? Greet the season with easy shortcuts that shift the focus away from rote obligation to what really matters -- those you love and care about.
Holiday stressor: Overscheduling
De-stressor: Shortcuts that preserve "me" time
SEE ALSO: Find In-Home Care Help Near You
It might sound counterintuitive to cram in time for yourself during what's supposed to be a season of loving your fellow man. But regular time to regroup, without distractions, gives you both energy and calm -- making you more fun to be around. Too many people lop self-time off the list in the busy season.
Better:
Check in with your body first, every time. Before answering an invitation or building a gingerbread house, pause to notice whether you feel excited or tense, relaxed or headachy, calm or vaguely nauseated. If you're not good to go, don't go forward. Don't worry about what others will think.

Take a mid-party break. Step outside. Look up at the stars. Or find a quiet corner where you can listen to music alone for a few minutes or do some deep breathing, even if it's just in the bathroom.

SEE ALSO: Find In-Home Care Help Near You

Say "yes" to the bigger gatherings. Attending events where you'll see lots of faces in a short period may help you feel less obligated to attend lots of smaller events over successive evenings. Big parties can be exhausting, but then you're done.
Holiday stressor: Shopping
De-stressor: Shortcuts for creative gift giving
Have a mile-long gift list that you can't seem to pare? Dread the jammed mall? Simplify gift giving with a little creative thinking that emphasizes people over stuff.
Better:
Give the gift of experience. Tickets to a sporting event or arts performance, a gift certificate to a favorite restaurant, membership to a zoo or museum. Bonus: One-stop shopping. You can give the same gift to many recipients.

Give the present of presence. Make coupons for activities you can share with an older or younger relative: shopping or fishing outings, regular ice cream parlor visits, time to read together or play cards together. Young parents might like babysitting favors. Older adults might welcome drives in the country.

Give uniformly. Find a single gift that works for all the adult relatives or business associates on your list (a food souvenir from a favorite destination or your hometown, such as pecans or coffee) and another for all the kids (iTunes gift cards are a safe bet).

Give a handmade holiday. Agree that this year, every gift your family gives will be one the giver has made. Try burning CDs, making movies, making spaghetti sauce, baking, crafting, drawing, and so on. It's amazing how creative even non-"handy" people can get.

Give a gift that keeps giving. Of-the-month clubs keep sending flowers, fruit, cheese, beer, spices, books, or almost anything you can think of. (Type of the month club into a search engine.) You buy once, get thanked for a year.
Holiday stressor: Entertaining
De-stressor: Shortcuts that spread the burden
Do you dread playing hostess, doing all that cooking, making sure your house looks "perfect," worrying about having enough space for guests to sit or mingle? Go easy on yourself with entertaining ideas that focus on relaxation and good cheer.
Better:
Host a cookie exchange instead of a big party. Invite eight or ten friends to each bring that many dozen cookies to share. You see your pals without having to fuss over a sit-down dinner -- and you get a billion cookies by only having to bake (or, pssst, buy) one recipe.

Spread cheer to others. As a family, find a volunteer outlet that needs help and do something together: Work in a soup kitchen, deliver meals, wrap gifts, shop for needy children.

Revive the potluck. Ask everyone to bring a holiday favorite. You supply the wine, cocoa, and gingerbread men.

Eat out. Make having a festive dinner at a restaurant your new holiday-season tradition -- no cleanup!

Amuse one another. Take turns reading greeting cards and reminiscing about the senders. Have a tree-trimming party. Sing along to corny holiday songs. Buy a big bowl of nuts in the shell and hand out nutcrackers.
Downplay the decorations
Holiday stressor: Decorating
De-stressor: Shortcuts that go green
All those lights, all that razzle-dazzle -- it takes effort, not to mention energy and resources. Downshifting to a more ecologically friendly holiday is a simple way to get a simpler look.
Better:
Skip the lights in front of the house -- and maybe even the tree. Fewer watts to burn, fewer strings for you to get tangled in.

Decorate with natural elements. Fill bowls with pinecones. Let the kids stud oranges with whole cloves. Bring red berry branches and pine boughs indoors (or snip boughs from the bottom of the tree). Bonus: No hauling boxes of decorations down from the attic. When the season ends, you can just pitch everything on the compost pile.

Wrap gifts in paper you already have on hand. Ordinary newsprint or paper grocery bags look festive tied with string in red or silver. No newsprint in this digital age? Try recycling some of those holiday catalog pages or smaller gifts.
Holiday stressor: Following tradition
De-stressor: Shortcuts that make new memories
At the root of a lot of holiday stress: doing certain things, in a certain way, in the name of tradition. Maybe you want to please aging parents or carry on in their memory. Or maybe your focus is on creating the same traditions, so your kids will know them, too. Either way, the effort often creates more stress (for you) than bliss.
Better:
Shift your focus. Decide to make happy memories, rather than continue traditions for tradition's sake. The more relaxed an event, the more likely everyone will want to keep it up, making future holidays easier, too.

Don't assume, ask. Find out which parts of the holiday truly mean the most to your loved ones. You might be surprised by what others really like. Caroling? A special feast? Driving around to look at the lights and decorations? Keep one or two of those traditions -- period -- and do them up.

Or just decide to wing it this year. Do what feels festive in the moment. Plan meals on the fly after seeing what looks good in the store. Invite guests on the spur of the moment, even new acquaintances you don't know well. Plan nothing. Often whims and accidents are the way beloved new traditions are born.