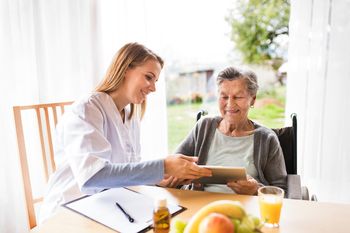 All Rights Reserved
Hiring an in-home caregiver for an aging or ailing loved one is not a choice most families make lightly. Some reasons given for not hiring home care for a loved one who may need it include guilt over not doing the work themselves, worries that their loved one won't be cared for properly and fears of upsetting their relative.
Despite these hurdles, hiring the right professional caregiver can affect both the person receiving the help and their family members in tremendously positive ways. Some families even describe the impact as life-changing.
Home Care Can Expand Your "Family" Network
Jennifer Zawadzinski's "In the Moment Project" documented her journey alongside her mother with Alzheimer's disease through photos. An important part of that journey involved a home care worker who became like part of the family, says Zawadzinski.
"My dad suffered from a sudden fall down stairs and sustained a brain injury, and my mom had Alzheimer's disease," she says. "It took time and my dad healed, but it was critical that I hire a caregiver after the fall." Zawadzinksi moved home to care for her parents, but she was also working full-time. It was clear to her that they needed more help than she could offer.
SEE ALSO: Find In-Home Care Help Near You
"We had wonderful caregivers take care of my parents over those many years, and one woman in particular, Krystyna, became a loving member of our family. In addition to taking care of Mom's core needs (eating, bathing and dressing), she was very loving. Krystyna and Mom would take walks multiple times a day, sit in the garden together and watch TV."
Zawadzinski recounts how Krystyna fit so well into the family unit, she became like a surrogate mother to her charge's adult children. She spoke Polish with Zawadzinski's father and ultimately worked with the family for about six years.
Professional Home Care Can Reduce Family Strife
Even when home care professionals don't become especially close to the family they work for, the support they provide can help improve family relations. Jonathan Marsh, owner of Florida-based senior home care company Home Helpers of Bradenton, says in-home care "allows a family member to visit as just that…a family member. Far too often we see situations where caring for a loved one feels like a burden and, in some cases, an individual does not feel appreciated by the loved one or others involved."
Whether you live with your aging parent or visit regularly to provide care, your relationship changes when you step into the role of primary caregiver. The new relationship can feel at odds with the traditional parent/child relationship, causing stress and grief over the loss of that past dynamic. Professional in-home care can help you redeem some of your old relationship with mom or dad.
SEE ALSO: Find In-Home Care Help Near You
Liz Scanlon, who hired home care for her terminally ill mother, notes that it can also help preserve relationships between siblings.
"My sisters and I made the decision to hire 24-hour care for [my mom]," says Scanlon. "Although she was physically pretty limited, she was mentally with it and fought us tooth and nail. When we finally got her to agree, we found the decision to be life-changing…it gave us the ability to be with her in a different way — present and making the most of our limited time, rather than having her resist our efforts and struggling with care that we weren't qualified to provide."
Scanlon also recalled how professional in-home care allowed she and her sisters to support each other and work together through "the toughest loss of our lives, rather than argue about who was going to do what."
These types of arguments among siblings are common, says Marsh, who notes that professional home care "reduces the perception of inequality in caregiving among family members." By nature of circumstance, caregiving duties may fall more heavily on one sibling or relative than on others, and hiring assistance can improve a situation where things seem unfair to that individual, he says.
Experienced Home Care Provides Peace of Mind
Particularly for those who need help with medical care at home (such as managing catheters, changing dressings or giving injections), a professional caregiver can make all the difference. Sharon Roth Maguire, the Chief Clinical Quality Officer at senior care company BrightStar Care, lists the following ways home health care nurses can provide peace of mind for both the elders who need care and their families.
Pro caregivers are able to provide consistent care when family may be unable to do so because they live far away or have work obligations.
Registered nurses and aides can swiftly address a range of needs, from nutrition and medication to companion and personal care tasks.
Trained nurses are more comfortable and typically more capable in delivering certain in-home treatments, such as dressing changes or intravenous infusions.
Having a nurse as part of the in-home care team provides a knowledgeable resource for the family as they work together to care for their loved one.
Home Care Makes it Possible to Age at Home Longer
For many seniors, maintaining a certain level of independence and remaining in their own homes for as long as possible are high priorities. Hiring home care for your parents can help them do both.
Amanda Lambert, a geriatric care manager and co-author of the book "Aging with Care: Your Guide to Hiring and Managing Caregivers at Home," says a big benefit of in-home care is that it helps "people remain at home longer, and in some cases until the end of their life."
It's not just the medical care that helps, either. Lambert points out that home health care workers can assist older patients who are losing hearing and vision keep up with regular activities of daily living. They may also provide much-needed socialization for lonely individuals by way of conversation, playing games, gardening or outings.
Hiring Help Lets You Attend to Your Needs, Too
It's common to put your own needs on hold while attending to an ailing or elderly parent, says Marsh, but that's not a great situation for anyone. If you aren't healthy, you can't take care of anyone. "Home care allows time for self-care to help avoid health issues," says Marsh, and that can definitely be life-changing for some families.
Lots of Home Care Options to Choose From
Another perk of in-home care is that you can customize services to meet the needs of your parent and family. From companion care that helps alleviate loneliness and keeps your parent active to home health care to address medical needs, you can find the professionals you need to help your loved one stay healthy and your family running smoothly.