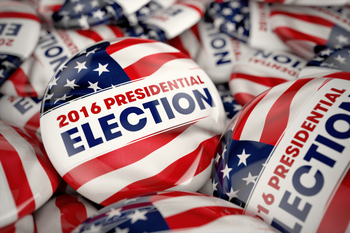 All Rights Reserved
Caregiving typically doesn't get much lip service on the national political stage, but that appears to be changing in the current presidential race. While much of the candidates' statements about caregiving during the campaign have focused on childcare, the challenges facing the millions of Americans who provide unpaid care for an elderly loved one have clearly helped propel the issue forward.
Both Democratic candidate Hillary Clinton and Republican candidate Donald Trump during the campaign have laid out proposals to support elder caregivers, and the 2016 platforms for both parties have included sections on senior care.
The attention that both campaigns have given to the issue reflects the growing numbers of family caregivers whose finances and careers are affected by the unpaid care they provide to aging family members.
Our recent annual Family Caregiver Journey Survey highlighted those impacts – more than four in 10 respondents spend at least $5,000 on caregiving costs during the previous year and 72 percent said caregiving has negatively impacted their jobs. Below are the two major presidential candidates' plans to support family caregivers.
Hillary Clinton on Caregiving
Tax Credit Proposal
Clinton is proposing a tax credit for family caregivers of elderly parents or grandparents worth up to $1,200 per year. The tax credit would help offset the first $6,000 of out-of-pocket caregiving expenses each year.
The plan is aimed at middle-class family caregivers with a combined household income of less than $120,000. Families with a higher income would not be eligible for the tax break, nor would those who are caring for a spouse.
Expanded Social Security Benefits
Family caregivers in the U.S. who leave the workforce due to caregiving may face lower social security retirement benefits, since those benefits are based on earnings during a worker's 35 highest-paid years. Clinton wants to change this by expanding social security benefits for people who must leave their jobs to care for an aging loved one.
Under her proposal, family caregivers who take time off from the workforce to care for a loved one would still be able to earn credits toward Social Security retirement benefits.
"No one should face meager Social Security checks because they took on the vital role of caregiver for part of their career…Americans should receive credit toward their Social Security benefits when they are out of the paid workforce because they are acting as caregivers," a Clinton campaign factsheet on the proposal reads.
Guaranteed Paid Family Medical Leave
Clinton is proposing guaranteed paid family and medical leave not only for men and women to care for a new child, but also for people caring for an ailing family member. Under her proposal, workers who take time off to care for a seriously ill relative would receive at least two thirds of their current pay during their leave.
Support for Long-term Care Costs
Included in the 2016 Democratic Party Platform is a section called "Ensuring Long-Term Care, Services, and Supports" that pledges the party's support for more long-term care resources for older adults, if few concrete details. The platform states that there is a "long-term care crisis that prevents too many seniors and people with disabilities from being able to live with dignity at home or in their communities."
"Democrats will take steps to strengthen and expand the home care workforce, give seniors and people with disabilities access to quality, affordable long-term care, services and supports, and ensure that all of these resources are readily available at home or in the community," the platform reads.
Expanding Opportunities for Paid Caregivers
In addition to her proposal to help family caregivers, Clinton has also proposed a federal Care Workers Initiative. According to the Clinton campaign, the aim of the initiative is "developing strategies to improve opportunities for care workers to earn the skills they need; creating paths to professionalize the workforce through career ladders and apprenticeships...providing care workers an opportunity to come together and make their voices heard in support of a stronger system; and by developing and enhancing matching services to connect care workers to the families who need them."
Additional Support for Caregivers
The former Secretary of State has also said she wants to significantly increase federal funding for the Lifespan Respite Care Program, which provides money to states for community-based respite care services for family caregivers of both children and adults.
Donald Trump on caregiving
Tax Deduction Proposal
Like his Democratic rival, Trump is proposing a tax deduction to help people offset out-of-pocket costs for elder care. Under this proposal, working family caregivers could deduct up to $5,000 each year from their taxes for senior care costs that are necessary in order to continue work outside of the home, according to a report on the Trump campaign website.
Dependent Care Savings Accounts for Long-term Care Costs
Trump's proposal would allow people to open tax-protected dependent care savings accounts to help put away money for either child care or senior care for aging family members. Total contributions to these accounts would be capped at $2,000 per year, but would roll over from year to year, according to the campaign.
Under this plan, the money in dependent care savings accounts could be used toward in-home care, long-term care services or adult day care, a campaign report states.
Trump is also proposing that the federal government match up to $500 per year contributed to these accounts by low-income families.
"The ability to set aside funds for elder care is critically important because taking time off from working to care for elderly family members reduces a woman's financial readiness for retirement, and can increase a woman's risk of living in poverty in old age," the campaign statement reads.
Additional Support for Caregivers
While it doesn't appear that Trump has commented during the campaign on respite care programs for caregivers, the 2016 Republican Party platform does include some statements about home care for seniors. But, similar to the Democratic platform's section on long-term care, no specific policy proposals are discussed.
"Our aging population must have access to safe and affordable care," the platform reads. "Because most seniors desire to age at home, we will make home care a priority in public policy and will implement programs to protect against elder abuse."
---
Though there are key differences between the two candidates' proposals, the attention given to caregiving this election season is striking, and underscores the importance of planning for the care of the country's growing aging population.
Whether or not you're currently providing care for an aging loved one, chances are it's only a matter of time before your family will face tough questions about senior care. Getting the conversation started about topics like long-term care preferences and end-of-life wishes is an important step in ensuring your loved ones get the care that's right for them.