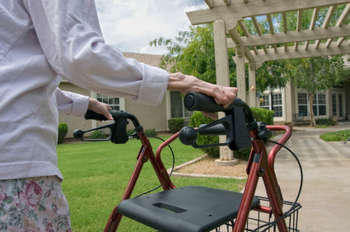 All Rights Reserved
Exercise helps manage Parkinson's disease
Regular exercise, along with physical and occupational therapy, can help maximize someone's fitness, mobility, and ability to continue her daily routines after she's diagnosed with Parkinson's disease. Helping her function at the optimum level now may offset some of the physical limitations that can develop later.
First you'll want to help her understand why exercise is important. Then you can focus on ways to help her work the best kinds of activity into her life.
Exercise is vital for Parkinson's disease management. At a time when someone with Parkinson's probably feels like she's losing control of her world, one of the best things she can do for herself is exercise, movement disorder experts say. Not only do regular workouts and physical activities lift the spirits, release stress, and tune up the heart, they can also build strength, flexibility, and endurance and improve posture.
A new British analysis that pooled the results of multiple studies found that various exercise interventions boosted physical functioning, health-related quality of life, strength, balance, and walking speed in Parkinson's patients. And some research on mice with Parkinson's disease-like symptoms even hints that exercise can enhance the brain's supply of dopamine, the chemical lacking in Parkinson's patients.
Physical therapy helps a Parkinson's patient exercise
Even if the person with Parkinson's is a couch potato, it's never too late to benefit from exercise. To get started, she should first discuss with her doctor whether she has any health issues that might pre clude certain kinds of activities.
Get workout pointers from a physical therapist. It's important to take advantage of rehabilitative care services such as physical therapy early in Parkinson's disease rather than waiting until problems arise, says Julie Carter, associate director of the Parkinson Center of Oregon, in Portland.
The person with Parkinson's can ask her neurologist for a referral to a PT to help her plan a moderate exercise program. It's preferable to consult someone knowledgeable about Parkinson's disease rather than simply see a trainer at the gym. People with Parkinson's often develop a stooped posture in which their spine and shoulder muscles -- along with other big muscle groups in the arms and legs -- flex forward. Strengthening the major extensor muscles, such as the back shoulder muscles, can work to counterbalance this, but the average personal trainer may not realize the importance of that in Parkinson's patients, says Carter.
Based on an evaluation of the patient's physical condition and her personal goals, the PT can design a targeted program of strengthening, stretching, balance, or aerobic fitness exercises. Your family member can do these on her own or work on them with a gym trainer (make sure the trainer doesn't modify the program without the PT's approval).
Stretching is key. Because Parkinson's patients tend to become stiff and lose the ability to turn the torso, flexibility exercises are crucial for improving range of motion. In Portland, Carter's center set up classes in pilates, a low-impact exercise system that focuses on breathing and rotating, extending, and flexing the spine. Pilates or a basic stretching routine can make "a big difference in how functional people are over time," says Carter. "You can just see that they're visibly able to take bigger strides, they can reach better, they can turn better."
Similarly, gentle yoga techniques of stretching, breathing, and relaxation can lengthen the spine and extend the big muscle groups, says physical therapist Marilyn Basham of the Parkinson's Institute and Clinical Center in Sunnyvale, California. "If the spine is elongated, breath comes in easier, swallowing is easier, conversation is easier," she says.
Troubleshooting movement problems with Parkinson's
If the Parkinson's patient has difficulty with walking, balance, pain, or activities such as dressing or getting in and out of bed, the PT can analyze her gait and mobility and offer a range of treatments and coping strategies. For tripping and falling problems, the PT may set her up with an assistive device such as a hiking stick or walker. Ideally, the PT or an occupational therapist (OT) will make a home visit and give tips on improving the safety of her living situation.
The PT can also treat slowness of movement. Parkinson's disease typically impairs the automatic processes in the brain that allow a person to move without thinking about it. One technique for helping the patient, say, stand up from sitting in a chair is to teach her to consciously think about each step of the motion in advance. It's also worth asking whether the person has slowed down because the illness has made her more sedentary, causing muscle weakness. If so, the solution is to try to get her walking more, according to Basham.
Slowness, stiffness, or gait problems, along with nonmotor Parkinson's disease symptoms such as depression and ap athy, can sap a patient's motivation levels. You or other family members might try joining her for walks on a flat route. Start with 5- to 10-minute jaunts and build her up to 30 minutes, at least three to five times a week, says Basham. Keep in mind that walking may require her full focus on putting one foot in front of the other. Trying to engage in a conversation at the same time may tax her; if so, suggest holding off on chitchat until you take a break.
Alternative exercises for Parkinson's patients
Other workout options include dance, water-resistance exercise, and tai chi, the ancient Chinese exercise that emphasizes flowing moves, posture, balance, and meditation. Check with a local medical center or movement disorders clinic to see if it offers these kinds of classes for Parkinson's patients or seniors.
Also highly recommended is a ten-lesson exercise plan from theater arts coach John Argue, author of Parkinson's Disease and the Art of Moving . His book and accompanying video teach Parkinson's patients to purposefully think themselves through the acts of moving and speaking.
The most important thing is for your family member to find safe activities that she enjoys doing. If she doesn't enjoy them, she probably won't keep doing them. Other resources:
The National Parkinson Foundation's free brochure, Parkinson Disease: Fitness Counts
A video or DVD of 24 seated exercises entitled Motivating Moves for People with Parkinson's, coproduced by the Parkinson's Disease Foundation and available for purchase online .
Occupational therapy helps keep Parkinson's patients independent at home
OTs can also offer solutions when Parkinson's disease hinders the many little jobs of daily living, from bathing and using the toilet to cooking and eating. These licensed practitioners ask, "What does the person need to do, want to do, and have to do to be able to maintain his daily activities, his life, and his lifestyle?" says Nancy Lowenstein, an OT at Boston University. The OT (occupational therapist) offers strategies and adaptive devices -- from extra-long shoehorns to utensils with built-up, easy-grip handles -- to navigate activities more easily and safely.
If the physical therapist prescribes a walker, for example, the OT might visit your family member at home to figure out how she'll use it while getting clothing out of the closet. With each problem at hand, Lowenstein says, the OT might advise changing the way she does the activity or making changes in the home environment. If she has trouble carrying items around the kitchen because of a tremor, she could use a small rolling cart to move them instead. The risk of slipping in the shower or bathtub could be reduced by adding grab bars, a tub seat, or both.
When possible, you or other family members should go to the initial physical therapy and occupational therapy visits with her. Understanding the challenges that she faces will make it easier to provide the kind of support and patience that she needs from you. You can remind her of the OT or PT's techniques and become part of the solution.
For instance, says Lowenstein, if stiffness and slowness make it a challenge for your family member to open a box of cereal, you could buy a container that's easy to open and transfer the cereal into it. Or if she has trouble bending down to reach the pots and pans on the bottom kitchen shelf, you might suggest moving them to a more convenient spot.