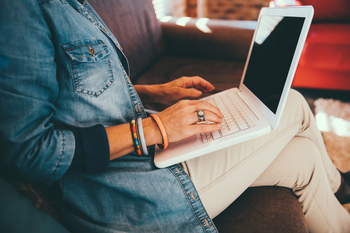 All Rights Reserved
It might surprise you to learn that 45 percent of American adults -- almost half -- are living with a chronic health condition such as diabetes, heart disease, COPD, cancer, or allergies or asthma. And while no one would argue the fact that the Internet can be a helpful resource for health information and support, new research from the Pew Research Center finds that those with chronic health conditions are less likely to be online than those who are healthy, regardless of age. That said, Pew's findings also showed that those Internet users who do have a chronic health condition are more likely to be extremely active online, using the Internet frequently to access information, data, and support.
What Pew calls the "diagnosis difference" has a profound effect both on how much these adults use the Internet and how they use it. People in this group are more likely to be social online, joining communities, accessing support groups, and commenting on articles and blog posts. They're also more likely to be "serious" online, using Internet tools to follow current research and news and to track their own health. Pew found that 7 out of 10 of adults with a chronic condition and 8 out of 10 adults with two or more conditions use the Web and apps to monitor their own health and the health of others -- and they reported that doing so had made a difference in their lives.
One way you can see this difference at work is in the world of health blogging. Emily Caldwell started her award-winning blog Mom's Brain when her mother was diagnosed with Alzheimer's disease (AD). Since then, Caldwell says, the blog has become an important way to connect with people who share a common experience. "One of my earliest blog comments came from a woman in San Francisco whose mom was in the early stages of Alzheimer's. That told me I was doing the right thing -- I was helping myself, but I was also reaching other people who were looking for the kind of information I was trying to provide."
The community that has grown around her blog has become an important source of support, both for her and for her readers. "A few words of kindness can go a long way on a bad day. It is so important to know that we are not alone, because caregiving can feel like a very lonely experience."
SEE ALSO: Find In-Home Care Help Near You
Writing her blog has also proved therapeutic, Caldwell says, allowing her to forgive herself for mistakes and gain insight into her emotions. "Writing about these experiences has been a way for me to support myself, in a way -- to say 'out loud' what I think and feel and not apologize for it."
And in fact, research shows that writing about health struggles can be a way to successfully resolve tough emotions. In a study titled "Communicating the Experience of Chronic Pain and Illness Through Blogging," published in the Journal of Internet Medical Research, Pamela Katz Ressler, Lisa Gualtieri, and colleagues at Tufts University concluded that "blogging about chronic pain and illness may decrease a sense of isolation through the establishment of online connections with others and increases a sense of purpose to help others in similar situations."
According to the more than 2,000 bloggers who responded to the Tufts survey, writing about their illness resulted in feeling more connected with others and in a decreased sense of isolation, and it gave them a sense of purpose and deeper understanding of their illness.
If you or a loved one suffers from a chronic illness, the Internet can be a wealth of information and support, if you can allow yourself the time to access it. And if writing about your illness sounds like it might be helpful, know that there are others out there who can benefit from your experience. For a few tips on how to do this yourself, see How to Write Your Blues Away.
SEE ALSO: Find In-Home Care Help Near You