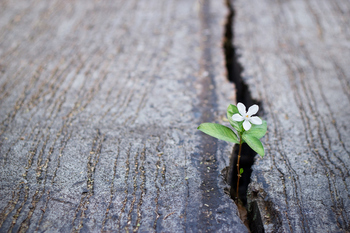 All Rights Reserved
Losing someone you love is one of those universal experiences that you'll never truly understand until you live through it yourself.
It's been a year to the day since I lost my beloved mother, Fran Nicholson, and four years since we began to lose her to Alzheimer's disease. Over the past 12 months, I've learned to live without the woman who shaped my world and made me who I am today.
While it's still hard to believe she's really gone, these days, I feel like I'm entering a new phase in the grieving process. By no means has it been easy, and there are still times when I feel overcome with sadness, but overall I have the feeling that everything is getting lighter. If you follow the 5 Stages of Grief model -- established in 1969 by psychiatrist Elisabeth Kubler-Ross -- then I suppose you could say I'm in the Acceptance Stage.
But it's also important to remember that not everyone processes grief in five linear stages, and each person experiences those stages in their own way. Plus, for others like me who've lost a loved one to Alzheimer's or another long, terminal illness – there may very well be a sixth stage, known as anticipatory grief.
"People can have a mix of emotions after losing someone, including denial, anger, depression, relief, and acceptance," says Dr. Celia Trotta, a psychiatrist and founder of PsychiatryHealth.com.
She says that she's seen patients mourn a loved one for periods of months to years, and doesn't believe there's any specific time frame for bereavement.
The process of moving past the grief, sadness, anger and disappointment that tend to accompany a loved one's death can be faster for some than for others, notes Los Angeles-based psychiatrist Dr. Gretchen Kubacky. Some factors that can accelerate the grieving process might include having a strong religious faith or support community, while a pre-existing mental illness, past trauma, limited support and other life stressors can slow the process.
My own grieving process is still ongoing, but I've learned a lot over the past 12 months and have noticed a significant evolution in how I'm processing the loss of my mother these days. What follows are some of the biggest things I've gleaned about grief, as well as insights from experts. Wherever you are in your grief process, I hope these observations will be of some help.
Triggers have less power
In the first few months after Mom passed away, I would find myself tearing up at odd moments. It would often happen when I least expected it, after I'd been triggered by something that might not have affected me in the past. I could get choked up standing in the grocery store after catching sight of Mom's favorite candy, or walking past the rock garden that marks the spot in our yard where she spent so many hours.
Once in a while, I'll be caught off guard by how much I'm still affected by my mother's passing. Sitting in the audience of a Broadway play over the summer with my family, I felt an out-of-body sensation as one of the actors on stage playing a woman with Alzheimer's brought my mother back to life before my eyes. I was shaken – I didn't realize how much I could still be affected by her loss.
But as the weeks and months have passed, I've had fewer of those moments. Each month, it's gotten a little easier. Now when I walk past Mom's rock garden, it no longer makes me cry – in fact, I say "Hello" to her when I pass by.
Tears have given way to smiles
There have been so many moments after Mom's death where thinking of her and being reminded anew of her passing made me sad. In the first few months, I would instinctually pick up the phone to call her, and then would be crushed seconds later when I realized I couldn't. Those moments would usually end in a puddle of sobs.
As someone who travels a lot for work, I've had a long-held ritual of calling Mom on the way home from the airport. During one of my latest trips, I didn't quite reach for the phone but I had that brief thought of, "I need to call Mom."
I felt sad, but I also had to smile when I thought about how my son has taken on the same ritual. He now calls me each time he's on his way home from the airport, the way I'd always called Mom. That's one of the changes I've noticed as the grieving process continues – things that maybe made me cry now make me smile.
For example, sometimes when I'm cooking, I'll take one of my mother's recipes and modify it in a healthier way, and I can hear her in my head having a fit over it, and that makes me smile.
Yesterday, I thought of her because I have some really big career-related projects going on. But instead of being sad that I couldn't tell her about everything that's happening, I had a smile moment and just thought how proud she would be of all that I'm doing.
I think that's the progression – you cry, you get sad, you smile and then you laugh. Right now I'd say I'm coming out of the melancholy I initially felt and into a sad smile.
The transition from crying to smiling could mean that I'm emerging from the worst of the grieving process, according to counselor and life coach Monte Drenner of Orlando-based MTC Counseling.
"The best sign [of that]…is when they're no longer consumed with the sadness of the loss," he says. "Once this occurs they can learn to live the life they have in a healthy manner and not the life they had."
Mom's death has inspired me to live more fully
If there's any silver lining to losing my mother, it's that it's inspired me to live life to the fullest. During the three years leading up to Mom's passing, I was so busy juggling caring for her, being there for my own family and my career that I let other plans and ambitions fall by the wayside.
I found myself unexcited about a lot of things and for one of the first times in my life, I'd think, "I'm getting too old for this or that," or that it would be too much work to pursue the things I'd previously wanted to do.
Losing Mom has kicked me in the butt and pushed me to go for things that I really want – whether it's traveling or living in New York City for a summer. She didn't get to do everything she wanted to do, but I can't just sit around being sad about it.
After a year of grieving I really feel like I'm coming out of it and attacking everything with gusto. I'm not only ticking off the items on my bucket list, I'm actually adding to it. Her passing made me realize that life is too short not to.
You can't do it alone
Another major lesson I've learned through grieving my mom – I couldn't have gotten through it alone. Throughout the "long goodbye" of my mother's Alzheimer's battle, I relied on a network of family, friends, and my Facebook community to get through it. All of those sources of support have also been crucial to cope with her death.
I can't stress enough how important it is to have a support system, not only as a caregiver but during the grieving process, wherever you find it. It may be from relatives and friends or it may be through an in-person or online support group like those on Caring.com.
And while there's no set timeline for when you'll start to feel better after losing a loved one, there are some signs that you may need some extra help coping.
"I recommend people get professional help when they feel stuck in their grief and are unable to perform their relationship and professional roles as they had in the past," says Drenner.
And while a certain period of sadness after losing a loved one is to be expected, it's important to watch for the signs of clinical depression.
According to Trotta, these signs can include:
Fatigue or loss of energy
Depressed mood most of the day, almost every day
Decreased interest or pleasure in most activities
Significant weight loss or gain
Trouble sleeping or over-sleeping
Agitated, purposeless movements or moving slower than normal
Feelings of worthlessness or inappropriate guilt
Lowered ability to think or concentrate
Recurrent thoughts of death
Suicidal thoughts
If you're consistently experiencing one or more of these symptoms, it's time to seek professional help.
Remember that depression is highly treatable. If you think you may be suffering from depression, the most important step to take is to see your physician. If you're currently in crisis or need immediate help with depression, please contact a support hotline, such as 1-800-784-2433 or 1-800-273-8255.
---
Dayna Steele is Caring.com's Chief Caring Expert and the author of Surviving Alzheimer's with Friends, Facebook, and a Really Big Glass of Wine.