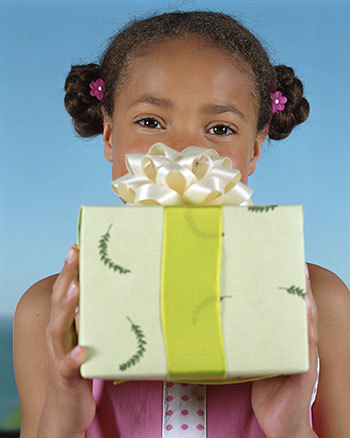 All Rights Reserved
The most cherished gifts grandparents get from the grandkids are meaningful and handmade. (Please, no socks!) But who knew that holiday gifts to grandparents can be a gift to you, too? Nudge your kids toward the right project and, without having to do any heavy lifting, you get to bask in the glow of delighting and honoring your parents.
Best of all: The following easy, not-so-kitschy ideas for Christmas, Hannukah, or any day with Grandma or Grandpa require little prep time (because who -- adult or child -- has time?). And the kids will have fun in the process - way more fun than they'd have shopping for socks.
1. Make a movie.
Making a movie sounds intimidating to people of a certain pre-YouTube age, and therefore all the more impressive as a grandparent gift. But it's just an afternoon's amusement for a kid with a portable mini-cam. Prompt yours with a title: 10 Things We Love About Grandpa (and get ten different people to share their stories), A Day at Nana's, My World and Welcome to It, Gramps, or Grandma's Favorite Places.
If you live nearby, make a special event out of a screening, with programs, popcorn, and comfy chairs set up around the laptop. If you live far away, upload the movie and arrange for someone computer-savvy (if the elder isn't) to show it.
2. Load an iPod with old TV show favorites.
This is a pricier gift, and one that your child will need your help to procure -- but it's a pretty easy device for most adults to figure out, and a delightful one when you customize it with wonderful things to watch. (My dad just loved discovering he could see oldies, like the The Honeymooners, right in the palm of his hand.) You'd be surprised what the iTunes store carries.
3. Fashion a crown.
Show your child how to tear aluminum foil out of its box in three- to five-inch strips, then roll these strips into sturdier long pieces that can be shaped like filagree. You can concoct an amazingly fanciful crown that rivals anything the Queen Mother ever wore. Just fold pieces together to "weld" them.
4. Draw a multigenerational family portrait.
This includes Grandma and/or Grandpa, of course. Use any medium that's age appropriate, from crayons to oil paints. If you put it in a frame, it becomes a work of art.
5. Get an oral history.
Here's a present you don't have to execute before the gift-exchange: Do it on that very day. Encourage your child to prepare a list of questions about the grandparent: Where were you born? What was your favorite thing to do as a child? How did you feel the day my Mom was born? Then your child can conduct an interview (audio or video) that will be enjoyed in the near term and treasured years later. It's especially wonderful to discover an old tape like this and hear a grandparent's voice long after he or she has died.
6. Make a special card.
Not just any card: A multipart gatefold or booklet, with as many pages as your child is old: My 7 (or 10 or 15) Years With Granny. Encourage your child to think of different things about her relationship to the grandparent over the years: Age 2: You Changed My Diapers. Age 9: You Taught Me How to Fish.
7. Burn a CD.
Help your child think of the kind of music the grandparent would enjoy -- or better yet, have him sneak a peek at those dusty old 78 albums on the grandparent's shelves. Download this music onto a customized CD. Trolling around for era-appropriate music might even be educational for your child.
8. Fill a wishes jar.
Have your child write on each of 10 or 20 strips of colored paper an experience he or she could give the grandparent during a visit: One free kiss. One big hug. Milk and cookies to share. A foot rub. A movie. A story made up by me. Depending on the grandparent's health and proximity, include more ambitious outings: A walk around the block. One free ice cream cone. Siblings can each use paper of a different color, so the grandparent can pick out one from each child.
9. Present a special sort of brag book.
If you have a baby: Grandparents love portraits, of course - but not necessarily the clutter that all those photo frames add up to over time. So consider the gift of a beautiful, dedicated photo album large enough to house a 5 x 7 or 8 x 10 portrait (whatever size you normally give). Every time you have a new portrait made of your child, insert it in the original frame, and take the old one out and place it in chronological sequence in the special album.
10. Join hands.
One of my mother's all-time favorite gifts from her 14 grandchildren was the collage we made out of their handprints. My sisters, sisters-in-law, and I each traced our kids' handprints on different colored construction paper. Then each child went to town customizing his or her handprint with messages, doodles, or other decorations, and we added each child's name and age. Then we took a photograph of all 14 kids assembled at one time (yes, it was a wild photo shoot). Finally, we -- well, my enterprising sister-in-law gets the major credit! -- took a print of the photo, arranged the handprints around it, and framed the thing.
With fewer grandchildren (or just one), you can do the same thing by decorating a flower pot. Dip the hands in paint and press against a terra cotta pot. Add names and dates with permanent marker after the paint dries. Insert a lovely flower, and you're good to go.
---
These ideas are simple enough to be executed on just a day or two's notice. Best of all, they're gifts from the heart -- your child's heart and, yes, yours too.