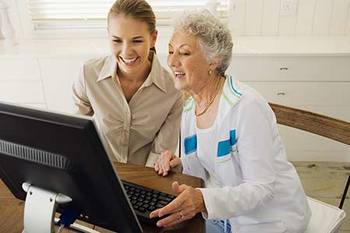 All Rights Reserved
If your parents or the people you care for aren't online, you may feel frustrated trying to convince them to connect. Don't tell them they're missing out by not using social media. It may make them feel stupid (after all, even the term "social media" is a bit confusing). Instead, show them all the great things they can learn about and enjoy when they connect to other people and family members online. Here are some ways to get them engaged.
1. Lure them in with photos of family.
Everyone likes to open up an old photo album, so show them online photo sharing. Pictures of their grandchildren on your tablet or laptop will get their attention. Make sure to demonstrate how they can enlarge the screen in a flash, making it easy to look at photos without glasses. If they're hard of hearing, demonstrate how easy it is, with volume controls or headphones, to hear their grandchildren performing in a school play or the family celebrating a birthday.
2. Talk about family history online.
Everyone likes to know more about their own family history, so show them online genealogy sites, complete with a family tree, as well as old family bibles and even photos of gravestones.
3. Talk about the weather.
The weather is always important, and it's just plain better online than on TV. Show them an app where three or four cities are set up as the defaults so they can keep track of the weather where all their family members live. Also, if you show them how they can access their own detailed local weather, this will keep them safe and prepared for any weather developments. Set up weather alerts to let them know about extreme weather heading their way.
4. Help them contact old friends.
What ever happened to their hometown friends? Show them how easy it is to reconnect to old high school and college friends they may have lost track of. Social media communities based on school or work friends are easy to join and give hours of entertainment and friendship.
5. Show them answers to questions they've always had.
While you don't want them worrying about their health more than necessary, you should show them helpful medical websites where geriatric health is discussed and good information is available.
6. Introduce them to convenient devices.
One last thing to remember is hardware. A desktop computer can seem overwhelming or uncomfortable for some seniors. Many seniors prefer the lightness and accessibility of a tablet computer. If the small-sized print on a smartphone isn't a problem for them, show them all the ways to connect with friends and family via a mobile device. Whatever way they get online, give them loads of encouragement and regular check-ins to turn social media into a daily habit they look forward to and find easy and fun.