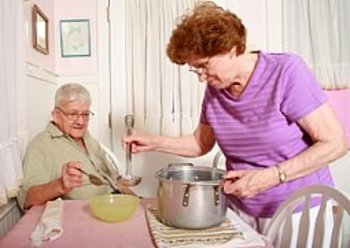 All Rights Reserved
A number of programs subsidize food and meal purchases and deliveries to older adults. While local requirements differ, recipients must generally have few valuable assets and meet fairly strict income guidelines -- the same requirements that qualify them to receive benefits under local Medicaid programs. Net monthly income must be at or below the federal poverty guidelines, currently about $902 per month for a household of one and $1,214 for a household of two in most locales.
To find free meal delivery programs, contact:
The Commodity Supplemental Food Program, which provides food directly to some low-income individuals over age 60 who live in one of the 39 states participating in the program. For information on eligibility and how to apply, go to the program's website.

Church and community groups, which frequently offer free meal delivery as a service to local residents in need. However, it can be a little difficult to track them down. For help with this, contact your Local Area Agency on Aging and ask for area programs offering free meal deliveries. Be aware that eligibility criteria and availability change frequently.
Also be sure to see our checklist covering What to Ask When You Call a Meal Delivery Service. And if the delivery services described here don't meet your needs, see Other Meal Options.