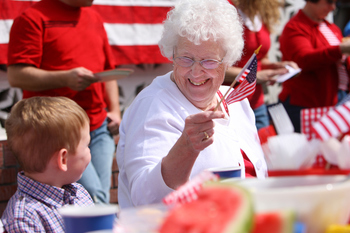 All Rights Reserved
Patriotic celebrations are a great way for family and friends to relax, bond and build lasting memories together. With a little planning and preparation, caregivers and loved ones can make sure seniors are able to partake in the festivities and enjoy the spirit of the day.
Below are some key some tips to help make that happen.
1. Stay on your toes
They key to ensuring elderly loved ones enjoy a safe Fourth of July is being nimble and responsive, says Sharon Brothers, MSW, founder and president of the Institute for Professional Care Education. "Caregivers must be aware of how the person in your care is responding to the environment."
Some older adults may love the loud, colorful and even hectic Fourth of July environment, while others may find some aspects of the holiday to be uncomfortable or overly stressful.
"Encourage your loved one to tell you if the atmosphere gets to a point where he or she is uncomfortable," says Brothers. "And assure them you'll take them to another location like indoors, in the car with the air conditioning on or another out of the way location where they can relax and feel less stimulated."
And be prepared for circumstances to change.
Brothers says that many times an elderly person (especially those with cognitive issues) may want to attend a parade, but will then change their mind or become overwhelmed. "Even if you start out thinking the event is exactly what a loved one wants, you may have to backtrack and look for another way to celebrate the day," she says.
2. Prepare to be outside
Before heading outside, make sure to take these precautions to keep everyone happy and safe.
Brothers cautions that despite the heat often spiking in early July, seniors like to "be prepared" for chilly weather and might throw on a sweater or jacket before leaving the house. "Because they've always done that, they may be in that habit," she says.
That extra layer can lead to a person dehydrating faster than normal in the heat and sun, especially if they're at a parade or fireworks display without access to water. Brothers suggests checking with your loved one's physician about fluid intake requirements to avoid dehydration issues.
And while an extra outer layer of clothes may not be necessary, Brothers notes that a hat and sunscreen usually are. Anyone can experience sunburn during the day—even if it's cloudy. "Seniors may be taking medications that make them sensitive to the sun, so they should wear a hat and sit in the shade if possible," adds Brothers. Some medicines that can cause skin sensitivity to the sun include Amiodarone, used to treat heart conditions, and over-the-counter non-steroidal anti-inflammatory drugs (NSAIDs), like ibuprofen.
Remember that those with dementia or Alzheimer's may forget about safety precautions at BBQs and gatherings. "It's important to think about safety around hot grills, campfires, fire pits and fireworks," Brothers adds.
"It's helpful to bring a portable chair so a senior doesn't have to stand for long periods of time," says Andrew Dubler, managing partner of Home to Stay in Cherry Hill, New Jersey. "You may also want to bring a wheelchair if walking long distances from the car to the event is required or in case the person is fatigued at the end of the day."
Traditional cookout fare is fine for the younger crowd, but many elderly folks on certain medications may have dietary restrictions, says Sydney Ziverts, a Health and Nutrition Investigator at ConsumerSafety.org. Avoid potential reactions and interactions with medicine by bringing a range of healthy food and drinks to any event featuring food (backyard BBQs, carnivals, festivals, etc.).
3. Try out-of-the-box outdoor activities
If your elderly loved one needs to stay indoors, there are plenty of Independence Day-themed activities to keep them busy and engaged in the holiday. In addition to traditional BBQs, parades, village festivals and fireworks displays, consider participating in some different activities with your loved one.
Dubler suggests contacting the local Veteran's Association about any local ceremonies or parade opportunities elderly veterans can attend and possibly be honored at.
"A great patriotic activity to do this time of year with your loved ones is place American flags at a local veteran's cemetery. You can even play patriotic music while doing the activity and let the memories come marching in," says Dubler. As an added bonus, organizing, counting and placing the flags is a great productive activity for those with dementia or Alzheimer's that provides multiple types of stimulation and opportunities for engaging and reminiscing.
4. Opt for indoor fun
" Use the holiday as a reason to record an informal interview with your loved one and discuss all things America. "Talk about adventures they've had in different places, what they love about this country, etc.," suggests Dubler.
"Take an Independence Day quiz. This will be fun and encourage your loved one to recall memories and feel successful doing so, says Nate Benjamin, owner of Homewatch CareGivers office in Treasure Valley, Idaho.
"If the weather isn't cooperating or your loved one isn't able to celebrate at an outdoor event, Dubler suggests watching a classic, America-themed movie, like Yankee Doodle Dandy. "You can also host a viewing party to watch the fireworks on television."
"Singing some songs together like 'God Bless America' or 'America the Beautiful' will be fun and help your loved one exercise their memory, maybe even recall old memories of when they used to sing these as kids," adds Benjamin.
5. Remember that practice makes perfect
Every situation varies, but in general, caregivers should remember that festive celebrations can take an elderly loved one out of their "norm" and may be stressful for them, says Karen Whitehead, LMSW, a Certified Compassion Fatigue Professional in Norcross, Georgia who works with caregivers to help them develop boundaries and keep up with self-care to minimize resentment and burnout.
That's especially true of those with cognitive impairments and related health issues. "Any outing, 4th of July or otherwise, can be unsettling for elderly loved ones if they have difficulty being away from familiar surroundings," says Whitehead.
If you're unsure how your loved one will respond, she suggests a practice run. "Visit the location with your loved one on another day. If all seems well, prepare him or her for the potential crowds and loud noises to minimize any stress that may occur," she says.
You can also speak to their doctor to discuss how he or she may respond to festive stimuli like fireworks, large crowds, marching bands, etc. "If dog barking or doorbells, sirens, etc., are unsettling, fireworks will likely be as well," says Whitehead.
"If including your loved one in a 4th of July celebration seems like it may cause distress or be too uncomfortable, it's ok to plan something else with or for them and still attend the event on your own as planned.," she says. "You will be a much better caregiver if you are taking care of your own physical, emotional, and social needs!"