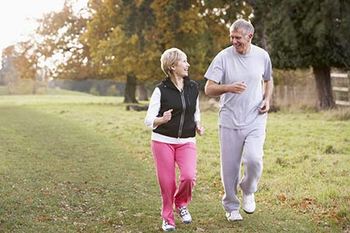 All Rights Reserved
As a caregiver, it's easy to get so caught up in our day-to-day tasks that we neglect our own health. There's plenty of advice about staying fit and putting ourselves first -- but in practice, that's not always easy to do. We wondered if the Fitbit Zip would help provide the inspiration, motivation, and support family caregivers need.
We asked a group of caregivers to test out this product and judge its effectiveness in managing their exercise routines. Here's what we learned.
What Is the Fitbit Zip?
The Fitbit Zip, roughly the size of a quarter and barely noticeable to the wearer or an observer, is an electronic monitoring device that can easily be slipped into a pocket or strapped onto a shirt or jacket. This ultra-portable health tracker uses built-in tracking technology and measures steps taken, distance traveled, and calories burned during the course of a walk or jog, then uploads this information onto a computer or smartphone. In doing so, it documents your workout progress, encouraging you to set goals and challenge yourself. You can additionally use third-party applications, such as Food Plan, with Fitbit Zip in order to track your nutrition simultaneously with your workout.
What Caring.com Users Liked About the Fitbit Zip
It's extremely portable and secure.
One of the greatest appeals of the Fitbit Zip is that it can be taken anywhere. Users appreciated how compact the device is. "It is really small and easy to wear," reports one caregiver. "I have been wearing it every day all day." Fitbit Zip users don't find the device obtrusive or cumbersome, so it can be worn all the time for a completely thorough fitness report.

It encourages increased physical activity and healthy eating.
By keeping track of calories burned and distance traveled, and providing an option to share your progress with friends, the Zip incentivizes frequent workouts and greater nutrition. One caregiver reports, "It inspired me to be more active, as I wanted to get my step numbers up. It also made me resist eating high-calorie food since I realized how long it would take to burn those calories off." The Zip not only helps with keeping track of past exercise but also encourages more in the future.

It helps with weight loss.
Because of the optional nutrition tracker that can be used with the Fitbit Zip, caregivers found the device ideal in aiding with weight loss. "The calories-burned feature is very nice since it shows one is really burning calories, and that is encouraging to all of us who want to control our weight," said one reviewer. The program, called Food Plan, also allows you to enter in all the foods you eat over the course of a day, not only making you more conscious of the calories you consume daily but also of how effectively you burn them off.
What Caring.com Users Didn't Like About the Fitbit Zip
Monitoring your progress can be time-consuming.
While the Fitbit Zip largely succeeds in its goal of simplifying your daily health routine, some Caring.com users still found using it to be a somewhat tedious process. Someone wishing to get the most out of it must be "willing to do a lot of journaling consistently and have ready daily access to a computer," reports one Caring.com user. The optional Food Plan component requires even more time and meticulous record-keeping. "A younger person would be able to figure it all out and have the time to add the foods!" said one reviewer.

Some found the battery installation to be tricky.
Although the Fitbit Zip comes with an opener to assist in battery installation, several Caring.com reviewers still found the process to be awkward. "I had a lot of trouble opening the Fitbit Zip on the back, using the opener enclosed," recalls one caregiver. "Once it was open and the battery installed, I had trouble closing it." Users with dexterity issues may need assistance setting up the product.

Several reviewers found the instructions to be too vague.
Instead of using traditional printed language, the assembly and set-up instructions use pictures to detail how to get started with the Fitbit Zip. This may be a helpful feature for users who find dense written material overwhelming, but several caregivers found it confusing. Upon receiving her unit, one caregiver "had no idea what to do with it." Another suggested that "written directions as well as the pictures would make it easier to start."
You Should Try the Fitbit Zip If You're . . .
Curious about the distance you travel and calories you burn while exercising
Trying to motivate yourself to work out more or lose weight
Relatively tech-savvy and want a way to simplify your fitness routine
Wanting to lead an active life and you enjoy seeing progress from a healthy lifestyle
How to Try Fitbit Zip
Fitbit Zip is available to order online at Fitbit Zip and in select stores; it comes in different colors for $69.95.