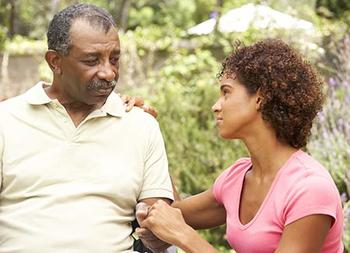 All Rights Reserved
In many families, it's when things hit crisis mode that the decision to choose long-term care finally looms. Surveys show that the majority of people seeking live-in care for their parents or other loved ones make the move within a month of starting the search, suggesting that most people are operating in "crisis mode." In other words, if this is the situation you find yourself in, welcome to the club! Here's a step-by-step guide to streamline the process and help you make this important decision quickly -- and feel good about it.
1. Review Care Options
If you've already been thinking about long-term care needs, you may have some options in mind. If not, use our localized care-finder to search for senior living communities in your area. You can expedite this process by working with a local geriatric care manager, who will assess your loved one's needs and guide you in finding the best match. "I try to simplify the process, looking at specific markers that tell me how independent someone can be and the type of care needed," says Bunni Dybnis, a geriatric care manager in southern California. "You don't want to prejudge, but find out what the situation really requires."
2. Narrow Your Search to Communities That Provide the Level of Care Your Loved One Needs
It would be nice if the world of residential senior care were simple, but it's not. In order to narrow your list, you'll need to know which communities provide the level of care your parent needs. Are you looking for independent living, assisted living, or skilled nursing care? And within assisted living there are (different levels of care)[item://how-assisted-living-facilities-determine-levels-of-care] (at varying costs). If your parent or loved one has Alzheimer's or another type of dementia, you'll likely need to choose a community that offers a specialized (memory care)[https://www.caring.com/local/memory-care-facilities] unit.
3. Keep the Doctor Involved
Choosing senior care essentially requires you to forecast the future, and that's a lot easier to do (and it's more likely to be accurate) with a doctor's assistance. Get the clearest picture you can of the state of your loved one's health and how that might change in the future. In particular, ask doctors and medical staff to be honest and open about what to expect down the line from any chronic or progressive conditions your loved one suffers from. Assisted living communities have different levels of care, each at an increasing price, and having some idea of what's in store will help you plan for that. Moves are not easy on older adults, so you don't want to move her any more than you have to. And knowing the schedule of costs will help you make a budget that accommodates future cost increases.
4. Clarify Rehabilitive and Skilled Nursing Care Versus Long-Term Care
In many situations, hospitals will discharge an older adult to a skilled nursing facility or inpatient rehabilitation hospital for recovery after surgery or treatment. But this type of residential stay is typically limited to a specified period of time, often determined both by the patient's needs and by coverage rules. If you're hoping your parent will qualify for a Medicare-covered skilled nursing or rehab facility, talk to the doctor; the care must be doctor-ordered and the criteria for coverage are quite strict. Medicaid provides long-term care to those who qualify medically and meet poverty guidelines. In either case, you'll be limited to facilities that take Medicare, which may narrow your list of options considerably.
5. Check Availability
The reality is, not all senior living communities will have room for a new resident right away. So if your loved one needs care immediately, you'll need to check availability and narrow your list. You'll also want to make sure the community provides the level of care your parent needs. If you have siblings and need to negotiate their involvement, this is a great time to pull them in. Divvy up the list and have everyone make a few calls, then compare the options together. This will give siblings who haven't been as involved up to now a clearer picture and sense of investment.
6. Take Care of Life-Care Planning
It's important to establish who has the right to help make medical decisions if your parent or loved one becomes incapacitated and can't make her wishes known. An advance health care directive takes care of this, allowing your loved one to choose who will have decision-making authority. Sometimes called life-care planning, this process also allows your loved one to specify which lifesaving measures she wants and which she wants to avoid.
7. Deal With Sibling Tensions
Getting everyone in the family on the same page isn't always easy, or even possible. It's all too common to have one or more siblings balk when another sibling calls to say Mom or Dad needs 24-hour care. (In a typical scenario, the sibling providing the bulk of care knows that a parent can no longer live independently, but siblings who see the parent less frequently may have trouble accepting this.) Another cause of conflict is money; one sibling may feel that everyone should pitch in to pay, while others aren't able to -- or don't want to -- help out. In order to ease sibling tensions, it's necessary to resolve these issues, even if it requires some difficult conversations. Siblings who live far away may need to spend some time with Mom or Dad to see the problems firsthand, and you may need to come to peace with the fact that costs and care responsibilities aren't distributed equally.
8. Get Help From a Moving Expert
Moving your parent out of a home she's lived in for many years is a big job, even more so if you're planning to rent or sell the home. Luckily there are professionals who know how to do this quickly and efficiently. Hiring a senior move manager lightens your load, and they're also expert in minimizing the emotional impact on your loved one. This is particularly important if your loved one is downsizing and selling or giving away beloved possessions. "It may have taken as many as 50 years to make that home what it is today, and you want to be thoughtful as you go through everything so there's no regret or remorse," says Mary Kay Buysse, executive director of the National Association of Senior Move Managers.
9. Plan the Move
Whether your loved one is taking just some of her belongings or downsizing permanently, there's a lot of preparation to do to make her new home feel, well, homey. Plan what to take and what to leave behind, making sure she brings some photos, knickknacks, and other favorite things to make her new surroundings feel more familiar. It can help to make a sketch of her new room(s) to make sure that what you've chosen will fit comfortably there.
10. Prepare for the Big Day
To minimize the stress and anxiety of moving to her new home, help your parent get ready ahead of time, so she'll feel her best on what may be an anxious day. Call ahead to see if your community of choice has a "buddy system" in which they pair newcomers with a fellow resident to introduce them to the community. Plan to spend some time, perhaps the whole day, helping her settle in and feel comfortable in her new home. And make sure you are clear both on visiting rules and on how often -- and when -- your parent wants you to visit. This is your parent's new home now, and she calls the shots.