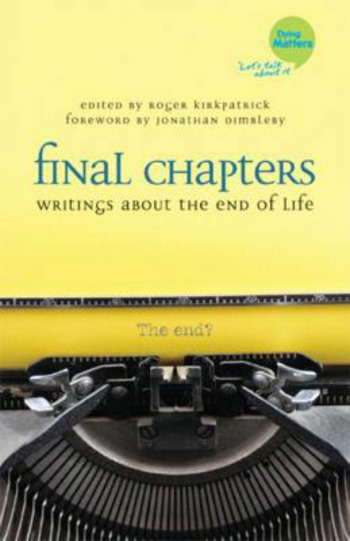 All Rights Reserved
Final Chapters is a collection of essays, poetry, and stories written for or by those who are facing grief and loss. Whether the words come from those in the dying process or from a parent, son, daughter, doctor, or nurse, this small book is an expression of this most sacred and difficult part of our journey. It reminds us that grief is "unique and precious," as the foreword's writer, Jonathon Dimbleby, explains. There is something that is soothing and validating about a collection such as Final Chapters. This is not something that can be observed and then written about; it would not hold the same truths.
Roger Kirkpatrick, editor of Final Chapters, shares with us his thoughts on death and dying and how Final Chapters came about. Reading these stories and poems will bring the comforting realization that we are not alone -- other people have gone through what we're going through.
Roger, how did Final Chapters come about?
Roger Kirkpatrick: Final Chapters -- a published anthology of searing personal stories -- is important: It is a physical object that campaigners can thrust into the hands of movers and shakers, shouting, "This is what it feels like!" Alex James, founder of bereavement.co.uk, wrote of the stories and poems in Final Chapters that "Some are uplifting and inspirational while others left me thinking, 'Why?' and wanting to run with my soapbox to the nearest street corner and draw to public attention the true state of care for our elderly, and the lack of support for those facing dementia and terminal illness (unless of course you are fortunate enough to live in an area that is well provided for!)."
Final Chapters began as a competition and attracted 1,400 entries, whittled down to 30 final selections. The Final Chapters creative writing competition, sponsored by the Dying Matters Coalition, was created because we felt that people would find it less upsetting to write about dying than to talk about it. We were right!
I was astonished by the high standard of so much perceptive description of experiences and predicaments that are little talked about in society, and that are so often mitigated or avoided. Many contributions were strikingly original and -- not being professionally polished for effect -- particularly affecting. We wanted to end the taboo on discussing dying and death, which is essential to improving palliative care -- campaigners need much more than confusing statistics.
In Final Chapters, junior doctor and writer Alexandra Obee was not only a nurse but a daughter facing her own grandfather's decline. Obee wrote, "We work long hours, and may not be able to directly care for our relatives when they need us most." Did you find that many of the nurses, doctors, and medical staff who responded to your call for stories grappled with personal situations as well?
RK: Two hundred nurses, doctors, or other medical staff sent entries: All expressed compassion -- there was no indication of "maintaining a professional distance" -- but what kind of surprised me and was endearing was that they all expressed deep, personal empathy for a specific patient and/or their relatives. I was particularly impressed by a U.S. doctor's (unfortunately unpublished) description of his sympathy for a patient's partner.
Does this "parallel experience" lead to a heightened compassion?
RK: Yes. Several carers expressed a resolve to extend to their own relatives and friends, "while there's still time," the compassion aroused in them by a client's situation.
Poet Brenda Read-Brown penned these words in her poem "Swan" in Final Chapters, "I miss you with my skin." How does writing (and, in particular, poetry) give a voice for grief?
RK: Everyone experiences grief differently. It's a natural, personal, and often vey painful emotional response to loss. Elisabeth Kübler-Ross's five stages of grieving -- denial, anger, bargaining, depression, acceptance -- were not intended as a rigid structure, and the emotion of a grieving person changes from day to day. For some bereaved people, the death of a suffering friend or relative brings a feeling of relief.
Sharing painful feelings usually helps us to bear them, but when we are grieving it is difficult even to think. It is easy not to focus thoughts, let alone express them, so thinking and talking will be, at best, woolly.
However, to write you must get at your emotions and you have to find the right words. Several of the writers remarked on the comfort and welcome sense of relief they experienced in "at last" writing about their grief: One widow explained that writing was "the best way -- I now realize -- to feel better, but I needed a reason to start, and the Final Chapters competition was that reason."
I contend that poetry, which is music, is a particularly effective way to express grief, which is an emotion. Poems use more than words -- they use symbolism, metaphor, imagery, onomatopoeia, alliteration, assonance, tone, sound, rhyme, and form in ways restricted by the rationality of prose.
Contributor Amanda Bowden writes in Papier-Mâché Doll about an all-too-common issue -- sibling resentment. Has the Dying Matters Coalition witnessed this conflict and noticed any common threads as to which families heal from their disagreements and which families don't -- and why?
RK: Recent U.K. research indicates that -- perhaps as a result of a lack of planning around end-of-life wishes - almost a third of people (32percent) say there had been a family argument following a death, with money/property the main cause.
Roger, how has loss effected you personally -- and will you share with our readers those thoughts in the form of poetry?
Wreath
That distant Pacific Spring
A red Corvette
wandering South from the Golden Gate down El Camino and the coast road past Carmel to Pasadena
At Monterey:
jacarandas and your bobby pins surf urgent through the window then the dawn
Salinas Cypress Point LA
Yesterday I read that you were dead
These flowers, gathered for you, are from Highway 101
Myrtle from San Jose From Los Altos: lilac, magnolias and auburn orchids Big Sur and Pebble Beach: black-eyed Susans and russet peach Marigolds and snapdragons from Cactus City Eagle Mountain: lobelia, lavender and joyweed Lace flowers from Loma Linda Los Gatos: morning-glory, blue sage and yellow tulips Pink daisies from Pacific Beach Pomona Park: soapweed, snow poppies, angelica and alyssum Catalina cherries from Santa Ana Sucker Flats: monkeyflowers plucked under the yucca trees Ventura violets, pimpernels, peppermint and clematis
And from Pasadena: roses and orange blossom, harebells, milkweed, giant lilies and golden teardrops.
For more information, visit Final Chapters: Writings About the End of Life.