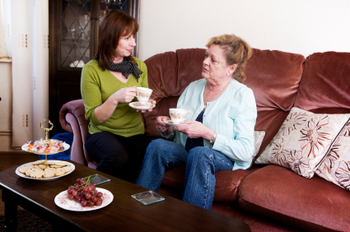 All Rights Reserved
Use this agenda as a guide for a family meeting on how to help an aging love one.
Name a facilitator.
Meetings always go more smoothly when someone is directing the communication traffic. Your parent may or may not be able to assume this role, depending on his condition. Either way he should be as involved as possible. Many families have a sense of who among them makes a good facilitator. It should be someone who's patient, relatively objective, and decisive enough to keep the meeting flowing. If all else fails, put names in a hat and draw. Take turns. Or consider asking an objective outsider to facilitate, such as a clergy member or family counselor or geriatric care manager.
Write down everything that needs to be done.
You can just use paper or a white board if one is available. This list will depend on your parent's condition, but things to consider include daily care tasks like bathing, dressing, and washing dishes; errands, shopping, appointments, and activities; escorting your parent to social functions or entertainment such as films; attending medical appointments and consulting with doctors; and managing your parent's finances, including paying bills and banking.
SEE ALSO: Find In-Home Care Help Near You
Organize tasks by time and frequency.
Once you've developed a comprehensive list of all that needs doing, start organizing the tasks by how often or when they need doing, such as daily, weekly, or intermittently.
Identify family jobs.
Ask everyone to sign up for what they realistically can handle, including how often or for how long.
Identify care gaps.
See what's left -- the care gaps -- and discuss options for meeting these needs. This is when you consider enlisting friends, neighbors, and hired help like in-home caregivers or a geriatric care manager.
More on Running a Family Meeting
Appoint a care coordinator.
If you can afford a geriatric care manager, it's an easy solution to organizing your parent's care. But such managers are too expensive for many family budgets. In this case, the family needs an honest group heart-to-heart to see who has the time, skills, and willingness to run the show. It doesn't have to be a family member; sometimes a close friend is up for this role. Arriving at a decision about who should do this isn't always easy, but it'll make the process work better.
SEE ALSO: Find In-Home Care Help Near You
Understand your parent's finances.
You'll need a realistic sense of your parent's finances to know if extra help can be hired, and if so, how much and for how long. You may need input from your parent's accountant or attorney if he has one. Income tax forms are also helpful. Some families literally search through desk drawers -- with their parent's permission -- to track down financial information. You may want to nail this down before the meeting, with a designated "money person" to do the job.
Hiring help.
Once you have a sense of your parent's finances and which care needs can't be filled by family or friends, you can make decisions about what kinds of extra help your parent can afford. You'll also need to decide who will manage hired help, which is an ongoing job.
Housing, end of life, and other significant issues.
While these aren't directly related to managing friends and family, a family meeting can be a good opportunity to discuss other important issues such as your parent's housing situation and his end-of-life wishes or plans. If the time feels right, you can lay everything out on the table, share knowledge, and explore what needs further research or conversation.
Share feelings and try to enjoy yourself.
For many families, these gatherings are highly emotional and sensitive. They can also be stressful. Sometimes it helps to be prepared for that going into the meeting. Such meetings can also be a bonding experience between you and your parent and among family members. After the meeting, consider switching gears and going out to a restaurant or sharing a home-cooked meal.