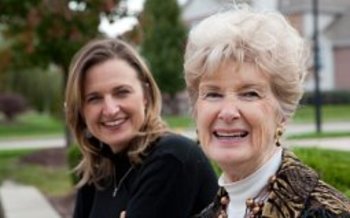 All Rights Reserved
When it comes to the new health reform law, what we hear about most is how it will help millions of Americans buy health insurance at more affordable rates. But there are also lots of changes in store for family caregivers. In particular, those of us in the "sandwich generation," who care for both kids and aging family members, are finally getting some long-overdue relief.
Here are the new benefits we can look forward to, in the order in which they'll become available.
2010
Temporary Early Retiree Reimbursement Program
What it does: Makes it possible to retire early and keep your health insurance
In the past, taking early retirement meant risking your health insurance status until Medicare eligibility starts at age 65. The new law creates a temporary early retiree reinsurance program that enables employers to keep early retirees -- those between 55 and 65 -- on company health insurance plans and be reimbursed by the Federal government for up to 80 percent of the cost. Spouses and dependents are also covered.
It went into effect June 23, but payments are retroactive to the beginning of the plan year. So, if you've already incurred high health insurance costs, you and your employer can apply for reimbursement. The program is called "temporary" because it ends in 2014, when the health insurance reforms will be fully activated, making it easier for early retirees to get health insurance.
Health insurance extension for young adults
What it does: Keeps both sides of the sandwich insured
Effective immediately, young adults up to the age of 26 can stay on their parents' health insurance policies even if they're no longer full-time students. This will eliminate an enormous source of worry for family caregivers: that grown children without insurance will encounter a serious health problem, pulling the whole family into debt. The new law also forbids insurance companies from defining "preexisting conditions" in children -- so all kids, sick and healthy, can be covered more easily.
Improvements to medicare prescription drug coverage
What it does: Makes prescriptions more affordable
If you have family members hit with high drug costs due to the "doughnut hole" in Medicare prescription drug coverage, they'll get at least a bit of a reprieve with a $250 "bonus" to help cover drug costs.
No more lifetime benefit caps or policy cancellation
What it does: Prevents a family health insurance crisis due to cost
Right now, those of us caring for older adults worry about the possibility of a financial crisis if a family member should end up with high medical costs that soar beyond the "lifetime cap" imposed by our insurance -- or cause an insurer to cancel a policy. Neither of those scenarios is possible, thanks to strict new rules for health insurance companies, prohibiting them from putting lifetime benefits caps on health insurance or cancelling policies on people who use too many services.
Money follows the person
What it does: Funds transitions into community-based care
This program extends the popular Money Follows the Person demonstration grants until September 2016. These grants are made through states to help transition Medicaid-enrolled nursing home residents back into their communities, in community-based settings.
More ways that family caregivers will benefit from health care reform
January 1, 2011
The CLASS Act
What it does: Provides affordable long-term care insurance
The CLASS (Community Living Assistance Services and Supports) Act establishes a public, voluntary, long-term care program that will be affordable to many working people. If you choose to participate, there's a five-year vesting period after which, if you become disabled, you can receive a cash benefit to help pay for services and support.
Unlike many long-term care insurance plans, this program was specifically designed to support in-home care. Payments can be used for home modifications, assistive technology, transportation, home care aides, and nursing support -- including paying family caregivers. Best of all, receiving benefits from this program won't affect eligibility for other government programs.
The program is voluntary, but large employers are required to automatically register all employees; those who don't want to participate can opt out.
Relief from the "doughnut hole"
What it means: Lower prescription drug costs for Medicare patients
Currently, Medicare Part D patients with high prescription drug costs run into a coverage gap known as the "doughnut hole." This happens when their medication costs surpass the original prescription drug coverage limit; they have to pay the full cost of medications until they reach the catastrophic coverage limit. Starting in 2011, patients in the coverage gap will get a 50 percent discount on brand-name drugs, and the government will pick up 7 percent of the cost of generics. The doughnut hole will close completely by 2014.
Medicare Advantage changes
What it does: Brings Medicare Advantage costs down
The law changes the way Medicare Advantage plans are paid by bringing payments into line with the costs of the regular Medicare program. Medicare Advantage plans won't be allowed to impose higher cost-sharing requirements for certain benefits.
Community First Choice Option
What it does: Offers support for Medicaid enrollees who want home- and community-based services
This portion of the health reform legislation includes a new concept that takes direct aim at the bias in Medicaid in favor of institutional rather than home- and community-based care. Under the Community First Choice Option, states can elect to provide Medicaid beneficiaries with self-directed, home- and community-based attendant services and supports.
To encourage states to choose this option, states that do will receive an additional 6 percent in the federal government's share of Medicaid costs (referred to as the Federal Matching Assistance Percentage, or FMAP) for five years.
January 1, 2014
Health insurance mandatory for all
What it does: Decouples health insurance from employment
Starting in 2014, family caregivers will benefit enormously from the fact that health insurance no longer will be tied to employment. No more having to choose between staying employed -- and possibly paying a caregiver to look after your family member -- or leaving your job to care for your family member, and thus losing your health insurance. Starting January 1, 2014, new health coverage options and subsidies to help pay for them will allow family members to make this choice without fearing the loss of healthcare.
Subsidies for health insurance
What it does: Helps pay for insurance for low- and middle-income families
In order to help families afford mandatory insurance premiums, subsidies will be available, starting in 2014, for families making less than $88,000 per year for a family of four. The amount of the subsidies will be on a sliding scale, so people with lower incomes will receive larger benefits. In families where one adult is caring for aging family members, the household income typically goes down and medical expenses go up, so this will be doubly beneficial.
Medicare pilot program for hospital-to-home support
What it does: Provides support for transitioning from hospital to home
Buried within the health reform act is a new Medicare pilot program aimed at helping patients and caregivers successfully negotiate the transition from a hospital stay to their homes or other care settings.
Elder abuse provision
What it does: Beefs up screening of care workers
Building on a successful pilot program that ran in seven states, this little-known piece of the health reform act requires states to run background check programs for employees of long-term care facilities and providers. This new national system will give family members peace of mind by ensuring that all employees with direct access to patients have been screened.