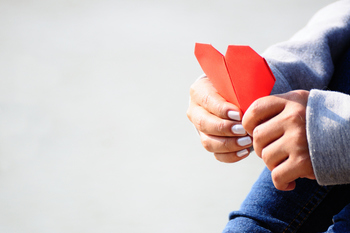 All Rights Reserved
It's hard to imagine finding joy during the holidays following the loss of a husband or wife, daughter or son, grandchild or parent.
While everyone around you seems to be filled with festive good cheer, you may have little or no desire for any merriment. "Your heart may feel empty or every package, strand of tinsel or twinkle light reminds you of what is missing in your life," says Aladdin Ossorio, PsyD., head of the SageMind program at William James College and a psychologist who focuses on geropsychology.
It's normal to wonder "How can I do this?" "The holidays often introduce a unique set of challenges to the lives of those missing a loved one," says Dr. Ossorio.
Here are some ways to navigate many of those holiday-related struggles this year.
SEE ALSO: Find In-Home Care Help Near You
If holiday traditions are tough to face
According to Nicki Nance, Ph.D., an assistant professor of human services and psychology at Beacon College in Leesburg, FL, the first year of holidays are the hardest ones to deal with. You're facing the adjustment of relearning how to celebrate without your loved one's participation. "Don't expect too much of yourself. It's ok to scale down decorations, greeting cards, and parties," says Dr. Nance.
Susan Apollon, Ph.D., a psychologist in Yardley, PA, stresses there are no rules on which—or how many—traditions to continue, revamp or set aside for the time being. "You do not have to spend the holidays in the same way, with the same people, in the same places that you previously did. But then again, that may be exactly what you want," she explains.
It's important to accept that regardless of what you do, you will experience memories and reminders of your loved one, and that some of these feelings may become almost heartbreaking. And, that some of these feelings may also fill you with joy.
"Don't anticipate or require yourself to feel one way or another – allow yourself to feel as you do," she adds.
SEE ALSO: Find In-Home Care Help Near You
If you feel you're ready to carry on a tradition, Dr. Apollon suggests starting with one or two traditions you had with your loved one to carry on in some form. "Maybe the first year all you do is think about it, and make plans for how you'll carry on the tradition next year," she says. "Consider choosing a favorite or two to continue on yourself and choose some traditions to pass along to others who will cherish them." 
Dr. Nance also suggests giving yourself room to tweak traditions to fit the change in your life. "You may not feel up to purchasing and decorating a large, natural tree as you normally would, but to maintain the family tree tradition you opt to purchase a smaller table top tree for family members to help decorate," explains Dr. Nance.  
Acknowledging things are different, and that you may have to do things differently, continues the process of healing.
If you're feeling guilty about being sad
It's normal to wonder how you're supposed to be happy during the season of cheer when every other person and/or thought reminds you of your loved one. "People worry about being a burden or ruining others' merry mood," says Dr. Ossorio. "Yet they can't pretend this holiday season is okay or the same as the others."
It's not easy to express or manage the feelings of grief, sadness, and loss when you're surrounded by those hoping to celebrate and have fun. And expressing feelings related to loss can, at times, feel awkward and burdensome. As a result, Dr. Ossorio says many decline participating in holiday gatherings and events for fear of "breaking down" or feeling like "a dark cloud" or a "spoilsport."
"There are no rules, no right or wrong ways to express your feelings during the season," he says. Instead of isolating yourself to avoid others' reactions, Dr. Ossorio stresses the importance of giving yourself permission to be true and honest with yourself and those around you. "Remember most people are aware of your loss and they, too, will not know the "right" thing to do or say. So try to worry less about forcing happiness and more about spending time with people you're comfortable being yourself around."
If you don't want to attend holiday parties
Thinking about attending a gathering at the office or within your circle of family and friends, even though your heart is not in it?
Dr. Nance says the first rule of thumb is planning to stay only as long as you feel comfortable.
"For some, this may be an hour or two. For others, it may be a shorter time, perhaps a half hour or so."
Allow yourself the chance to retreat and recharge mentally or emotionally when attending festivities. "Knowing you can duck into a restroom stall and have a good cry or go outside for a brief walk can be quite reassuring," says Dr. Nance.
And if attending is just too hard this year, remember loved ones and co-workers will understand if you explain it's too painful to attend, or you don't feel you can handle such a get together at this time. "It is alright to say, 'Thank you, but no thank you' to invitations you intuitively know you will not be able to manage," reminds Dr. Nance.
Overall, don't impose self-guilt if you opt out of a few—or all—traditions this year. "Family and friends who know of your loss understand and feel your pain do not expect you to carry on as normal when you do not feel up to the same old, same old, holiday cheer," says Dr. Nance.
How have you coped with the holidays after the death of a loved one? Feel free to add suggestions in the comments section below.