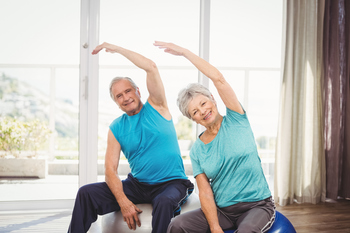 All Rights Reserved
You already know that regular exercise is important for health, but with age, it becomes even more crucial to move your body. According to the Centers for Disease Control and Prevention, adults over 65 can benefit significantly from even a moderate amount of exercise.
And luckily, there are plenty of ways to get moving that don't need to involve a pricey gym membership, and that should be low-impact enough for your elderly loved ones.
Exercise videos can provide an efficient at-home workout that you can repeat again and again. Below, we've rounded up 10 of the top-rated exercise DVDs for older adults to help you or an aging loved one get started on an at-home fitness journey.
1. Leslie Sansone: Belly Blasting Walk
Fitness expert Leslie Sansone's "Walk at Home" fitness program is designed for people at all age and fitness levels. While there are a variety of DVDs in the "Walk at Home" series, the "Belly Blasting Walk" is one of the top-rated among customers online.
The DVD features a 30-minute workout that mixes walking and jogging in place, plus some jumps and floor exercises focused on the abdominal muscles. All of the exercises may be modified for a lower impact.
What you'll need: a yoga mat or other cushioned surface for the floor exercises
To order: Walkathome.com
2. Stronger Seniors Stretch and Strength Chair Exercise Program
The "Stronger Seniors" exercise programs are designed specifically to help older adults who want to "improve their stamina, strength and balance," according to a statement from Gerontology Nurse Specialist Kathleen Perry, RN, on StrongerSeniors.com.
The Stretch and Strength DVD is no different, and features chair aerobics, weight training in a chair and strength and balance exercises.
What you'll need: a chair
To order: StrongerSeniors.com
3. Relax into Yoga
Developed by yoga therapists and Kimberly Carson and Carol Krucoff, the "Relax into Yoga" DVD is designed for adults aged 65 and over. The DVD mixes a combination of gentle yet effective yoga practices meant to improve strength, balance and stability. The yoga sequence includes sitting, standing and lying down poses.
What you'll need: a chair for seated postures and bed for lying-down poses
To order: Pranamaya.com
4. Qi Gong for Seniors
This workout provides an easy-to-follow introduction to the traditional Chinese practice of Qi Gong, which integrates posture and movement, breathing and meditation.
Instructor Lee Holden leads viewers through a series mixing deep breathing, stretches and gentle, fluid movements. According to information on Holden's website, the sequence is designed to ease arthritis pain, increase range of motion and flexibility, build bone strength and increase longevity, among other benefits.
What you'll need: a chair for seated moves
To order: ExerciseToHeal.com
5. Healing Movements System
The "Healing Movements System" mixes both Qi Gong and Tai Chi and is meant to help people boost endurance and strength and to relieve pain. Instructor Joe Pinella developed the exercise program after a debilitating car accident left him diagnosed as a quadriplegic. Using Tai Chi and Qi Gong, Pinella was able to relieve pain, regain his strength and the ability to walk again, according to his website.
The 90-minute DVD includes 30 minutes of instruction on the exercises and a 45-minute total-body workout.
No equipment needed
To order: JoePinella.com
6. Sit and Be Fit: Easy Fitness for Seniors
This DVD is one of the most popular picks in an award-winning series of exercise DVDs produced by nonprofit organization Sit and Be Fit. The chair exercise program is led by Mary Ann Wilson, RN, and the two-DVD set includes two separate seated workout routines, running at 84 minutes long in total.
Many online reviewers have noted the easy-to-follow chair exercises are appropriate for elderly adults, including those with chronic conditions like fibromyalgia or back problems.
What you'll need: a chair
To order: Amazon.com
7. Older and Wiser Workout for Seniors and Active Older Adults
This DVD is one in a series of popular exercise programs led by instructor Sue Grant, who is certified by the American Council on Exercise and the Arthritis Foundation. It runs for just under an hour and includes low-impact aerobics, gentle stretching and a relaxing cool-down portion.
The exercise program is safe for beginners or older adults who have not been exercising regularly.
What you'll need: a sturdy chair with no arms and 2-5 pound hand weights
To order: Amazon.com
8. Absolute Beginners Cardio and Strength Training Workout for Seniors
As the title suggests, this DVD features a full-body, low intensity workout meant for beginner exercisers of a certain age.
Veteran fitness instructor Angie Miller leads viewers through four segments: an easy warm-up, 22-minute cardio workout, a 24-minute strength training portion and 5-minute stretching session. The exercises are performed at a relaxing pace and all can be modified for lower impact if needed.
What you'll need: a sturdy chair and small set of hand weights
To order: AngieMillerFitness.com
9. Classical Stretch – Age Reversing Workouts for Beginners: Mobility and Bone Strengthening
Regular stretching can be an effective way for seniors to maintain strength, mobility and flexibility as they age. "Classical Stretch" is a public television series that teaches easy-to-follow full body workouts for viewers of all ages.
The "Age Reversing Workouts for Beginners: Mobility and Bone Strengthening" DVD focuses on improving seniors' mobility and bone strength with two gentle workouts. In this DVD, fitness instructor and bestselling author Miranda Esmond-White leads viewers through two slow-paced 30-minute workouts – one focused on boosting mobility, and one dedicated to bone strengthening, as well as 10 minute of how-to clips.
What you'll need: yoga mat or other cushioned surface
To order: Amazon.com