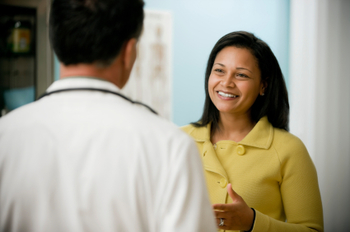 All Rights Reserved
The first five essential documents to bring to the oncologist
Start by purchasing a large binder or accordion file, whichever you find easier to use. Then begin compiling the documents you'll need. The first five include:
1. A health insurance card and, if possible, the handbook that explains the details of the patient's health policy coverage.
2. The patient's recent medical records, including blood test results, biopsy reports, and radiology reports. (You can also have these faxed or forwarded directly from one doctor to another, but check ahead of time to make sure they've arrived.)
3. Recent radiology films, including X-rays, mammograms, CAT scans, MRI scans, and ultrasounds (again, these can be sent directly from one office to another, but check to make sure they've arrived). Note: if you're bringing them over yourself, it's a good idea to get there early or drop off these films before the appointment so the doctor has time to review them.
4. A list of any medications currently being taken, including over-the-counter drugs and vitamins, herbs, or other supplements. Don't neglect details such as creams for skin conditions -- everything's important because of possible interactions or side effects.
5. A list of the patient's allergies, both to medications and to other things such as food, pets, dust, and so on.
Five more documents to bring to the oncologist's office
6. A list of physicians -- and their addresses -- to whom you would like the doctor to report the results of this appointment.
7. A list of questions you've drawn up about the diagnosis and treatment options -- basically everything you can think of that you've been wondering or worrying about.
8. Any legal documents that govern the patient's access to care -- and your access to information. If you and the person you're caring for haven't as yet discussed or signed any forms like these, it's a good idea to bring this subject up in the appointment. The oncologist's office may have such forms available, and this is a good opportunity to start what is often a difficult and emotional discussion. If the patient needs more time to make these legal decisions, you can bring the forms home with you to talk about, and return them, signed, at the next appointment. These documents include:
Durable power of attorney for healthcare. Also known as a healthcare agent or proxy, this designates someone to make decisions about the person's medical care if he can't speak for himself because he's unconscious or incapacitated.

Advance healthcare directive. An advance directive tells his doctors -- and family members -- what kind of care the person wants if he can't make his own decisions. It usually includes a clause (similar to a power of attorney) naming the caregiver or some family member as the "agent" to make medical decisions when he is incapacitated or unconscious. It may also include a do not resuscitate (DNR) order, which means he doesn't want doctors to restart his heart or breathing if they stop.

Living will. This is a type of advance directive that outlines what kind of medical treatment the person wants in certain situations. It only takes effect if he's diagnosed with a terminal illness and has less than six months to live, or is in a coma or persistent vegetative state. Unlike some types of advance directives, a living will doesn't allow the person to authorize you as agent to make decisions on his behalf.

HIPAA (Health Insurance Portability and Accountability Act) authorization. This is a legal form governed by the privacy act, which basically authorizes you to receive medical information -- such as test results -- on behalf of the person and also allows his doctor to discuss his case with you.
9. A list of cancer centers or specialists you'd like the doctor to consider when referring the person in your care for a second opinion. This is particularly important if you already know that you wish to involve a specialist or special cancer facility in his care.
10. A notebook or journal -- or loose binder paper for future insertion in the binder -- for taking copious notes. You'll want to write down as much as you possibly can of what the doctor says, in order to remember it afterward and follow up with research of your own. If you're not familiar with a word, ask the doctor to spell it for you or, if there isn't time for that, spell it phonetically as best you can so you can look it up later. Another option is to bring along a tape recorder, a digital recorder, or an iPod-based recorder to record the consultation and review it afterward. (Ask the doctor's permission before you turn it on, though.)
---