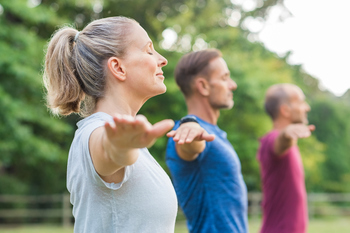 All Rights Reserved
What if you could prevent or slow Alzheimer's disease by tweaking your diet, sleep, exercise and stress management habits? The Bredesen Protocol is a 36-point comprehensive plan that, if followed, claims to be able to do just that. And it's supported by research that suggests you could see symptom improvement within six months. The protocol has been developed by neurologist Dale Bredesen, MD, director of neurodegenerative disease research at the David Geffen School of Medicine at the University of California, Los Angeles.
In an article of the September 2014 issue of Aging, Bredesen detailed the protocol's imact on 10 people with Alzheimer's-related cognitive decline who saw improvements in their symptoms within three to six months of starting the program. He argued in the article that more research must be done with more study participants in order properly to document the protocol's impact.
In June 2016, Bredesen coauthored another article about the ways in which a similar comprehensive program improved cognition in ways that could be seen on MRIs and other test results. Broadly speaking, explains Dr. Bredesen, the Bredesen Protocol addresses factors contributing to Alzheimer's disease rise on three levels.
"If you actually look at what we call Alzheimer's disease, which is a pathological diagnosis, it is a protective response to three fundamentally different problems. Those are chronic inflammation caused by everything from pathogens to poor diet and sugar, trophic withdrawal of supportive hormones, nutrients, and other factors, and any exposure to toxins, whether biotoxins or chemical toxins," he explains. The doctor argues that to prevent or slow Alzheimer's disease, people must address these multi-faceted underlying causes.
Anyone who is interested in following the Bredesen Protocol can read about it in his book, "The End of Alzheimer's." The book makes the case for the steps Bredesen recommends taking, and includes detailed information about the changes in diet, lifestyle, medication and other habits that could prevent Alzheimer's disease.
The first step is to figure out your baseline status, using the genetic and blood screenings Bredesen recommendeds. "For optimal response, you want to have a RECODE report, which says, 'Here are all your contributors or potential contributors,' so you want to address all of them," he says. "That's true for all our complex diseases, such as heart disease," he points out.
Bredesen acknowledges that many of the tests he recommends are not routinely ordered by physicians, but he argues that they'll become more acceptable in the context of Alzheimer's disease treatment. In the meantime, you can begin to work on the Bredesen Protocol even without the panel of tests – you just might not be able to mark your progress as consistently.
What follows are some key strategies recommended by the protocol.
1. Eat a low-glycemic diet.
A low-glycemic diet is based on the ways in which the Glycemic Index compares foods based on their impact on blood sugar, and prioritizes foods that won't cause rapid spikes in blood sugar. The Bredesen Protocol recommends a plant-based diet with little if any meat and zero added sugar. These dietary recommendations are similar to the MIND diet, which has also been shown to improve cognitive function.
"Some items from the diet such as olive oil, and nuts to promote ketosis, are common to MIND diet and the protocol. MIND diet has combined the Mediterranean diet and the DASH diet and has incorporated berries, specifically blueberries, as an integral part of this diet," says neurologist Neelum Aggarwal, MD, associate professor of neurology at Rush University Medical Center in Chicago.
Aggarwal co-authored an article in the September 2015 issue of Alzheimer's & Dementia which demonstrates that the MIND Diet slows cognitive aging. Like the MIND Diet, the Bredesen Protocol specifically emphasizes antioxidant-rich foods, so focus on adding colorful berries and vegetables to your meals and snacks.
2. Fast for at least 12 hours overnight.
"Fasting is another mechanism that might be neuroprotective," explains Hana Kahleova, MD, director of clinical research for the Physician's Committee for Responsible Medicine in Washington, D.C., adding that fasting stimulates brain-derived neurotrophic factor (BDNF), a protein that may protect brain health.
"When we are fasting, we train our brain to be resilient and be able to cope with the stress," she says. Kahleova's research has demonstrated that meal timing can have an impact on health, with an emphasis on eating larger meals earlier in the day. She recommends planning your meals such that you "eat breakfast like a king, lunch like a prince and dinner like a pauper." You can also try other fasting strategies, such as intermittent fasting, which includes a one or two-day fast in your normal week, says Kahleova.
3. Get 8 hours of sleep.
Bredesen recommends getting 8 hours of sleep nightly. This may mean paying attention to basic sleep habits such as making sure your bedroom is comfortable, quiet and dark, as well as working with your doctor to manage any sleep disorders you may have.
Aggarwal notes that she routinely asks her patietns about their sleep habits."I have sent patients for sleep studies if I feel sleep apnea is an issue," she says. "My patients have been fitted with CPAP masks and state that their cognitive functioning has improved greatly."
4. Exercise for 30 to 60 minutes most days of the week.
The Bredesen Protocol recommendation recommends 150 minutes of physical activity per week, echoing federal guidelines. "Walking is what I advocate to all my patients, and this is especially important to those who do not exercise. One thing to keep in mind is that walking seems to have a sex-specific effect in that women appear to benefit more than men," says Aggarwal. She adds that exercise also lowers insulin resistance, which is believed to be a key factor in the development of Alzheimer's disease.
5. Manage stress.
The Bredesen Protocol recommends a proactive approach to stress management with the help of relaxation exercises, meditation, yoga, or music. While stress management is highly personal, the protocol argues that it's essential to reducing Alzheimer's disease risk. "I always discuss stress and stress level with every patient, and advocate meditation. To get my patients started, I note that simply sitting in a quiet place and listening to their breathing is a good start," says Aggarwal, who adds that you can start with five minutes a day and work up to more.
6. Take supplements.
The protocol recommends numerous supplements. Whether you need them will depend in part on the results of testing and discussion with your doctors. Some of the recommended supplements include melatonin for sleep, vitamin B12, curcumin, vitamin D3, citicoline, the fatty acid DHA, probiotics, vitamin E, vitamin C and alpha lipoic acid. The Bredesen protocol also encourages brain training exercises, investing in your social networks, and reviewing the impact that your medications and other chemical exposures have on your life and health.
Next Steps
In addition to getting started with the Bredesen Protocol, there are more steps you can take if you want to boost your Alzheimer's prevention efforts even further.