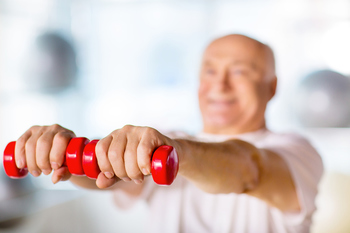 All Rights Reserved
Staying active is an important part of your parent's healthy lifestyle. By regularly engaging in moderate physical activity, seniors can increase their endurance, strength, flexibility, and balance needed to perform daily functions and maintain independence, according to the National Institute on Aging.
For first-timers, navigating the gym can seem overwhelming. Your parent may feel intimidated at first, but they shouldn't be discouraged. Most gym layouts are similar in equipment and spaces. There are areas for stretching, cardio, weights, and fitness classes.
Many gyms also offer new member orientation programs ranging from gym tours to personal training consultations. Paying for a personal training session may help your mom or dad ease into workouts with guidance and can help them succeed with cardio, strength training and exercise machine instruction.
If you're talking with your parent about staying active, or starting a gym routine, here are some things you can address:
The Stretching Area
Flexibility exercises are an important part of a gym program. Stretching helps loosen tight muscles and joints for physical and daily activities and helps prepare muscles for exercise, according to NIH Senior Health. Many gyms have a dedicated area just for stretching before and after working out. There should be tools like foam rollers, bands, and yoga mats for stretching.
The Cardio Area
Cardiovascular exercise involves body movements that increase the heart rate and burn calories. The American Heart Association recommends adults perform 30 minutes a day of moderate-intensity physical activity five days a week to improve overall cardiovascular health.
The gym cardio area contains many machines designed to increase heart rate and get the blood pumping. The most popular machine is the treadmill, which allows users to walk or run at various inclines and adjustable speeds. Are sensitive knees an issue for your aging parent? An elliptical trainer is a great option for a low-impact cardio workout. Other machines available at most gyms include stationary bikes, step machines, and rowers.
The Strength Training Area
Strength training exercises are equally beneficial for your aging parent. Just two to three workouts a week of exercises focusing on all of the major muscle groups not only increase muscular and bone strength, but also improve blood sugar control and metabolism; decrease fall risks, and improve balance, says the CDC.
The strength training areas in the gym are usually divided into two sections—machines and free weights. There are weight and cable machines for the arms, chest, shoulders, back, legs, and abs. In the free weight section, your parent will find dumbbells, barbells and plates, benches, and weight racks.
Fitness Classes
Fitness classes are a great place to learn new exercises. Classes range from yoga to Zumba to chair fitness. Your parent will want to let the instructor know they're a beginner so they can get help with exercise technique and any suggested modifications to prevent injuries.
Tracking Activity
Activity trackers are a fun and easy way for your parent to track their fitness goals in the gym. The sleekly designed GreatCall Lively Wearable can be worn on the wrist, counts steps and provides daily challenges to encourage activity. In an emergency, by pressing the button on the Wearable, a call will be triggered via the user's smartphone to agents trained to assess the situation and get them the help they need.
Considerations
Remember, your parent should always consult with a doctor before starting any workout program.
Enjoy this article? Leave a comment below or share it on social!