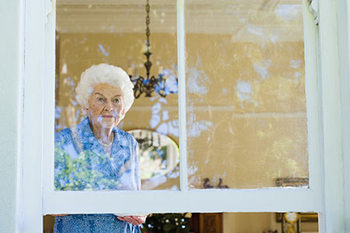 All Rights Reserved
Many people don't know what constitutes elder abuse, or where they should report suspected abuse cases, says Ken Onaitis, director of elder abuse and police relations at New York City's Carter Burden Center for the Aging. They worry that if elder abuse is not a crime in a particular state, the police won't pay attention. That's why education about the signs and symptoms of elder abuse is critical.
Onaitis says whether it's physical, sexual, or financial abuse, "One form rarely occurs independently of another. Almost always, there's psychological or emotional abuse involved. Someone is not financially exploited without psychological abuse as well."
Geriatrician Leslie Kernisan adds that it's important to recognize that elderly people with mild-stage dementia are especially vulnerable. "The problem with the disease in the mild form is that people are very mobile and engage in a lot of behaviors that will drive caregivers crazy," she explains. "They'll wander, repeat a question over and over, be very paranoid, and accuse people of stealing their things." These behaviors can cause tremendous stress on caregivers, so it's important to be sure that caregivers have the support and respite they need.
General Ideas to Help Prevent Elder Abuse
"Use common sense," says Onaitis. "Don't leave money or expensive things like jewelry lying around that people can walk out with." He adds that it's not uncommon to see instances where circumstances change -- someone who has been a trusted caregiver for years may fall on hard times and take advantage of that trust. Many of the crimes associated with elder abuse are crimes of opportunity, aided by a family member who has great confidence in the caregiver and just doesn't see the red flags.
Onaitis adds that the elderly and their family members should always be cautious when giving anyone a power of attorney for an elderly parent, relative, or friend.
Abuse by Family Caregivers
The National Center on Elder Abuse finds that family members are more often the abusers than any other group.
Because caregiving is such an emotional, demanding experience, some level of stress is to be expected. Kernisan notes that many caregivers are women trying to juggle the demands of their own jobs and families. Many are themselves older and are dealing with their own health problems. It's easy to become frustrated and irritable. In some cases, the stress can cause the family caregiver to take frustrations out on the recipient of care.
When the abuser is a family member, it can be even more difficult address the situation -- but Onaitis says it's not surprising, either. Elder abuse occurs when an older adult is hurt or taken advantage of by someone they trust, and elders often trust family members simply because they're family.
Another problem facing many families is not just removing the abusive caregiver but also finding a trustworthy and affordable replacement, as elder care -- just like care for infants and young children -- is difficult to find and expensive. That can cause some families to look the other way or downplay the abuse.
To help reduce risk of family caregiver abuse:
Know the signs of caregiver burnout and be sure that the primary family caregiver is getting adequate support.
Use respite care to make sure the primary caregiver is able to take a break to recharge.
Make sure the primary caregiver connects with others in a local support group, or participates in an online support group.
Abuse by a Companion
Onaitis says he has at least a dozen cases on his desk of elderly people who have taken in someone younger, perhaps to earn some extra money by renting out a room, or because the person seemed trustworthy or reminded the elder of a son, daughter, or grandchild. The relationship starts out well, then turns into trouble.
"The elderly person has trouble getting them to leave, whether it's because of squatters' laws or fear of being alone," says Onaitis. In states like New York, with strong squatters' laws on the books, it can take months to get such a tenant evicted.
To help reduce risk of companion abuse:
Abuse by Professional Caregivers
When you hire someone to care for your loved one -- at home or in a senior community -- you expect that person to protect and care for your loved one. But professional caregivers can sometimes cross the line. Kernisan points out that caregiving is stressful. "For paid aides, the position is often underpaid and undersupported. Stress can interfere with their doing not even the best job but what we would consider an adequate job."
To help reduce risk of professional caregiver abuse:
Why Elder Abuse Is Underreported
Cases of elder abuse are often underreported. A New York State study published in May 2011 found the incidence of elder abuse was nearly 24 times greater than the number of cases referred to social service, law enforcement, or legal authorities tasking with helping and protecting older adults.
What drives this underreporting? Onaitis says cases are missed in hospitals, where older people may have trouble conversing. Hospital staff can also be overwhelmed. "They ask general questions quickly, the patient answers 'no' to abuse questions, and the worker moves on," he says. Shame and guilt may discourage honest answers.
City University's Professor Irene Deitch points out that as a person ages, the core of relationships diminish. Close friends die, so no one is available to really check out what's happening. And often the partner who has been the caregiver is experiencing changes in his or her own mental or physical health.
If you're worried about whether an elder is the victim of mistreatment, neglect, or abuse, be sure you know the 5 Signs of Elder Abuse.