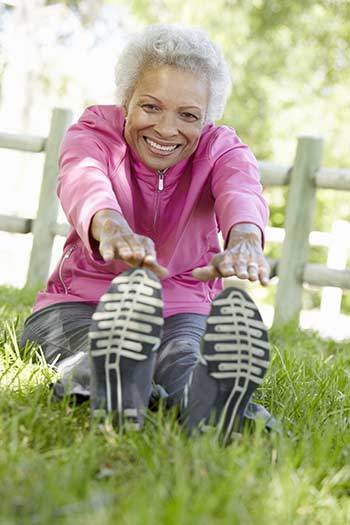 All Rights Reserved
Is it getting harder for you (or your loved one) to tie your shoes? If you're looking for a smart, durable alternative to tying your laces, and you find that Velcro fasteners wear out too quickly, Lock Laces can help. We asked a handful of Caring.com readers to test Lock Laces for themselves and their loved ones. Here is what they say.
What Are Lock Laces?
Lock Laces are thin elastic cords that you use in place of traditional shoelaces. They come in multiple color choices and have curved tips that fit through the eyelets in athletic shoes. Pull them tight, then keep them in place with a sliding, spring-activated locking device that looks similar to a button.
Why Are Lock Laces Important for Caregivers?
As people age, many lose strength and mobility in their hands and joints. As a result, it gets harder and harder to bend down to tie shoelaces. And for seniors who have balance issues, untied shoelaces can be disastrous.
Lock Laces has created an elastic shoelace and fastening system that's engineered to help athletes improve performance. Lock Laces also help adults with mobility and strength issues, and they work well for children, too.
What Caring.com Users Liked About Lock Laces
They maintain tightness.
"I used to tie my shoes with the traditional method, even using the rabbit ears technique if the situation called for it. No longer! Lock Laces are extremely easy to use on any pair of shoes," says Abel. "It easily tightens and loosens at the simple push of a button. I even worked out for a few hours and they maintained the same tightness the whole time! I enjoy not having to tie my shoes again and again."
The pull-and-lock mechanism is easy.
"The pull-and-lock mechanism provides ease of synching up and tightening shoes, as well as releasing the lace for easy of removal of shoes," says Fred. "The Lock Laces also help a person quickly put on shoes and remove them, saving time and effort."
They turn any shoe into a slip-on.
"They sort of turn tie shoes into slip-ons," says Victoria. "Because the laces are elastic, they stretch as needed. I do not need to worry about falling/tripping, since the laces are secured to the top of the shoe and stay out of the way." "No more fumbling with trying to tie laces and keeping them tied," adds Carlene.
What Caring.com Users Didn't Like About Lock Laces
Illustrations on the package aren't clear enough or big enough.
"I had a lot of trouble getting them put in my shoes properly. The instructions were not only confusing to me but I had trouble seeing them. The illustrations were tiny, as was the size of the font used to print the directions," says Carlene. "If I hadn't had my son and daughter-in-law here to help me, I probably would never have gotten them in my shoes."
"Instructions were not very clear," adds Fred. "Would recommend a YouTube video or online link demonstrating how to initially lace, apply locks, and trim to size."
Some seniors may have problems setting them up.
"Snapping the two plastic pieces took a little pressure, which some people may not have in their hands," says Betsy.
You Should Try Lock Laces if . . .
You (or your loved one) have manual dexterity problems.
You (or your loved one) have issues with your joints and hands.
You're looking for an easy alternative to constantly tying your shoes.
You want an easy way to slip sneakers on and off.
How to Get Lock Laces
You can explore the wide array of colors and purchase a pair of Lock Laces for $7.99, or get three pairs for $19.99.