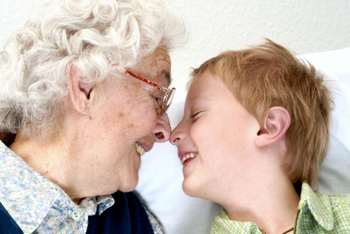 All Rights Reserved
What is an ECHO?
An elder cottage housing opportunity, or ECHO, is a small, temporary housing unit that can be installed in a backyard -- most commonly used to accommodate older adults.
ECHO housing units are self-contained prefab homes (usually between 400 and 800 square feet) that allow someone to remain largely independent while still living within earshot of your family. ECHO housing usually includes includes all the amenities of a house -- a kitchen, a bedroom, a bathroom, and a living room -- albeit on a very small scale. They first gained popularity in Australia, where they're known as granny flats, in the 1970s. ECHO housing caught on in the United States in the late 1980s and has since been promoted by AARP as an inexpensive housing solution for older adults.
What are the advantages of ECHO housing?
These homes enable older adults to live near their kids and grandkids without actually moving in with them. They give everyone involved privacy while allowing homeowners, usually adult children, to keep a close eye on frail or vulnerable parents or other family members. Because ECHO housing makes caring for older adults easier, it often helps families avoid putting family members into an assisted living or nursing home -- at least for a while.
Older adults who live in ECHO housing units often spend more quality time with their grandkids and help out with household tasks -- involvement that contributes to their sense of purpose and belonging. And because they're living right in your backyard, they're far less vulnerable to criminals and con artists.
You'll also be able to recover some of your investment in the ECHO senior housing unit eventually; when it's no longer needed, it can be removed and sold.
What are the drawbacks of ECHO senior housing?
Getting approval for an ECHO can be a Herculean task. Zoning departments tend to frown on the idea, and neighborhood associations sometimes fear that ECHOs compromise the quality of the neighborhood by attracting renters and creating a higher density environment. Some even consider ECHOs eyesores. Although manufactured housing has improved in recent years, and newer styles include attractive touches like rounded sheet rock and tiled roofs, these inexpensive units sometimes look more like trailer homes.
"Each city has a diff erent take on zoning," says Bob Clay, who sells ECHOs senior housing units through www.grannyflats.net. "But typically you need to have side yard clearance, you can't face a busy street, and you can't convert the two properties to condos and sell the granny flat separately."
Some zoning departments stipulate that the unit can only be used for a family member. If your city places restrictions on who can live in the unit, an ECHO can reduce the value of your property, so be sure to sell the ECHO and move it off your lot before you put your home on the market.
ECHO housing is easiest to install in settings where zoning laws accommodate alternative housing options. These include both high-density areas with rental housing shortages (Santa Cruz, California, or Seattle, for example) and rural areas with minimal zoning laws and large lots. Families with smaller lots may want to consider other senior housing options.
Finally, ECHO housing can be hard to remove. Finding a service that's willing and able to haul the unit away without damaging it may be a challenge in areas where ECHOs are rare. And the price of removal can add considerably to the overall cost of the unit.
How much does an ECHO cost?
ECHO units can be a fairly affordable housing option when compared to, say, a few years in an assisted-living center. A new, basic 500-square-foot unit might go for $25,000, while a bigger, higher-end carriage house can cost as much as $100,000. Expect to pay extra to pour a foundation and set up the utility c onnections.
In some places, the cost can be offset slightly by a state "caregiver" tax credit, available to adults who provide ongoing care to their aging parent. (In California, for example, this is $500 per year per parent.) Depending on your area's zoning laws, ECHO housing units can also be rented out and used to generate monthly income after a family member moves out.
ECHOs can be bought or leased, new or used. You may be able to find a used unit through your local classifieds or an online buy-sell resource like Craigslist.org. Search for phrases like "modular home," "manufactured home," "carriage house," and "mobile home."
What's the first step?
Before moving forward with an ECHO senior housing unit, ask yourself these five questions:
1. Most important, are you willing and able to integrate your parent or other family members into your home life and provide the care needed?
2. If so, do your zoning laws restrict this type of structure? Check with your local zoning or planning board.
3. Is there adequate yard space for the ECHO?
4. Are utility hookups available?
5. Will the ECHO add to the value of your property? If not, would it be straightforward to remove?
If you and your parent (or other family member) decide that an ECHO housing unit makes sense for your family, it can be a wonderful way to help a loved one remain independent -- and strengthen your family ties.
To locate ECHO suppliers, search online using keywords elder cottage housing opportunity.