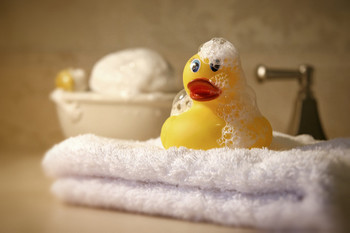 All Rights Reserved
Caregiving is often an intimate business -- and the awkwardness about helping with personal care affects both sides: the helper and the helped.
You can help your loved one feel less embarrassed about being dependent during bathing, dressing, and toileting by trying tactics like the following. Bonus: They'll help lessen your uncomfortable feelings, too.
1. Put the situation in perspective.
A caregiving adult child, for example, can remind a parent, "Just think about all those years you did these things for me." A spouse can invoke the "for better or worse" clause, reminding his or her mate that a partnership is meant to include these moments, too.
2. Give your loved one a little space to try.
Even if you know the person can't manage a particular task without help, let him or her try, if an interest to do so is expressed. It can sometimes provide a measure of dignity -- and a lessened feeling of complete helplessness -- for a dependent person to at least make the attempt rather than having you rush in and do everything for him or her. Then when the struggle becomes obvious, you can gently say something like, "Here, let me help." Or, "Almost . . . try this."
3. Make a joke.
Poke fun at a pair of absorbent underwear, the temperature of the water, the stubbornness of a sleeve that won't go on. Humor is not only distracting; it helps change the tone.