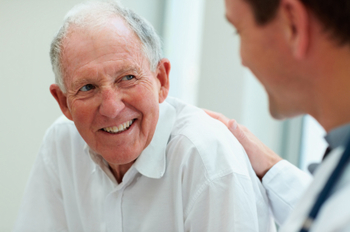 All Rights Reserved
Get backup if you think an older adult is unsafe on the road
If you've talked to your friend or relative about giving up driving and he refuses to listen, it's time to seek help. One effective way is to enlist authority figures and his friends to help persuade him.
The elder driver's friends. Research shows that elderly drivers are more likely to listen to those outside the family when it comes to their driving. Be discreet, and consider his feelings. Talk to only his closest friends, people he trusts and who have his best interests at heart. Find out if they share your concerns and if they'd be willing to talk to him directly.
His physician(s). Let his primary care physician and specialists know that you think he should stop driving, and that he's refusing to do so. If his vision is compromised, you should also contact his eye doctor.
A physician must have a patient's permission to share personal health information, so unless you have that or medical power of attorney or he has signed a HIPAA release, his physicians won't be able to discuss his health status with you. But you can still contact his doctor and tell her you believe he's a risk behind the wheel.
She can examine him with this information in mind. If she agrees with your assessment, she may be willing to advise him to stop driving. Physicians can also file an unsafe driver report with the Department of Motor Vehicles.
A driver rehabilitation specialist. See if he's willing to see a certified driver rehabilitation specialist (CDRS). A CDRS is an expert trained to evaluate the skills and limitations of older drivers. For a fee, the CDRS will conduct an in-depth examination of his driving abilities and provide an objective assessment. To find a certified driving rehabilitation specialist in your area, contact the Association for Driver Rehabilitation Specialists.