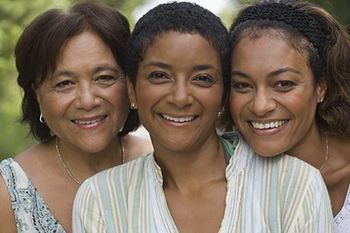 All Rights Reserved
We baby boomers don't want to think about aging and senior living options. For many of us, the idea of "senior living" is synonymous with "nursing home" -- and our impressions of nursing homes are not great. One recent survey found that we actually fear death less than we fear loss of independence and moving into a nursing home. We're also extremely concerned about our aging parents' futures. More than 82 percent of boomers surveyed in the study Aging in Place in America fear their parents will be mistreated in a nursing home, and 89 percent worry their parents will be depressed.
Yet it's pretty inevitable that at some point fairly soon, we're going to have to make some tough decisions about senior living for our parents, our sisters, our spouses. And ourselves.
Here's the good news. Senior living options are changing. We've come a long way from those stuffy waiting rooms and narrow, disinfectant-scented corridors we remember from the 1970s. Many of today's communities are downright dreamy -- they feel more like cozy small towns or high-end resorts than anything else. The enormous number of options available presents us with a chance to reenvision what's possible in aging. Not just for those lucky enough to be physically and financially sound, but for all of us.
Here, you'll find just a few inspiring senior living options that help us look forward in a positive way to what might be possible for us (and our loved ones) as we age. The places we profile may be too far from you, and some may be too expensive for your family's resources. But hopefully seeing what's possible will spark you to think about what's important to you when you start to tour the places that are within your reach.
Read on to learn about assisted living communities for different types of people, including the country craftsperson, seaside stroller, lifelong learner, and desert spa lover.
Dreamy retirement for the country craftsperson
Asheville, North Carolina: Highland Farms
Asheville, North Carolina, is beloved by retirees because it's one of those rare small towns that's filled with bookstores, galleries, and performance venues, yet surrounded by bucolic countryside. For those whose fantasy life includes both book signings at coffeehouses and picking homegrown tomatoes off the vine, Highland Farms, a tiered retirement and assisted living community just outside of Asheville, is going to sound like the heaven of a John Denver song. Highland Farms, located in the small town of Black Mountain, 15 miles east of Asheville, feels like the back-to-the-land communities we imagined when we pored over the Whole Earth Catalog and Mother Earth News and clipped photos out of Country Home and Cottage Living magazines. There's a woodworking workshop and a community garden, and classes include country line dancing, chair caning, and dulcimer music. The engaged, committed residents spend as much time volunteering in the local community as they do hiking in the 50 acres of surrounding woodland and meadows and browsing in the extensive library. I don't know about you, but my dream retirement features back-porch gatherings filled with music, good conversation, and garden-fresh food, and I can imagine having that life at Highland Farms.
What sets it apart: More than 35 separate interest groups, including a hiking club and a gardening club that takes trips to botanical meccas such as the North Carolina Arboretum.
Find out more: Highland Farms Inc.
Dreamy retirement for the seaside stroller
East Haven, Connecticut: The Village at Mariner's Point
When we think of retirement life, many of us picture living by the sea -- for good reason. Nothing feels as relaxing and inspiring as looking out to the blue horizon, hearing the waves, and feeling the fresh touch of salty air. Coastal Connecticut has lured residents of the eastern seaboard for generations with its laid-back lifestyle -- not to mention some of the best fresh crab in the country. Just ten minutes from the intellectual bustle of downtown New Haven, the Village at Mariner's Point feels like a luxurious seaside retreat. With gazebos dotting the lawns and miles of walking paths, the Cape Cod-style community takes full advantage with its hilltop perch, looking down over a sweep of green hills to Long Island Sound.
A typical day might begin with an aqua fitness or tai chi class and end with chatting with friends at the Seaside Pub or dining outdoors on a mild evening. Those of us who get bored without a dose of big-city culture have New Haven five minutes away, with access to all the cultural offerings connected with Yale University and an eclectic assortment of international restaurants. Then it's back to East Haven, which, as its name implies, is an oasis of calm, with a crime rate half that of the national average.
It's important to many of us not to feel isolated from family life as we age, and there's no danger of that in family-oriented East Haven. A popular evening option at the Village is bocce ball, in honor of the town's heritage (the largest population of Italian Americans anywhere in the country).
What sets it apart: A 68-seat movie theater, a 24-hour snack bar, and a heated indoor pool. Cats and dogs up to 50 pounds are welcome, so the strolling paths are always lively with playing pooches.
Find out more: The Village at Mariner's Point
Dreamy retirement for the lifelong learner
Hanover, New Hampshire: Kendal at Hanover
There are some of us who could go back to college over and over, studying a new subject every time. Classes taught by Dartmouth professors lure lifelong students to Kendal at Hanover, a continuing care community just two miles by regular shuttle from the famous college. At any one time it's possible to choose from more than 30 classes, in subjects as varied as European history, meteorology, and creative writing, offered at the college's Institute for Lifelong Education at Darmouth (ILEAD). In addition, Dartmouth professors often allow Kendal residents to audit regular college classes, which is particularly exciting for the many Dartmouth alums who live at Kendal. Then there's the college's Hopkins Center, which presents more than 500 theater, music, dance, and film events each year, all open to Kendal residents. Kendal even looks like the gorgeous Dartmouth campus, surrounded by 65 acres along the verdant Connecticut River.
What sets it apart: A close affiliation with Dartmouth College, roots in the Quaker tradition of service, and a small-town New England location that's just two hours from Boston, Montreal, and the Atlantic Coast.
Find out more: Kendal at Hanover
Dreamy retirement for the desert spa lover
Scottsdale, Arizona: Sierra Pointe
The promise of dramatic views of the cactus-studded, red-hued McDowell Mountains and world-class spas draws hosts of visitors to Scottsdale, Arizona, every year. With its adobe-style architecture, activity concierge, and spa and wellness center, the over-55 retirement community of Sierra Pointe feels an awful lot like Scottsdale's famous high-end spa resorts. In fact, many "snowbird" seniors vacation at Sierra Pointe, renting fully furnished guest suites for two to three months at a time as they follow the sun from north to south. Just as many of us love multigenerational vacations with our children and grandchildren, we also dream of living somewhere the kids love to visit. Sierra Pointe is a stand-out in that respect, with a multiple play areas, a swimming pool surrounded by lounge chairs, and an enormous glass saltwater aquarium swimming with rainbow-colored fish in one of the sitting rooms. Events like chef-taught cooking classes and a Caribbean Island night, complete with steel drum band, make the community feel even more like a resort, with residents often enjoying the warm Arizona evenings while eating outside on the Pinnacle Patio.
What sets it apart: The constant chatter of kids running up and down the hallways and a spa resort atmosphere, complete with landscaped pool, onsite spa, sculpture garden, movie theater, and computer lab.
Find out more: Sierra Pointe