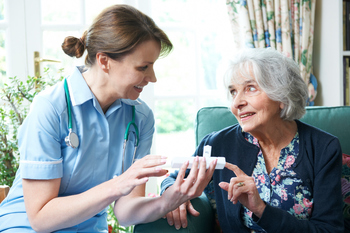 All Rights Reserved
When Diane Daniels meets with clients to discuss options for assisted living, she says they typically assume Medicare is going to cover the costs. It never gets easier for Daniels – a Medicare advisor and host of the podcast Medicare Nation – to dash their hopes.
"People always think Medicare is going to pay for it and it does not," she says. "People don't realize or prepare for this kind of thing when they get older."
Medicare may not pay for care in assisted living facilities, but there's more to the picture. It does cover limited short-term senior care, and there are other options like Medicaid and in-home care services that may provide the assistance you need as you age.
What Assisted Living Expenses are Covered by Medicare
There are no Medicare or Medicare Advantage plans that pay for non-medical residential care in an assisted living facility. If you live in assisted living community and need healthcare services outside of the community, Medicare does pay for that care.
The closest thing Medicare pays for in this kind of situation is short-term skilled care. If you receive inpatient hospital care for at least three consecutive days and your doctor says that short-term skilled care is required, Medicare pays for up to 100 successive days of care.
An Alternative: Medicaid
For low-income or disabled residents, Medicaid may be a way to cover some assisted living costs. Unlike Medicare, which is funded and run by the federal government, Medicaid is an insurance program operated by individual states. It's funded jointly by state and federal governments and covers low-income and disabled individuals.
Medicaid can pay the full cost of assisted living, but the requirements for this are different in each state. Nearly all states offer some sort of assisted living benefit to eligible seniors, such as coverage of personal care and medication management. However, no state is allowed to provide Medicaid coverage for room and board.
In order for Medicaid to pay for assisted living costs, you typically have to "spend down" your resources to a very small amount of assets. This threshold also varies by state. In Oregon and Indiana, for instance, a single person can have up to $2,205 per month in income and $2,000 in resources (not including their home) and still receive Medicaid coverage. California has the same resource limit, but their monthly gross income limit is set at $1,220. In New York, income can't exceed $825 a month for single people and resources must be lower than $14,850 to qualify.
Daniels cautions that while Medicaid pays for assisted living in many states, your freedom of choice regarding where you stay is often dramatically limited. People paying with Medicaid are often required to stay in state-run facilities or those with lower standards, she says.
For more information on Medicaid benefits by state, visit benefits.gov.
In-Home Care Covered by Medicare
If you find that assisted living isn't going to be an option due to financial reasons, or if you'd rather stay in your own home, you may be wondering if Medicare pays in-home care.
The answer is yes and no. First, Medicare only pays for in-home senior care if a person is deemed to be homebound, meaning they're unable to leave home without considerable effort. This often means some assistive device like a wheelchair or crutches are needed.
Second, you also have to be under the care of a doctor who will sign off on a care plan stating that the home care services you're receiving are medically necessary. The care plan can't be open-ended, and has to be for a specific period of time, Daniels notes.
And third, services provided have to be "skilled" like physical or occupational therapy or must be performed by a nurse (such as wound treatment after surgery). The services have to be contracted through Medicare by their certified healthcare providers. Though you may also need activities like companionship, cleaning or shopping, Medicare doesn't pay for them.
If you need low-cost or subsidized home health care, Daniels recommends looking into the Program of All-Inclusive Care for the Elderly, or PACE, which is run through Medicare and provided to Medicaid beneficiaries in some states.
PACE is a voluntary program for people over age 55 who live in a PACE service area, are eligible for nursing home care and can safely live in their own home. The goal of the program, which now operates in more than 30 states, is to keep people from moving to assisted living or nursing homes by providing all of the care they need through nearby adult day health centers and home care.
Nearly all Medicaid and Medicare-eligible services are covered under PACE, including primary and hospital care, medications, physical therapy and social support services. If an individual is eligible for Medicaid, then the costs of the program are covered. If they are only covered under Medicare, enrollees pay monthly premiums to take part, much like they would in a Medicare Advantage plan. Daniels said the average monthly premium is roughly $2,000.
"The PACE center manages all of their care and includes transportation to and from doctor's offices … they take care of everything for them," Daniels said. "The purpose is to keep the family member at home and it's a great alternative to assisted living or memory care."
More information on the PACE program by state can be found at Medicaid's website. The Centers for Medicare and Medicaid Services also provides a Home Health Compare tool to help individuals look up ratings of different agencies in their communities.