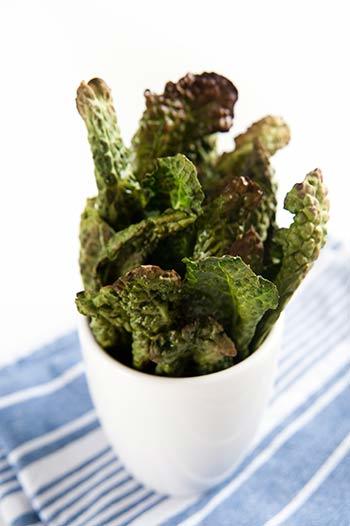 All Rights Reserved
Worried you're headed for diabetes? If you're carrying extra pounds, you're probably already somewhat insulin resistant, says Beth Reardon, director of nutrition at Duke University's Duke Integrative Medicine. That means your body isn't responding optimally to insulin, a hormone made by the pancreas that allows glucose (sugar) from food to stay at a healthy level in the blood.
Though changing your overall eating style is the best way to improve your blood sugar, snack time often trips up otherwise conscientious eaters who find themselves mindlessly grabbing chips and doughnuts.
In general, choose more plants and whole grains, and fewer simple starches and processed foods -- even for snacks. Reardon's choices for five snack foods that won't undermine the rest of your diet:
Diabetes-Friendly Snack: Kale Chips
They're so good you can't eat just one -- but you don't have to worry about holding back. Dark leafy greens in general provide dozens of flavonoids, substances that have anti-inflammatory and antioxidant benefits. And kale, a cabbage kin, is often called the world's healthiest vegetable, loaded with vitamin A, vitamin C, and almost 50 different flavonoid compounds.
To make kale chips, tear kale into bite-sized pieces. Carefully wash and dry. Drizzle with a little olive oil and sea salt, then bake at 350 degrees until the edges start to brown, about 10 to 15 minutes.
You're basically dehydrating the kale -- a process that works for many other vegetables, Reardon says. The drizzle of oil that adds crispness and a little flavor is much less than in a similar batch of fried potatoes. You can also bake spinach chips, sweet potato chips, carrot chips, or taro chips.
Diabetes-Friendly Snack: Pumpkin Seeds
Crunchy pumpkin seeds (also known as pepitas) are high in zinc, magnesium, and vitamin E -- all of which are excellent sources of beneficial antioxidants and aid the production of insulin. They're also a reasonable source of omega-3 fatty acids that can help lower triglycerides and raise the proportion of healthy fats in the body, which helps stave off diabetes.
Roast the seeds whole (with the shell) for maximum nutrients. The shell doesn't contain zinc, but the thin, edible covering of the seed does, and it often comes off during shelling. Eaten with the shell, pumpkin seeds contain about 300 calories per cup, fewer than an equivalent amount shelled, which you are also apt to eat more quickly.
Diabetes-Friendly Snack: Unsweetened Cocoa Powder
Unsweetened cocoa powder contains beneficial, anti-inflammatory flavonoids -- the stuff that makes dark chocolate so good for you, but without the fat and sugar also found in chocolate. Isolated from fat and sugar, it's both low-calorie and flavorful, providing a familiar taste to dieters who find it hard to give up a choco-jones. Cocoa powder is also high in magnesium, manganese, and zinc.
Nutritionist Beth Reardon whips up a healthy cocoa snack by mixing together a large (32-ounce) container of plain yogurt with 4 tablespoons unsweetened cocoa powder, 1 teaspoon cinnamon, 1 teaspoon vanilla, an ounce of 73-percent dark chocolate (finely chopped), and 1/3 cup dried tart cherries (chopped). Blend together; makes four servings.
You can also stir unsweetened cocoa powder into coffee or tea. Try adding it to salad dressings, or make a mole sauce (cocoa powder, onion, garlic, tomato, and broth) for chicken or fish.
Diabetes-Friendly Snack: Hummus
Classic hummus is a spread (or dip) made from cooked, mashed chickpeas (garbanzo beans), tahini (ground sesame seeds and olive oil), lemon juice, olive oil, and often garlic. That makes it a good source of protein as well as iron, B vitamins, fiber, and healthy fats.
A popular dish in Middle Eastern and Northern African countries, it's typically served with flat bread or pita chips. Scrap those to save calories and not-so-hot-for-you carbs. Instead, amp up your vegetable intake by dipping celery, asparagus, carrots, broccoli, red or orange bell peppers, or other raw veggies. A tablespoon of hummus has just 25 calories.
You can buy various flavors of hummus (such as red pepper or lemon) in most supermarkets, or whip up your own. Make a super-nutritious version using mashed azuki beans. This nutty, red Japanese variety is higher in protein than other legumes. (It's the base of sweet-bean paste used in Japanese ice cream and other desserts.) Garnish with paprika, pine nuts, parsley, tomato, cucumber, or caramelized onions.
Diabetes-Friendly Snack: Apples
When you're hungry and need a fast, convenient, cheap snack that's not too messy and can be eaten with one hand, there's nothing like the ordinary apple. Not that apples need to be ordinary -- even basic grocery stores tend to stock half a dozen different varieties. In fall, farmer's markets and farm stands are likely to have still more heirloom varieties (there are hundreds!), from tart and crisp to sweeter and softer.
Apples have both soluble and insoluble fiber, so they tend to leave you feeling full longer than, say, a ripe, sugary peach. Eat them with the skin on -- the vitamin C in apples is found just under the skin. One medium apple has fewer than 100 calories.