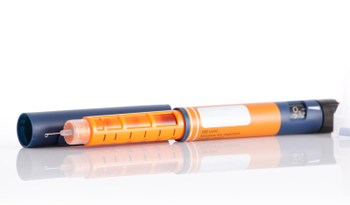 All Rights Reserved
Taking diabetes medications correctly
Here's how you can help someone benefit the most from diabetes medications:
Get the facts
To emphasize the importance of taking meds, have a professional explain -- to you and the person in your care -- why a medication is prescribed, how it works, how often it needs to be taken, and a time frame for when improvements should be seen. Ask about any potential side effects or medical interactions and any symptoms that warrant seeking medical advice.
Find out, too, if a prescribed pill should be taken with or without food or fluid. Should it be taken before or after eating, and should it be chewed or swallowed? People with type 2 diabetes also need to know how food, exercise, stress, or illness can affect how a medication works. A patient's doctor, nurse practitioner, and pharmacist are all potential resources for getting the answers to these questions.
Keep a record
Make sure the person in your care has a written record of the dosage, timing, and potential side effects of his medications from his doctor, nurse, or pharmacist, as it's easy to forget complicated instructions over time. You and any other caregivers should also keep a copy of this information. If the patient is vision-impaired, have him carry a small tape recorder to doctor's appointments or visits to the pharmacist to record the medication directions he needs.
Make a list
Juggling multiple medications can be confusing, so keep an up-to-date medication list in a convenient location at the patient's home and jot down details such as drugs prescribed, when they should be taken, and the dosage. (The American Society of Consultant Pharmacists Research and Education Foundation offers a downloadable sample medication record form .) This list should include prescription drugs, over-the-counter medicines, vitamins, other nutritional aids, and any herbal or natural remedies.
Share this list with other caregivers and the professionals on his diabetes healthcare team. If several people are responsible for making sure meds are taken on time, a separate caregivers ' notebook, complete with medical diagnoses, doctors' appointments, medication history, and any concerns or questions is also a good idea.
Educate yourself
If, for instance, you intend to help him prepare or administer insulin injections, you'll need to learn how to use a syringe and needle and the correct technique for injecting insulin under the skin or into a vein or muscle. Make sure you feel comfortable, confident, and informed about preparing the proper dosage and giving the injection. Again, a doctor, a nurse in his office, or the patient's pharmacist can instruct you on matters such as handling and storing insulin, injection techniques, and syringe disposal.
Remember to take diabetes meds as directed
Find low-tech ways to jog memory
Some people with diabetes swallow up to nine tablets a day; getting a diabetic to take medications on time, at the right dose, and as prescribed can feel like a part-time job. Simple, inexpensive ways to help him remember to take medications include pill containers with compartments labeled for days and times.
You or another caregiver or family member could call at specific times of day to remind the person -- some aging-related service organizations also offer a telephone reminder service, or you could outsource the task to a private service such as memotext .
In addition, keep medications in one handy designated container and place, such as the person's bedroom or living room, unless they require refrigeration or another specific kind of storage.
Help him figure out a pill-taking plan that fits into his daily routine. Try to tie medication taking to a ritual: For example, some diabetes drugs should be taken before eating, so place a sticky note on the cupboard door where he keeps his plates as a visual cue that it's drug-taking time.
Let high-tech gadgets do the job
Sometimes, an advanced technological solution is more helpful for addressing forgetfulness.
One method uses software and a computer's internal clock to prompt a person to take his pills. Afterward, he presses a key to confirm that the task has been done.
Automated pillboxes, clocks, watches, or timers that beep when it's time for to take medications are available at a variety of prices and from several sources including E-pill . One computerized device can dispense up to ten prescriptions at scheduled times and lets you know when a refill is needed or when a dosage has been missed. This advanced system comes with a price tag of around $250 per month, though.
Some dispensers allow you to track a patient's medication schedule online, while others contact you when a dose isn't dispensed properly.
You can learn more about some of these automatic medication dispensers at Technology for Long Term Care , a free government-sponsored resource.
Other diabetes drug considerations
Minimize side effects
Side effects are a common difficulty when taking multiple medications. Symptoms can range from unpleasant and uncomfortable (such as drowsiness, confusion, insomnia, and loss of appetite) to more serious (such as mental impairment, depression, and delirium).
The good news here is that there's an arsenal of drug choices for diabetes care, which means it's worth exploring with a diabetic's doctor ways to tweak his drug treatment plan to minimize side effects.
Seek expert advice
Sometimes the person in your care just doesn't want to hear it from you. That's when his pharmacist can become an invaluable ally. The pharmacist can advise him about the types of pillboxes and other reminder aids.
If vision issues are a concern, his pharmacist may be able to provide prescription labels or medication instructions in larger print. The pharmacist can also split tablets if n ecessary or provide easy-open bottle tops for prescription medications.
How to Save Money on Diabetes Medications
The cost of prescription medications and the limited health insurance coverage for these drugs may deter a patient from taking the medications he needs.
Find out if a generic version of a specific medication is available, as this can significantly lower costs.
Sometimes it's cheaper to buy a medication in a larger dosage and then split the pill in half to get the appropriate amount. But check with a doctor or pharmacist to make sure pill splitting is OK, since it's very difficult to split a pill exactly.
Also, the person's primary care provider may be able to offer free drug samples or direct you to local programs that can help with costs.
Call a few pharmacies in your area and comparison shop; you may find that if you ask, the pharmacy closest to you will match prices with nearby competitors.
In addition, Medicare , the government program providing healthcare services for people 65 and older, offers prescription drug coverage through several plans.
Companies that make insulin or diabetes drugs often have patient assistance programs that provide free medications or discounts to seniors or individuals with reduced incomes; ask the doctor for information on such programs.
The Partnership fo r Prescription Assistance, sponsored by the Pharmaceutical Research and Manufacturers of America and its member companies, offers an online tool for determining eligibility for drug assistance.