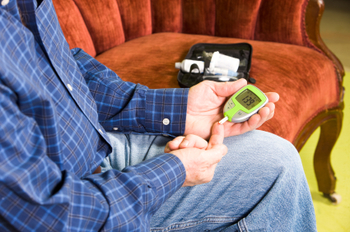 All Rights Reserved
If your parent has been diagnosed with type 2 diabetes, formerly known as adult-onset diabetes (and the most common form of the disease in seniors), it's essential to get it under control. And to do that, your parent will need the help of a team of medical professionals. Of course, your parent may not be able to consult with all of these specialists, given insurance and financial limitations and availability. Find out below where to turn for help when your parent needs it.
A primary care physician
Diabetes is a chronic condition in which the body doesn't make enough insulin -- a hormone that helps convert sugar from food into glucose for energy -- or can't use insulin properly. It's a complicated disease that requires consistent and careful management.
Most primary care physicians, such as a family doctor or internist, can monitor and treat diabetes. This physician should also refer your parent to diabetes specialists when specific health issues arise.
Your parent's longtime doctor can be invaluable in this role, as he should know your parent's medical history well and can help assess any health changes promptly. If, however, you find that diabetes care is not this doctor's forte, or he doesn't seem to satisfactorily attend to your parent's diabetes-related needs, or he isn't willing to field questions from your or your parent about the disease, consider choosing a new general physician or an endocrinologist (see below), a specialist in this disorder.
To locate a primary care doctor near your parent, visit the American Academy of Family Physicians' find-a-doctor locator. To locate an internist, try the American Medical Association's find-a-doctor search tool.
The American Diabetes Association (ADA) and the National Committee for Quality Assurance jointly sponsor a state-by-state Diabetes Physician Recognition Program for doctors who provide high-quality diabetes care.
An endocrinologist
As people age, complications associated with diabetes are more common. These include nerve, eye, and kidney damage, as well as heart disease and stroke.
Endocrinologists are experts in the body's endocrine system -- tissues, organs, and glands that secrete hormones -- and they treat a wide variety of endocrine-related disorders, particularly diabetes complications and uncontrolled diabetes.
To find an endocrinologist in your parent's area, go to the American Association of Clinical Endocrinologists' find-a-doctor service.
An eye doctor
Diabetes can damage the eyes, and the retina, the light-sensing lining of the eyeball, is particularly susceptible to injury. Your parent should see either an ophthalmologist or an optometrist to have her eyes checked annually, more often if she already has retinal damage, or retinopathy.
To find an ophthalmologist, visit the American Academy of Ophthalmologists. To locate an optometrist, use the American Optometrist Association's search tool.
More Support for Diabetes Health Care
A diabetes educator
A certified diabetes educator (CDE) can teach you and your parent how to test blood glucose levels, give insulin injections, develop healthy eating habits, and create a safe and suitable exercise program. A CDE can also offer advice on ways to remember to take medications, and how to prevent or reduce complications.
A certified diabetes educator may be a trained doctor, nurse, dietitian, pharmacist, exercise physiologist, podiatrist, or social worker. Look for a CDE among the listings at the American Association of Diabetes Educators' find-an-educator tool. Also, check out the American Diabetes Association's state-by-state listing of diabetes education programs that meet the organization's standards for excellence.
A dietitian
Healthy eating is a key component of diabetes care, as it can help your parent control her weight, lower her blood sugar, and help her body better use insulin. A registered dietician (RD) is an expert in food and nutrition who's trained to work with families to tailor meal plans to suit individuals.
The American Diabetes Association recommends that every person with diabetes receive a personalized meal plan designed by an RD. Search the American Dietetic Association's member database for an RD near your parent.
An exercise physiologist
Exercise is a vital component in managing diabetes, as it can help your parent control her weight, lower her blood sugar, and better utilize insulin. It can also improve blood fat levels, reduce stress, and elevate mood.
A licensed exercise physiologist (EPC) can help plan a safe, effective exercise program, although it may be difficult to find an EPC in your parent's area. Ideally, look for someone who has experience working with seniors or people with diabetes. If your parent has diabetic complications or mobility issues, check with her doctor before she embarks on an exercise regimen.
The American College of Sports Medicine can help you find a professional in your parent's area.
A pharmacist
Most people with diabetes need medicine to control the condition. And because other conditions that also require drug remedies -- such as high blood pressure or high cholesterol levels -- are common in those who suffer from diabetes, a pharmacist familiar with your parent's medication history can inform you about any possible side effects or interactions resulting from drugs taken in tandem with diabetes medications.
Look for a licensed, experienced pharmacist with expertise in diabetes or eldercare who can offer suggestions for helping your parent take her medications on time, let her know which blood glucose meter may suit her best, and provide other drug and device advice.
To find a pharmacist knowledgeable in meeting the needs of the geriatric community, also called a senior care pharmacist, use the find-a-senior-pharmacist locator of the American Society of Consultant Pharmacists. Or look for a Rite Aid pharmacy near your parent. (Rite Aid pharmacists are specially trained in diabetes management, according to the ADA.)
More Diabetes Support Team Members
A podiatrist
Diabetes often causes poor blood flow and nerve damage in the lower legs. Your parent may get foot infections more often, and sores -- even small ones -- can quickly turn into big problems.
A podiatrist, or DPM, is a health professional trained to treat problems of the feet and lower legs. Look for a podiatrist who has experience treating diabetes-related foot ailments who is willing to work in tandem with your parent's primary care doctor.
Locate a podiatrist through the American Podiatric Medical Association podiatrist finder service.
A dentist
People with diabetes are at greater risk for gum disease because excess blood sugar in the mouth makes it a haven for infection-causing bacteria. Your parent should have a routine checkup every six months. Make sure her dentist is aware that she has diabetes.
Check with the American Dental Association, and look for a dentist with experience treating people who have diabetes.
A support person
Diabetes is a lifelong disease and your parent may need some emotional support beyond what you can offer. As her caregiver, you may also need some help coping with stress, burnout, or depression. A support person could be a friend, family member, or religious or spiritual guide. Or consider attending a diabetes support group (ask your parent's diabetes educator for a recommendation).
Mental health professionals can help you and your parent face the personal challenges of living with diabetes. A licensed clinical social worker (LCSW) may be able to help you and your parent find resources to deal with medical and financial concerns related to diabetes, as well as suggesting coping strategies for the entire family. A clinical psychologist or a family therapist can help with mental health issues that can arise from dealing with a chronic ailment, such as depression, anxiety, and stress.
Find an LCSW in your parent's area through the National Association of Social Workers, a licensed family therapist through the American Association for Marriage and Family Therapy, or a psychologist via the American Psychological Association.