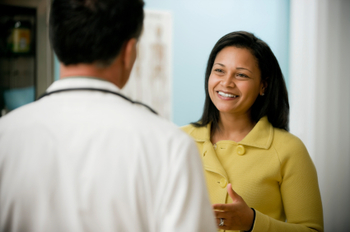 All Rights Reserved
If your loved one with dementia must be hospitalized for a broken bone -- a common aftermath of an accidental fall -- make sure the treatment (and you) focus on three important issues.
1. Advocate for proper pain management
Most people hospitalized for a broken bone will have pain. For some, the pain is present all the time. For others, it's just with certain movements, such as standing.
For people with dementia, the trouble is that they often have difficulty communicating pain. They may not remember the pain when hospital staff come to ask about it. Or they may consistently deny being in pain, even though careful observation of their activity and facial expressions tells another story.
It's essential that your loved one be treated for pain, because untreated pain can cause delirium and also affect his or her ability to participate in the physical therapy that's needed for recovery. Studies show that elderly patients with broken bones are commonly undertreated for pain, especially if they have dementia.
Pain: What you can do
To ensure that your loved one with dementia gets properly treated for pain, take the following steps:
If your loved one denies being in pain, watch for other telltale signs, such as grimacing, refusing to move, or being more confused than usual.

Let the hospital staff know if your loved one often seems to be in pain. You know him or her better than they do and can observe your loved one over longer periods than any staffer can.

If a pain medication has been prescribed on an as-needed basis, you may find it helpful to remind hospital staff to give it to your loved one or talk to the doctor about making the order effective at regular intervals.
2 more important issues for someone with dementia who's hospitalized for a bone fracture
2. Understand what kind of physical activities are OK.
Once your loved one's fracture has been assessed -- and surgically treated if need be -- he or she will be ready to begin the healing and recovery process. People with dementia, however, often can't remember whatever instructions or restrictions have been specified by the doctors and physical therapists.
That's problematic because participating in rehab is essential in order to recover function and regain as much independence as possible.
Rehab: What you can do
Make sure the physical therapists understand that your loved one has dementia. Don't count on them seeing it in the person's file. It will help if you can specify the stage of dementia and give some examples of what your loved one is usually able to remember.

Make sure you understand the plan for recovery from the fracture, including what kind of activities or weight-bearing movements are OK and which should be avoided.

If your loved one can't remember instructions, plan what you'll need to provide help. For example, some people with dementia respond to written signs. Or your loved one may need a caregiver at the bedside most of the time to give verbal reminders. Ask the physical therapy staff to help you brainstorm.

Ask about timing pain medication before therapy. Activity can create added pain even though it's necessary, and if this pain isn't inadequately treated, your loved one might not participate in physical therapy. If he or she is balking or not trying hard, talk to the hospital staff about providing more pain medicine, ideally an hour prior to therapy.
3. Request an evaluation for osteoporosis.
In an older adult, breaking a bone may be a sign that the bones are much thinner than normal, a condition known as osteoporosis. It's especially important to identify and treat osteoporosis in older adults with fractures. Treatment can reduce the chance of a future fracture by 50 percent, and it's usually tolerated by people with dementia.
Osteoporosis: What you can do
If it hasn't been mentioned to you, ask the doctors to evaluate your loved one -- female or male -- for osteoporosis. Note that men with osteoporosis should also be checked for low testosterone, which can cause osteoporosis.

If osteoporosis is diagnosed, ask about a multifocused treatment. Ideally, your loved one should be prescribed both calcium and vitamin D supplements, as well as prescription medications for osteoporosis.