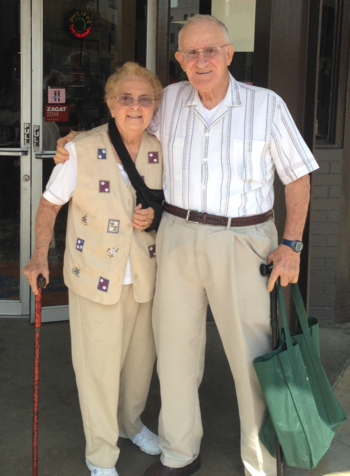 All Rights Reserved
Every family has their stories—the ones that are retold so often they become a part of family lore. For Bill and Glima Beverley, it's their engagement story, and Bill still loves to tell it nearly 70 years later.
As Bill explains, the couple was walking down the street in Bristol, Tennessee where they were vacationing when they spotted a jewelry store. Inside, Bill spotted an engagement ring and wedding band he thought he could afford. "It turned out I was $20 short for the down payment," Bill recalls. "I looked at Glima and asked if I could borrow the money. I'd never seen her take out her pocketbook out so quickly!"
Bill and Glima's love story started long before their Tennessee vacation. They first met in the seventh grade, and started dating their senior year of high school. After graduation, Bill attended Virginia Polytechnic Institute and State University, then eloped with Glima before they left their home state of Kentucky and moved out to California in 1950. They soon welcomed two sons.
The family loved to travel. "We would spend one week a year visiting a new part of California and made it our goal to eventually visit all 50 states," he recalled. Bill stayed active with fishing and golfing and refurbishing old cars with his sons. Meanwhile, Glima was an outstanding mother who always kept the house in order, he remembers. "When she wasn't taking care of the kids, she liked to sew and was very active in the women's group at church."
Changing Behavior and a Diagnosis
As the years passed and the couple grew older, Bill began to notice changes in his wife. Eventually, he says, "she lost interest in everything. Her hearing had gone bad and she didn't care." In 2012, he took Glima to the doctor, who diagnosed her with the early stages of dementia. Luckily, with hearing aids and medication, Bill says Glima was able to get back to "her old self" for several years.
As the dementia progressed, Bill became Glima's fulltime caregiver. "I needed to watch her all the time," he recalls. "She would fall and I couldn't pick her up. Sometimes she would have night terrors that would wake her up in a panic and I'd have to calm her down before we could [go] back to bed."
At first, Bill didn't share Glima's worsening condition with his sons or other family members. "I tried to shield them from it, but as I started to need more help I had to let them know why." Ultimately, Bill had to learn to accept the new reality. "I'm impatient and had to get used to being patient. I had to reconcile. In this situation, [your loved one is] not what they used to be but we want them to be as they were. But you can't do anything. It's a learning curve."
Sometimes Glima would think they were at the family cabin in Northern California, when they were actually at home in Orange County. Instead of trying to correct her, he learned to go along with her. Even so, Bill noticed Glima lost much of her will to do anything at all. "We went from her helping me a little to me doing all of it. It became a 24-hour a day job." That's when he reached out to his health insurance provider, SCAN Health Plan.
Finding Support
"SCAN really understood what our needs were. Today I have a professional caregiver who helps with Glima's personal needs, and a housekeeper who helps with household chores."
Bill and Glima's youngest son lives nearby and also helps out often. "He comes over on Tuesday nights and we go out to dinner," says Bill. "Thursday mornings, we go to breakfast and he takes me to the store to go grocery shopping."
Like many caregivers, 89-year-old Bill is battling health issues of his own. Twenty years ago, he was diagnosed with macular degeneration, a condition that has caused him to slowly lose his eyesight. He says that losing his vision has not only kept him and Glima from enjoying some of their favorite pastimes, but has even more so resulted in a loss of independence—as with driving, for example—which has been a hard pill to swallow.
"All my life, I've always been independent. It was hard to come to terms with realizing I couldn't care for my wife alone. It was very humbling."
Today, Bill says the best advice he has for other caregivers is this: "Don't be afraid to ask for help. If you've been independent all your life it's a hard thing to do. Most men are self-starters and don't like to depend on anybody else, but I'm learning."
A New Chapter
For now, Bill and Glima have settled into a routine. A typical day starts with Bill waking her up, getting her dressed and preparing breakfast, "her choice of OJ with a croissant, toast, cereal or waffles." He also makes sure Glima gets her exercise. "I take her for 30 minutes a day. I've noticed she's better the more active she is."
Afterward, they enjoy one of Glima's favorite programs or catch an Angel's game on TV. On the days when she's feeling good, Bill takes Glima on a nearby adventure. "I take her down the street to a cul-de-sac where our neighbors gather with their dogs and we watch them play together."
He admits: "I don't have alone time to do what I want when I want to. I can't go to the men's club at church. Much of my life is close now."
Thankfully, he has a lifetime of happy memories to draw upon. For their 50th wedding anniversary, the couple took a cruise to Alaska, the 50th and final stop on their all-state bucket list. It was there that Bill finally repaid Glima the $20 she'd loaned him for the wedding ring set the pair picked out together all those years ago.
"I surprised her with a gold necklace. It cost $20—plus 50 years of interest," he says with a chuckle. Bill says it was worth every penny. "No matter what we're doing, good days or bad, I look at her and think, "God, I love that woman.'"