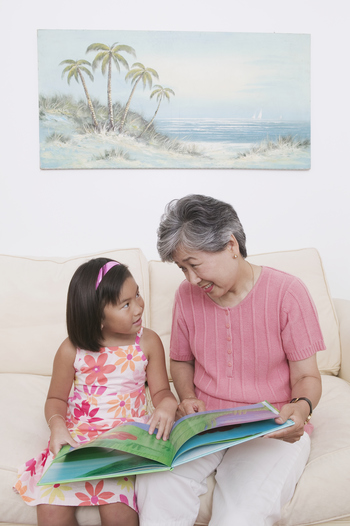 All Rights Reserved
When today's seniors were in their childhood and teenage years, Sunday nights were often spent with multiple generations. Adult siblings prepared a family-style meal while the younger children and cousins played games in the yard, and the older adults and grandparents sat and enjoyed watching it all happen. When it came time to sit down for a meal, it was chock full of cross-generational storytelling. All three generations would come together at the table, share the latest goings-on in their own lives, and bring lessons learned in years past into the present.
Over time, this weekly tradition has become lost for many families. What was once a common occurrence is now reserved for major holidays and milestone birthdays. As this tradition fades, so too do the benefits of connecting cross-generationally.
To reignite cross-generational connection and boost opportunities for storytelling, families can reinstate weekly dinners, schedule time to get together (sans mobile devices), or simply make time for storytelling at family gatherings.
Five reasons storytelling matters
Seniors experience an improved quality of life. Loneliness can be a major health problem for some seniors, but when younger generations engage and interact with their senior-aged loved ones, it boosts happiness and seniors feel more fulfilled.
Children encourage the decline of ageism. Generally speaking, children have a positive perception about their older loved ones. And when children are able to embrace spending time with seniors and understand the wisdom and insight seniors bring with them, this positive attitude can continue well into their teenage and adult years.
Participating generations build long-lasting relationships. There is something special that happens when a grandchild sees the twinkle in a grandparent's eye as he or she listens to a story from years past. Ultimately, sharing stories creates a unique bond among individuals.
A family legacy is preserved. Oral history can be lost in as little as three generations, according to an expert from the National Archives. That means today's youth would not remember their great-grandparents' stories to tell their own children. Therefore, when a story or anecdote is passed down to a younger generation, it lives on that much longer.
Children can further excel in school. According to the Oxford University Press, children who read for pleasure are more likely to do well in school, and eventually the workplace. Grandparents can help instill a love of books by reading to their grandchildren from an early age.
The benefits of cross-generational storytelling are clear, both for seniors and for younger generations. When youngsters have the chance to learn from a senior's lifetime of stories and wisdom, and seniors can can pass down those stories to the next generation, it's a win-win.