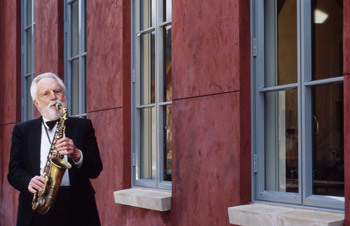 All Rights Reserved
In her younger days, Joanne Grimm was an English teacher, "convincing eighth graders that adjectives were important to their lives." Today, the 81-year-old is trying to convince others that age is just a number. When she's not performing in a musical revue at assisted living communities, public libraries, and schools, Grimm is out on a storytelling gig or taking classes at Stagebridge, an Oakland, California-based senior theater company.
Grimm's interest in the creative arts, aka "creative aging" -- whether it is dance, music, art, poetry, playwriting, or acting -- is shared by an ever-growing cast of baby boomers and senior housing residents.
Historically, older adults have sat back and watched the "entertainment." Today, professional dancers, storytellers, actors, musicians, and directors come to adult day and senior centers, long-term care and memory care facilities, and community venues to collaborate with that former audience.
Research shows that creative expression offers big benefits for an older demographic, regardless of whether you are cognitively sharp or have dementia. These include boosting concentration, cognition, and mood; reducing depression, loneliness, pain, medication, and falls; and offering a sense of purpose and belonging. No prior experience needed, either.
"As we age, our creative abilities have the potential to grow and compensate for areas of loss, whether it's physical, cognitive, or emotional," says geriatric psychiatrist Marc Agronin, author of How We Age and director of Mental Health and Clinical Research at Miami Jewish Health Systems. "Creativity is not just an artistic skill but a way of thinking, engaging in relationships, and problem-solving."
So, without further ado, introducing four standout initiatives:
Kairos Alive! (www.kairosdance.org)
This award-winning, Minnesota-based intergenerational dance company (ages 7-98) has programs for veterans, Parkinson's patients, and caregivers. "When we first started, I was told frail people will never last an hour and a half," says Kairos founder Maria Genee. "But they forget about time because they are using their imagination."
A recent collaboration involved the Mississippi River. People reminisced about their river experiences, discussed how they could travel on the water (canoe, paddleboat, raft), and acted out what they might see, guided by a professional dancer, musician, and actor.
Virginia Nordling, 76, attends Kairos sessions in a support group for veterans' spouses. "When I first went, I thought, 'This is not going to be for me, I'm not a dancer.' But it is so freeing and relaxing. I always have fun," she says.
Thirty-seven-year-old Mary Everest, an Alzheimer's caregiver, has taken her mother to one of the dance programs. "It was a feeling of relief, of not having to worry about her or take care of her but just interacting and enjoying our time together," says Everest.
Stagebridge Senior Theatre (http://stagebridge.org)
The nonprofit offers 30 classes a week and has 9 performing troupes that go into schools and places where there are seniors. Want to try improv? Playwriting? Storytelling? Jazz chorus? Tap? At the end of every 12-week session (on average, a mere $150), students showcase their work. Every other year, Stagebridge commissions an original play with Equity actors, using its own for supporting roles.
"Older people want to take risks and learn new skills," says Stagebridge founder Stuart Kandell. "They want to share their talents and give back." Just ask Grimm, the former-teacher-turned-Stagebridge actor/storyteller: "I want to make people laugh and, for 20 seconds, forget their arthritis or loneliness. Or have a younger audience see that it's OK to be old," she says. "When people applaud, it makes me feel good. The audience is seeing me as someone who still has something to give, and that makes me want to give more."
Sweet Readers (www.sweetreaders.org)
The organization began four years ago in New York City as a way for then fifth-grader Sophie Young to feel connected to her grandmother, who had Alzheimer's. Young read famous children's books to her. Loving the reaction, and interaction, she then visited Grandma's adult day center and read to others. "I remember the first day, skipping out of the center with a smile on my face knowing that I made a difference in someone's life," says Young.
Today, middle and high school students work one-on-one with an Alzheimer's elder using poetry, games, crafts, music, and the arts to foster a close relationship. The kids are trained to understand both the behaviors and science behind the disease. Young and her mother Karen, the executive director, have since grown Sweet Readers to 600 kids in New York, Connecticut, and Maryland. "Both the elder and the child can each see directly the impact of their engagement on their partner," says Karen. "Both are empowered by renewed purpose."
NOHO Senior Arts Colony (http://www.nohoseniorartscolony.com)
Talk about lifelong learning! NOHO (which stands for North Hollywood) debuted in 2013 and has 126 rental apartments for those aged 55+ who are former professionals in show biz, art, dramatic writing, or music -- as well as newbies interested in serious arts immersion. "We don't want dabblers!" says John Huskey, president of project developer Meta Housing. On campus is a professional theater group and performing facility where residents can take classes when the performers aren't rehearsing or on stage. NOHO offers sculpture, ceramics, and film editing as well as Pilates and a UCLA-based mindful meditation class.
Angela McEwan, a widow in her seventies, moved to NOHO last January. The actress, who has appeared in Days of Our Lives, Parks and Recreation, TV commercials, and, most recently, the film Nebraska (as the ex-girlfriend of Bruce Dern), had a 90-minute commute from her house to auditions. "It was killing me," she says. "The other day I had three auditions and they were less than 20 minutes from my apartment at NOHO." Her new place keeps her active, "and I'm happy I'm with kindred spirits in my field. I'm amazed and grateful that I have this opportunity," says McEwan.
Is there a creative aging program that you or your aging loved one is a part of? Tell us about it in the comments section below. Or for a list of programs around the country and a toolkit for caregivers, go to http://www.creativeaging.org/.