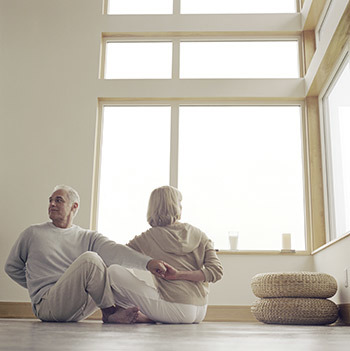 All Rights Reserved
For people with chronic obstructive pulmonary disease -- COPD -- sometimes just taking the next breath isn't easy. Pulmonary rehabilitation can help a person with COPD breathe more easily, gain strength, and live better through a team approach. A pulmonary specialist starts with medication. Then a team of health professionals -- physical, occupational, and recreational therapists; registered dietitian; emotional counselors -- devise an integrated, customized plan to help manage the effects of COPD. Even people with advanced COPD can benefit. This is what pulmonary rehab is all about:
Exercise for Someone With COPD
"We start by testing muscle strength and endurance," says Phyllis Dibbern, a physical therapist at Denver's National Jewish Health, named the top hospital for respiratory ailments by U.S. News and World Report. "Then we put together a plan. If you are an older senior and haven't been out of bed recently, your exercise plan will be different than that of a younger person."
Standard treatments involve resistance bands and walking. Sometimes a person is able to use recumbent bicycles with adjustable moving arms. "Recumbent bicycles are great because a person with balance or back problems can be comfortable using them," Dibbern says. "We make sure the exercises can be adapted for home -- even if you're not using machines. We recommend a minimum number of minutes of exercise each day, but you don't have to do it all at once. You can split 30 minutes a day into three sessions."
After two weeks, people can see a change in strength -- and that often keeps them going, says Dibbern.
Saving Steps in Daily Activities
Occupational and recreational therapists show how to save steps and movements for the important activities of daily living, like cooking or just getting out of bed.
Breath Training for COPD
People with COPD can learn how to breathe more efficiently. One such technique is the "purse-lipped pattern," in which you breathe through your nose to add heat and moisture, and out through your mouth through pursed lips as though you are softly blowing out a candle. Knowing how to breathe and pacing your breaths to your movements both help.
COPD and Nutrition
It's not only lung damage that inhibits breathing. Being overweight or underweight can contribute, too. Maintaining a healthy weight is your most important nutritional goal. A registered dietitian can devise a customized eating plan and strategies that take into consideration home life, medications that may increase appetite, and daily activities. Most often it's small meals, frequently scheduled and rich in protein and nutrients, that do the trick.
Dietitians also help to get you motivated. "I ask people what's important to them," says Michelle MacDonald, a registered dietitian with National Jewish Health. "And I tell them about other successes. I have seen people come in here using oxygen, and after they manage their weight, they no longer need it."
Emotional Counseling for COPD
Difficulty breathing is anxiety provoking, and it's no surprise that the rates of panic and anxiety are high in people with COPD. A trained psychological counselor will help reduce anxiety and some of the other emotional issues people with COPD might have.
"People often have to deal with issues like self-blame, depression, and even what other people think," says Fred Wamboldt, a psychiatrist and professor of medicine at National Jewish Health. "We often use cognitive behavioral therapy to get them to change their thinking patterns."
"Often," Wamboldt adds, "people think life is not going to get better. The different elements of pulmonary rehabilitation show them that life can get better after all."