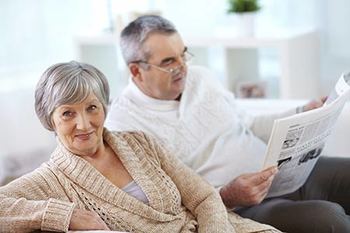 All Rights Reserved
It's quite possible you'd never heard of COPD (chronic obstructive pulmonary disease) until you or someone you love was diagnosed with it. That's because COPD is an umbrella term for two respiratory illnesses, emphysema and chronic bronchitis. Both conditions typically develop when the lungs have been exposed over time to irritants such as cigarette smoke, air pollution, and/or chemicals.(1)
But with COPD now the third-largest cause of death in America, killing some 138,000 people a year, it's getting more attention.(2) And if you're caring for someone with COPD, you know how important it is to learn everything you can. In fact, becoming educated about COPD is one of the most important things you can do both to make sure your loved one is getting the best possible medical care and to reduce the stress you're under as a caregiver.
According to a survey* of COPD caregivers conducted by Caring.com, they have a big job. COPD caregivers can spend anywhere from 6 hours and up per week caring for their loved one, and a startling 21 percent spend more than 40 hours per week in caregiving activities. Caregivers are about evenly divided between those caring for a parent with COPD and those caring for a spouse. A small percentage care for a sibling with COPD.
One of the biggest challenges COPD caregivers face is the need to be aware of how medical decisions are made, which often requires understanding complicated information about symptoms, treatments, and medications. While some COPD caregivers have learned a great deal about COPD treatment methods, others describe themselves as being uninformed or unfamiliar with medical options.
This lack of information can contribute significantly to stress levels and can also impact treatment success. Of the caregivers who described themselves as uneducated about COPD treatment, 18 percent said they were uncomfortable asking doctors questions about medications, and another 17 percent said they were only somewhat comfortable doing so. This is relevant because being able to ask questions and make sure you understand medication instructions for your loved one's medications may be key to successful treatment.
Here are some important things you need to know to be informed, resourceful, and proactive in getting the best COPD care you can:
Be Aware
The COPD caregivers surveyed by Caring.com* said they wished they had more information about treatment options, medications and devices, and day-to-day management of their loved ones' symptoms.
A new website, COPDTogether.com, is now available to help COPD caregivers find information and access resources to make managing your loved one's care easier and simpler. Here you'll find:
A symptom diary to keep track of the issues you or your loved one is experiencing
A caregiver's guide developed with the COPD Foundation designed especially for those coping with COPD
A smartphone app to help you keep track of symptoms, concerns, medications, and other treatment-related issues
Feeling poorly informed about the medical issues surrounding COPD can make caregivers intimidated about attending medical appointments. Caring.com's survey* of COPD caregivers revealed that those who were unfamiliar with COPD treatment were less likely to attend medical appointments with their loved ones than those who felt confident in their knowledge.
Asked specifically about their relationship with their loved one's doctor and their ability to work together with the doctor, 77 percent of medically confident caregivers rated that relationship highly, as opposed to only 56 percent of uneducated COPD caregivers.
It's clear that there are benefits for everyone in making sure that caregivers have the medical knowledge they need.
Know Their Symptoms
The damage that causes COPD symptoms occurs in the lungs. No longer able to fully expand and contract, the air sacs can't fully inhale oxygen or exhale carbon dioxide. Meanwhile, inflammation of the bronchial tubes constricts airflow while triggering the production of excess mucus.(1) What you may see (and hear) when someone has COPD is:
A chronic phlegmy cough that never fully goes away
Constant throat clearing due to excess mucus
Shortness of breath
Vulnerability to repeated bouts of flu and pneumonia
Lack of appetite or unexplained weight loss (3)
For more thorough information on all the signs and symptoms of COPD.
Be Proactive About Managing Your Loved One's COPD
According to Caring.com's survey*, one of the biggest factors affecting caregivers' schedules is the need to spend more time in doctors' offices and otherwise handling their loved ones' medical needs. The majority of COPD caregivers accompany their loved ones on medical visits and feel that the doctor values their role. But many COPD caregivers feel their doctor doesn't pay attention to their concerns or respond to all their questions.
COPD is a progressive disease, worsening over time as the lungs become more damaged. Symptom monitoring is a primary focus of COPD caregivers; 71 percent answered "yes" to the statement, "The doctor values my help in monitoring and reporting patient symptoms, as well as making sure my loved one follows prescribed treatments." Caring.com recommends keeping track of symptoms and treatments. A downloadable diary to help caregivers track both symptoms and medications is available at COPDTogether.com.
COPD caregivers are also instrumental in helping their loved ones manage medications. The Caring.com survey* showed that caregivers have a high level of familiarity with COPD treatments overall, including nebulized treatments.
Recognize Flare-ups and Emergencies
COPD symptoms can flare up in response to specific triggers, or more commonly when someone with COPD gets a cold, flu, or pneumonia.(4) Repeated flare-ups, or exacerbations, can cause COPD to worsen, or progress, which is why it's so important to be on the alert and get help fast.
When surveyed by Caring.com*, 26 percent of COPD caregivers were concerned about flare-ups, saying they needed advice on how to prepare for future COPD needs and emergencies. Twenty-one percent asked for help recognizing triggers and preventing flare-ups.
The signs of a flare-up are usually similar to normal COPD symptoms, such as shortness of breath, coughing, and wheezing.(4) But during an exacerbation, symptoms can worsen rapidly, leading to an emergency situation.
Be prepared by discussing ahead of time with the doctor which medications and other supplies you need to keep on hand. Maintain adequate supplies, and check to make sure medications don't go out of date. Ask the doctor for 24-hour emergency contact information and make sure you understand when to go to the emergency room or call an ambulance.
You can be an important part of your loved one's care by increasing your knowledge about COPD and how it is managed. Taking time to do research online and using tools such as the COPD caregiver guide, can help make the management of your loved one's COPD easier.
*Note: The cited survey of COPD caregivers was funded by Sunovion Pharmaceuticals Inc., which also created COPDTogether.com.
---
Sources
1. What Is COPD? National Heart, Lung, and Blood Institute.http://www.nhlbi.nih.gov/health/health-topics/topics/copd/. Accessed on November 22, 2013.
2. "Leading Causes of Death. Centers for Disease Control and Prevention. http://www.cdc.gov/nchs/fastats/lcod.htm. Accessed on November 22, 2013.
3. What Are the Signs and Symptoms of COPD? National Heart, Lung, and Blood Institute. http://www.nhlbi.nih.gov/health/health-topics/topics/copd/signs.html. Accessed on November 22, 2013.
4. Global Initiative for Chronic Obstructive Lung Disease. Global Strategy for Diagnosis, Management, and Prevention of COPD. Available at http://www.goldcopd.org/uploads/users/files/GOLD_Report_2013_Feb20.pdf. Accessed: November 22, 2013.