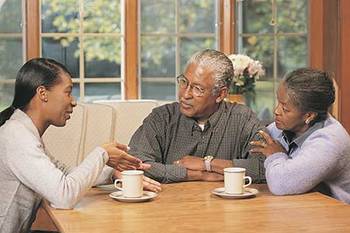 All Rights Reserved
There's no single "right" way to talk to someone about end-of-life issues. As frightening and painful as it can be, opening up the conversation to discuss end-of-life wishes can decrease the rate of depression for you and your family after a member has passed away. The Conversation Project seeks to help Americans have this difficult conversation before it's too late. We talked with Executive Director Harriet Warshaw about how the Conversation Project can guide families toward having an honest discussion, and here's what she said:
Death is a hard topic to bring up with family members. What inspired the making of the Conversation Project and its mission of encouraging families to talk about their wishes for end-of-life care?
Harriet Warshaw, executive director: The Conversation Project began in 2010, when Ellen Goodman and a group of colleagues and concerned media, clergy, and medical professionals gathered to share stories of "good deaths" and "hard deaths" within their own circle of loved ones, after the painful death of her own mother. Over several months, a vision emerged for a grassroots public engagement campaign spanning both traditional and new media that would change our culture. The goal: to make it easier to initiate conversations about dying, and to encourage people to talk now and as often as necessary so that their wishes are known when the time comes. The Conversation Project is dedicated to making sure that everyone's wishes for end-of-life care are expressed and respected.
What's the difference between a "good death" and a "hard death"?
HW: The notion of a "good death" and a "hard death" varies greatly from person to person and is dependent on individual values and goals. In general, the Conversation Project believes that a good death is one where an individual's wishes for end-of-life care have been respected to the fullest extent possible, and their family members feel confident, not guilty or uncertain, that their loved one died the way they wanted. A "hard death" is when a family member feels conflicted and carries the burden of uncertainty, questioning their decisions regarding their loved one's end-of-life care. We know that depression is much more prevalent after the death of a loved one if there is any question about whether or not their loved one's end-of-life care wishes have been honored.
What are some reasons families avoid the topic of death with aging parents or family members?
HW: There are a multitude of reasons why people have a tough time approaching the subject of death with their loved ones. Often, they aren't sure how to get the conversation started. This is why we created the "Conversation Starter Kit." It is a step-by-step guide that people can use to help them start the conversation with those they love most. We've found that it is very useful for people to have a tangible and user-friendly guide to initiate these deeply personal, but rewarding, conversations.
How does a conversation about death and end-of-life care with an aging parent impact family caregivers financially?
HW: The Conversation Project is first and foremost dedicated to the human aspect of this issue. That being said, we do know that many people would actually opt for fewer medical interventions at the end of life than they wind up receiving, eventually taking an enormous financial toll on the family of an individual in that situation. Although TCP focuses more on the human side of this issue, the economic aspect cannot be ignored.
What tools does the Conversation Project offer to family caregivers to help them broach these topics with loved ones?
HW: The Conversation Project offers a variety of tools to help make having the conversation easier. The first tool is the Conversation Starter Kit, which is a guide to help people initiate these difficult topics with their loved ones. It is a step-by-step guide that helps the user think through their wishes for end-of-life care and gives helpful strategies for sitting down with their loved ones and starting the conversation. This kit is available in both English and Spanish.
Additionally, the Conversation Project offers the "How to Talk to Your Doctor" Guide. This guide helps people express their wishes to their healthcare provider after they have done so with their loved ones. This conversation is critical in making sure an individual's wishes are respected.
Anything else you'd like to add about the Conversation Project that family caregivers should know?
HW: We know that this conversation can be challenging, but it is so vitally important. We encourage everyone to visit our website and take a look at some of the resources we provide: theconversationproject.org/. Having this conversation can make all the difference.