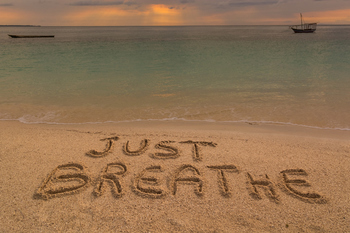 All Rights Reserved

It's never too late to add another self-calming tool in your ongoing efforts to find something -- anything! -- to better help you manage daily stress. "Conscious breathing" is an easy breathing technique that comes from integrative medicine pioneer Andrew Weil -- and best of all, you can do it with your loved one right in the same room.
How to do it:
Breathe in through your nose for a count of four.

Hold for a count of seven.

SEE ALSO: Find In-Home Care Help Near You

Then exhale through your mouth for a count of eight as a "whooshing" sound comes out.

Repeat this series at least four times in a row.
Why does it work? Paced breathing is thought to trigger the relaxation response, which counteracts the stress response we're all much more familiar with.