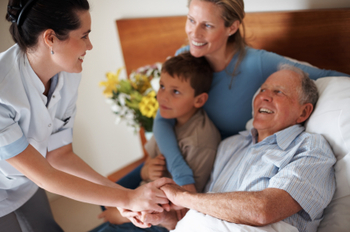 All Rights Reserved
Know your role when communicating with medical staff
As a caregiver, you have a vital role to play in the relationship between the person in your care and his medical care providers. Improving the communication between him and medical staff involves attention to detail, an ability to see both sides, consideration of his emotional as well as physical symptoms, and a willingness to face the most difficult news. You'll realize the benefits in his treatment and in the time you spend together.
Recognize your part in the doctor-patient relationship
• Taking an active role As a caregiver, it's easy to feel that you're just an observer on the sidelines when it comes to the relationship between the patient and his doctors, but nothing could be further from the truth. There are going to be many times when he's simply too exhausted or overwhelmed to make decisions, and you're going to find yourself in the hot seat. There will also be occasions when he's in too much pain or feeling too sick to make a call to the doctor, and it will be you on the phone trying to describe the problem.
"The first thing I tell caregivers is to go to all the patient's appointments, even if he doesn't want you to," says Michele Francis, a licensed clinical social worker at the University of California, San Francisco, Comprehensive Cancer Center, and manager of the Ida and Joseph Friend Cancer Resource Center. "People are shocked by how exhausted they feel while battling a disease and how poorly they retain information. Having the caregiver involved in the doctor-patient relationship can make a big difference in the outcome of treatment."
What follows is advice from the experts on how to make your role in this three-way relationship work for everyone.
Record keeping improves communication with medical staff
Maintain detailed records of the patient's symptoms and daily experiences
"¢ Keeping a daily log When you talk to the doctor about problems the patient is experiencing during treatment, be as specific as possible. The best way to do this is by keeping a log describing exactly what happens each day.
"You need to become very good at assessment and communicating what you're seeing," says J. Redwing Keyssar, palliative care coordinator for Seniors-at-Home, a program of Jewish Family and Children's Services of San Francisco. "You want to be able to say things like 'We gave him this medicine and this to eat, and he got sick,' or 'For the past three days at 3 p.m., the pain has gotten out of hand.'"
"¢ Writing it all down Even when you're certain you'll recall a particular reaction, write it down. No one's memory is good enough to recollect every detail of another person's ups and downs, and the stress of seeing someone go through a difficult treatment is likely to make your own memory less reliable.
Keep notes on the patient's doctor visits, as well
"¢ Making sure everything is clear When you accompany the person in your care to appointments with his  medical staff, including nurses, pathologists, and surgeons, write down as many of the doctor's comments as you can, then research anything you don't understand when you get home.
"Bring in all your questions and take notes on the answers, then go over it all with the patient after the appointment to make sure you both understood exactly what was said," says Francis. That way, the next time you return, you can ask specific questions and not waste the doctor's time.
"¢ Preparing for office visitsWhen people aren't prepared for appointments, it can be very frustrating for doctors, since they just don't have the time to explain every little thing, says Francis. "The doctor's expectation is that the patient will educate himself."
Play an advocacy roles when communicating with medical staff
Be a strong advocate for the patient in your care
In this role, your job is to make the patient as comfortable as possible -- and that may mean insisting that the doctor pay attention and take action. "You need to hone your basic communication skills so you can say clearly and directly, 'This is what's interfering with his quality of life right now,'" says Keyssar, "and describe in detail what's happening, when it's happening, and what seems to make it worse or better."
"¢ Being a team player It's best not to be antagonistic. In fact, it helps if you can develop a friendship with the person you're most likely to deal with on the phone, whether it's the doctor, a nurse, a nurse practitioner, or the office manager. Stay calm and assume that you're all on the same side and want what's best for the patient.
Be a strong advocate for the doctor, too
It's likely that the person you're caring for isn't always going to be the ideal patient. He may resist treatment, forget to take medicines, or refuse to follow the doctor's advice to get more exercise or stop smoking. When this happens, your role is to be on the doctor's side. After all, the goal is for the patient to feel better.
"¢ Working together When the doctor recommends behavior changes, offer assurance on the spot that you're going to work with the patient to follow the recommendations. This may require some strategizing between you and his doctor -- even out of the patient's earshot. A quick side conversation about your efforts to encourage him to comply with treatment recommendations may give you some new ideas and lets the doctor know that you're doing everything you can to support her.
Consider the patient's mental as well as physical well-being
"¢ Sorting out the cause Emotions run high during certain medical and cancer treatments, and depression, anxiety, and other psychological issues are all too common. In fact, emotional or psychological issues can often lead to physical symptoms and complicate treatment. When a patient is in pain or having other symptoms, it can be difficult to sort out the cause.
"There's a whole level of suffering that's really not physical at all," says Keyssar. For example, she says, anxiety often plays a big role in both triggering and increasing pain. "Sometimes you have to treat the anxiety in order to fully treat the pain," she explains.
"¢ Dealing with difficult issues Communicating with a patient's doctor about psychological topics can be a very sensitive area, so Francis recommends talking to the person in your care openly before you contact the doctor. Explain that you can see that anxiety or depression is becoming a serious issue, and that you need the doctor's help to figure out what to do. "Often a patient will respond well if you say, 'I'm asking you to do this to help me,'" she says. "You can say, 'I'm trying to take care of you, but I can't handle this on my own.'"
If that doesn't work, Francis says, the next step is a tough-love approach: "I know you don't want me to talk to the doctor about this, but I have to because it's a serious problem. I need you to accept this so I can care for you."
Let the doctor know that you want to discuss bad news openly
"A patient's health practitioners should notice if he isn't getting better or is starting to show signs of decline, and they should be able to talk openly about what's happening," says Keyssar. Because you see the person you're caring for often and you're hopeful for his recovery, you and family members may not notice some of these signs. Or you may notice changes, but not recognize them for what they are -- the beginning of the end. A health practitioner can help you understand and adjust to what's happening.
Open, direct communication with the doctor about preparing for death can give you and the patient the gift of experiencing your last months or weeks together as fully as possible.
"It can be difficult when you realize after the fact that you had very little time left with a person and didn't know it," says Keyssar, who suggests that caregivers and family members ask doctors to be as straightforward as possible about what to expect when signs of decline start to appear. "It's wonderful if you know what's happening and can say to a person, 'We've had some really great years. Can we have a conversation about how you want it to be as we get near the end? What are your hopes and fears? How can I help?'"